Wall Street Mixed On Chipotle: More Educated Customer Base And Food With Integrity Branding Complicates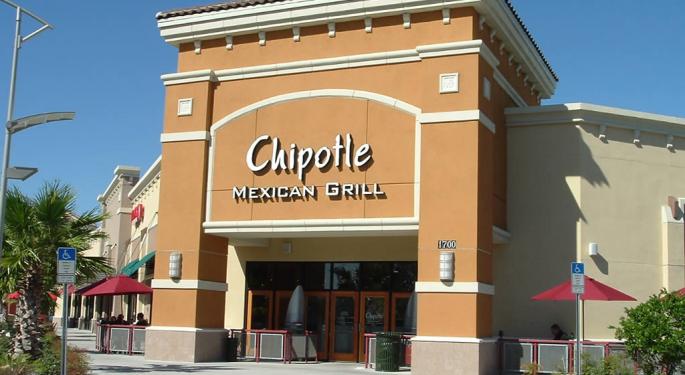 Shares of Chipotle Mexican Grill, Inc. (NYSE: CMG) plunged nearly 10 percent early Monday morning and fell below its prior 52-week low of $532.03.
Chipotle provided guidance on Friday and expects to earn $2.45 to $2.85 in the fourth quarter (versus estimates of $4.41) as the impact from the recent E. Coli outbreak will impact sales by 8 to 11 percent.
Wall Street analysts were mixed following Friday's guidance, as some noted the E. Coli headwinds are a near-term concern, while others argued the impact will be long lasting.
Shares of Chipotle Mexican Grill fell over 5 percent during Friday's after-hours trading session. The company offered preliminary guidance just a few hours after the Centers for Disease Control and Prevention confirmed the E. Coli outbreak was more severe than previously thought.
Chipotle said it expects to earn between $2.45 and $2.85 per share in the fourth quarter, and the impact from the E. Coli outbreak will result in an 8 percent to 11 percent impact on comp sales. Wall Street analysts were previously projecting the restaurant operator to earn $4.41 per share.
Here is a roundup of what Wall Street's top analysts are saying following Chipotle's earnings guidance.
Related Link: Cowen Downgrades Chipotle As "Q4 Sales Were Far More Impacted From E. Coli Outbreak"
Barclays: E. Coli, Limited EPS Upside
Jeffrey Bernstein of Barclays commented in a note that other quick service restaurant operators have "battled" similar E. coli (and other illness) headwinds in the past few years and ultimately "returned to full strength." However, the analyst noted that Chipotle's timeframe for a "complete recovery" will likely be greater given its "more educated" customer base and "greater social media awareness."
Bernstein continued that Chipotle championed itself on its "Food with Integrity" branding, thereby making the E. Coli outbreak "more damaging." In fact, the analyst pointed out that Chipotle's fourth-quarter comps were already "choppy" prior to the E. Coli outbreak.
Finally, Bernstein suggested that aside from the "obvious" near-term comp pressure, the company also faces incremental costs to labor to "better insulate the supply chain" and a "lack of pricing power" following the E. Coli backdrop. These factors will naturally limit any earnings per share upside.
Shares remain Neutral rated with a price target lowered to $540 from a previous $660.
Bernstein: Chipotle's Brand Offers 'Confidence' In Sustained Recovery
Sara Senatore of Bernstein commented in a note that Chipotle's low-single digit growth profile through October indicated a "reasonably healthy" consumer demand before the initial E. Coli outbreak. However, the "widening" of the E. Coli outbreak may have "done more damage," especially in large markets like California, New York and Ohio.
Senatore continued that Chipotle's sales have "gradually" improved over the past few days and the "historical strength" of the company's brand image offers "confidence" that a sustained recovery trajectory will emerge. In fact, the analyst suggested that Chipotle's guidance could even be "somewhat conservative" – although this is based on the assumption of no further negative news being reported.
Finally, Senatore pointed out that Google search activity continues to "moderate" to pre-E. Coli levels, offering investors an "encouraging sign."
Bottom line, the analyst argued that Chipotle's stock is "attractive over any longer term investment horizon," as the stock is trading at the low end of its historical relative valuation range.
Shares remain Outperform rated with a price target lowered to $730 from a previous $795.
Credit Suisse: Food Safety Events Have Had 'Relatively Minor Impact' Over Long Term
Jason West of Credit Suisse commented in a note that the customer reaction to Chipotle's E. Coli headlines proved to be "more severe than expected." The analyst also pointed out that, thus far, the original source of the outbreak has yet to be identified – implying additional reported illness could occur.
West acknowledged volatility in Chipotle's stock is "likely to remain high," and visibility toward a full recovery is "low" in the short term. Nevertheless, the analyst stated that at $520 per share, Chipotle's stock is attractive, as it implies a valuation of 26x current 2016 earnings per share consensus estimates, or 29 percent below its long-term P/E.
Finally, West pointed out that from a historical perspective, food safety events have resulted in a "relatively minor impact" to long-term sales and earnings per share forecasts.
Shares remain Outperform rated with a price target lowered to $600 from a previous $675.
Wedbush: Current Valuation 'Properly Reflects' E. Coli Magnitude
Nick Setyan of Wedbush commented in a note that Chipotle's current valuation "properly reflects" the lack of visibility into near-term results. In addition, visibility into any medium-term comp re-acceleration is "nonexistent."
Setyan explained he is "skeptical" that any "material" transaction drivers will emerge in 2016, but Chipotle's additional $300 million stock repurchase authorization "may provide some downside protection."
Shares remain Neutral rated with a price target lowered to $500 from a previous $700.
Related Link: Short-Term Chipotle Investors Lose From E. Coli Outbreak. Is Your Portfolio At Risk?
Elsewhere On The Street
Analysts at BMO Capital Markets maintained an Outperform rating with a price target lowered to $713 from a previous $730.
Analysts at Cowen downgraded shares of Chipotle to Market Perform from Outperform with a price target lowered to $515 from a previous $775.
Image Credit: Mikebay1968 at English Wikipedia [CC BY-SA 3.0 or GFDL], via Wikimedia Commons
Posted-In: Analyst Color Long Ideas Short Ideas Downgrades Price Target Reiteration Restaurants Top Stories Best of Benzinga
View Comments and Join the Discussion!