Under Armour Shouldn't Be Selling Off Because Of Dicks, SunTrust Analyst Says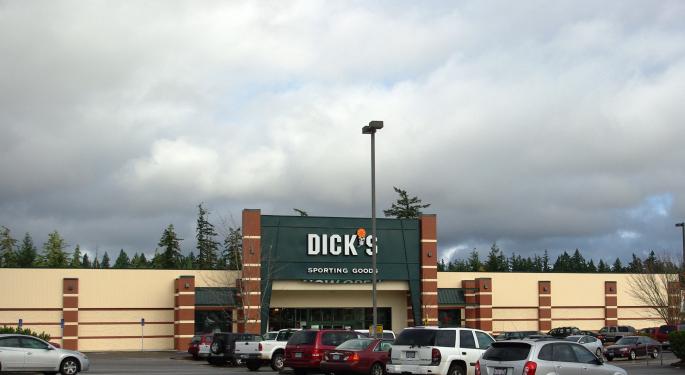 Shares of Dicks Sporting Goods Inc (NYSE: DKS) plunged on Tuesday after the company reported weaker-than-expected third-quarter earnings and slashed its fourth-quarter and full-year guidance.
Investors and traders could be wrong in jumping to the conclusion that Dicks' poor results signals trouble at Under Armour Inc (NYSE: UA), according to SunTrust's Pamela Quintiliano.
Quintiliano argued that Dicks' report is not a "negative harbinger" for Under Armour, and investors should be buying Under Armour on the weakness.
Dicks Sporting Goods saw its stock plummet on Tuesday after the company reported a weaker-than-expected third quarter and lowered its fourth-quarter and full-year guidance.
Dicks' stock hit a multi-year low of $36.93 on Tuesday and has lost more than 20 percent over the past year. The sporting good retailer's poor results and weak guidance sent shockwaves across the sector, and Under Armour's stock has lost nearly 15 percent of its value in the past month alone.
Related Link: Dicks Sporting Goods Slips On Earnings Miss
SunTrust: Dicks' Report Is Not A 'Negative Harbinger' For Under Armour
Pamela Quintiliano of SunTrust Robinson Humphrey acknowledged in a note that the relationship between Dicks and Under Armour is "very important," as the retailer is Under Armour's number one wholesale partner and represents 12.5 percent of year-to-date revenue.
However, this compares to 14.4 percent last year, 13 percent in fiscal 2013 and 2012, and about 17 percent in fiscal 2011. As such, penetration "continues to become less meaningful" as Under Armour's business is now "much more diversified."
Quintiliano continued that Dicks' poor third-quarter print and guidance is not a "negative harbinger" for Under Armour. The analyst noted that Dicks cited outerwear, fleece, compression, hunting and boots as areas of weakness, while athletic apparel and footwear were areas of strengths. In fact, footwear grew 61 percent in the quarter, and a similar growth rate is expected moving forward.
The relationship between the two companies may not be as straightforward as many would assume. The analyst pointed out that from a historical perspective, whenever Dicks reported an earnings miss, Under Armour has subsequently beat expectations in its own earnings report. The relationship proved true during Dicks' earnings miss in F4Q12, F1Q13, F2Q13, F4Q13, F4Q14 and F2Q15.
Dicks also cited poor weather in its earnings miss. Again, investors may be wrong in jumping to what would normally be reasonable assumptions when it comes to Under Armour's business. Quintiliano argued that even when temperatures have varied "dramatically" from the national average, Under Armour still managed to beat expectations, even as Dicks fell short in its earnings print. The analyst added that this held true during four recent quarters (4Q12, 1Q13, 4Q13, 1Q14) in which national temperatures have been at least 3 percent above or below the historical average.
Finally, the analyst suggested that Under Armour held few promotions in October compared to last year. In November last year, Under Armour ran a 25 percent off big logos hoodie event over the Black Friday and holiday period and that this year, there are no signs of a "kneejerk reaction" for the company to "go deeper on depth on promotions at the expense of margins."
Shares of Under Armour remain Buy rated with an unchanged $90 price target.
Image Credit: "Former Joe's now Dick's - Tualatin, Oregon" by M.O. Stevens - Own work. Licensed under CC BY 3.0 via Wikimedia Commons.
Posted-In: ApparelAnalyst Color Long Ideas Reiteration Retail Sales Top Stories Analyst Ratings Trading Ideas Best of Benzinga
View Comments and Join the Discussion!