Urban Outfitters Bought A Pizza Company... And Reported Q3 Results: Here Are How Experts Reacted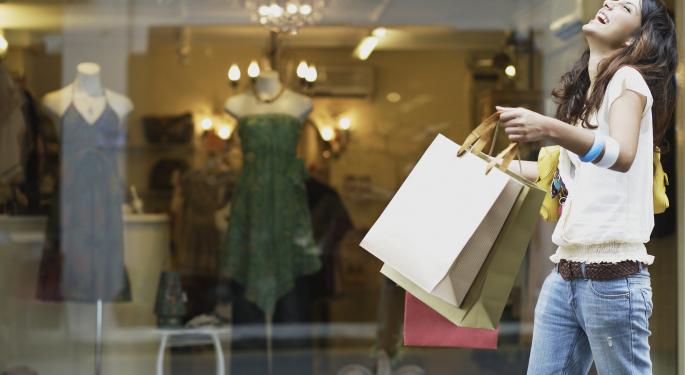 Shares of Urban Outfitters, Inc. (NASDAQ: URBN) lost more than 7 percent on Monday after the company announced it acquired The Vetri group of restaurants.
The specialty teen retailer noted that "spending on casual dining is expanding rapidly."
Analysts were mostly negative on Urban Outfitters' prospects, but some maintained a bullish stance.
Urban Outfitters announced it has agreed to acquire The Vetri group of restaurants, including a pizza chain named Pizzeria Vetri.
Urban Outfitters' stock hit a new 52-week low on Monday of $22.04. However, heavy selling continued into Tuesday after the company reported weaker-than-expected sales in its third quarter.
Here is a roundup of what analysts are saying after an eventful news-filled day.
Vivaldi Partners: 'Just Because You Can, Does Not Mean You Should'
Eric Joachimsthaler, founder and CEO of Vivaldi Partners, commented on Urban Outfitters' foray into the restaurant business.
According to Joachimsthaler, Urban Outfitters' move to combine shopping with eating is "either genius or foolish." He added that if the company has long-term real estate leases that it cannot use effectively, it is a "good business idea." On the other hand, since the restaurants will be run independently from the store, it is unlikely to build the Urban Outfitters' brand.
Bottom line, "the old branding adage applies: just because you can, does not mean you should."
RBC: Data Points Still Negative
Brian Tunick of RBC Capital Markets downgraded shares to Sector Perform from Outperform with a price target lowered to $23 from a previous $32.
Tunick noted that Urban Outfitters' data points are still "skewing negative" after its third-quarter release, specifically: 1) a reported 1 percent comp versus the Street's 3 percent-plus expectation, 2) worsening quarter-to-date trends in all three of the company's brands, 3) fourth-quarter gross margin is guided down.
Tunick said a "lack of newness" in apparel and accessories were called out as suppressing demand. Meanwhile, disappointing traffic updates from the department stores and a decelerating quarter to date trend suggest "ongoing consumer malaise" with apparel spending.
Bottom line, Tunick acknowledged that Urban Outfitters is "one of the better houses on a touch specialty retail block," it is prudent to move to the sidelines until the company's margins have bottomed and it is showing some stabilization in the top line.
Morgan Stanley: Lack of 'Inspiring Fashion Trends'
Kimberly Greenberger of Morgan Stanley maintained an Equal-weight rating on shares of Urban Outfitters with a price target lowered to $31 from a previous $38.
According to Greenberger, Urban Outfitters' third-quarter print showed it was "not immune" to ongoing industry wide "lackluster" traffic and "weak" consumer spending. The analyst noted that similar to department stores, apparel and accessories showed "the most severe." On the other hand Home, Beauty, Shoes, and Intimates sales were "somewhat strong."
Greenberger said management acknowledged October's already weak results have actually worsened month to date in November. As such, the analyst slashed her fourth quarter comps to -2.6 percent from +2.4 percent.
Bottom line, Greenberger stated that there is an ongoing "lack of inspiring fashion trends," a view that Urban Outfitters' management acknowledged. In addition, any up-tick in demand seen in the quarter across some apparel SKUs was "largely transitory."
Credit Suisse: Topline Challenges 'Mount'
Christian Buss of Credit Suisse maintained a Neutral rating on shares with a price target lowered to $29 from a previous $38.
According to Buss, Urban Outfitters' third-quarter print highlights the "difficult position" specialty apparel retailers are facing, including: 1) "weak" underlying traffic, 2) cold weather has not arrived, and 3) apparel sales as a whole appear to be "falling out of favor."
Buss said Urban Outfitters is reliant on capturing "highly fashion sensitive" customers and without a clear driver of growth any incremental revenue is "limited" in the near term. As such, the company's emphasis on SG&A expense control marks an "appropriate move" in the light underlying demand environment. In addition, an inventory decline of five percent year over year on sales growth of one percent suggests the company is managing its inventories "more carefully."
Bottom line, the company's focus on expenses and inventories could help "mitigate" some of the volatility and suggests that opportunities for merchandise margin improvement could offset deleverage of fixed expense in a weak demand environment.
Brean Capital: Urban Outfitters Still 'Best-Of-Breed'
Liz Pierce of Brean Capital maintained a Buy rating on shares of Urban Outfitters with a price target lowered to $32 from a previous $37.
Pierce argued that yet again Urban Outfitters' DTC (direct to consumer) business was "stronger than stores" and posted a double-digit sales increase. Meanwhile, the company posted a 12 basis point rise in store conversion – indicating that once in the store, consumers are buying at a better rate versus last year.
Pierce said Urban Outfitters has several top and bottom line drivers including category expansions and additions, increased DTC penetration, improved inventory turns and increased operating efficiencies.
Pierce also commented on the company's acquisition of the Vetri Family group of restaurants, noting that the price tag on the deal was likely less than $20 million, or a "drop in the bucket." The analyst added that an expansion into fast casual dining is consistent with management's goal of winning a higher share of customer's spend. The company is likely to open a few of the Pizzeria Vetri concepts and then determine if the restaurant is scalable outside of its home base.
Elsewhere On The Street
Analysts at Baird maintained an Outperform rating with a price target lowered to $26 from a previous $37.
Analysts at Cantor Fitzgerald downgraded shares of Urban Outfitters to Hold from Buy with a price target lowered to $22 from a previous $53.
Analysts at Oppenheimer maintained a Perform rating with no assigned price target.
View Comments and Join the Discussion!
Posted-In: ApparelAnalyst Color Downgrades Price Target Top Stories Exclusives Analyst Ratings Trading Ideas Best of Benzinga