Industry Expert Says Kohl's Will Struggle To Attain Growth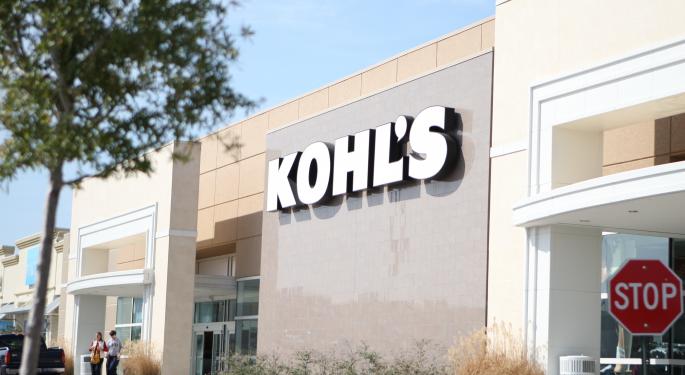 In a recent report, analysts at Rage Frameworks looked into Kohl's Corporation (NYSE: KSS).
The experts concluded that the company would struggle to realize growth in the foreseeable future.
Their thesis was based on the premise that changing patterns in consumers spending and increased competition from Internet and discount retailers would take a toll on Kohl's business.
According to Rage Frameworks, Kohl's will struggle to attain growth in the foreseeable future, mainly on the back of the unfavorable trends surrounding its two fundamental business drivers.
On the one hand, customers are spending less on apparel and accessories, and increasingly shifting to e-commerce retailers, away from brick and mortar. On the other hand, increased competition from e-commerce retailers like Amazon.com, Inc. (NASDAQ: AMZN) and discount retailers like TJX Companies Inc (NYSE: TJX) is taking a toll on Kohl's sales.
Are Increased Omni-Channel Capabilities Enough?
So, the experts noted, while the company is strengthening its omni-channel capabilities to better capture the rapidly increasing demand for mobile commerce and e-commerce, "the impact on revenue is to be seen."
Related Link: 6 Retailers Trying To Make Black Friday Work For Them
The note continued, "For instance, in time for this holiday season it announced partnership with Deliv for same day delivery in six new markets that include Los Angeles, Northern New Jersey, Brooklyn and Queens, Philadelphia, and Miami."
To conclude, the research firm highlighted that the National Retail Federation estimated sales would rise by 3.7 percent in the holiday season, as compared to last year. While this projection is encouraging, the experts pointed out that "the e-commerce/mobile commerce sales continue to see double digit growth impacting brick and mortar retailers."
Disclosure: Javier Hasse holds no positions in any of the securities mentioned above.
Image Credit: By hattiesburgmemory (Kohl's Uploaded by AlbertHerring) [CC BY 2.0], via Wikimedia Commons
Posted-In: holiday shopping season National Retail Federation Rage FrameworksAnalyst Color Long Ideas Analyst Ratings Trading Ideas Best of Benzinga
View Comments and Join the Discussion!