Costco Vs. Target Vs. Wal-Mart: Citi Takes A Look At This Retail Battle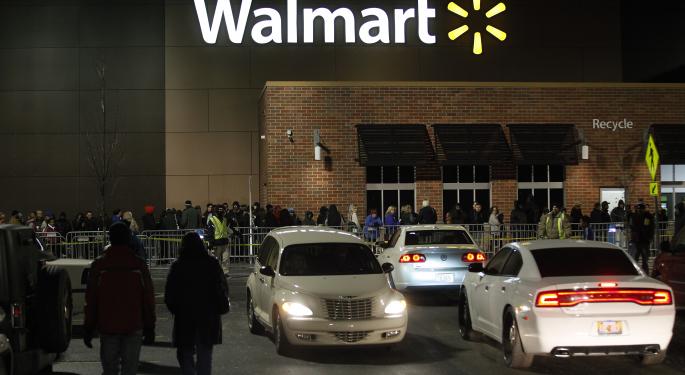 Kate McShane, Citi's Retailing analyst, pitted Costco Wholesale Corporation (NASDAQ: COST) against Target Corporation (NYSE: TGT) and Wal-Mart Stores, Inc. (NYSE: WMT) in a head-to-head battle.
McShane named Target as the "surprising winner" among the three retailers.
The analyst noted Target won on OM%, EPS growth and valuation metrics.
Sales & Growth – Winner: Costco
Over the last five years, Costco has outpaced Target and Wal-Mart in terms of same-store sales growth, square footage growth, and total revenue growth. The trend is expected to continue in Costco's favor into 2016 and 2017 driven by: 1) the company's membership format, 2) ability to serve as a "one-stop shopping destination," 3) commitment to high-quality products at low-price, 4) ancillary businesses, 5) reputation as a "treasure hunt" experience, and 6) e-commerce initiatives.
Margins – Winner: Target
McShane noted that of the three retailers, Target has achieved the highest operating margins. The company benefits from a lack of a warehouse club segment that doesn't drag down the margins. As an example, Costco and Wal-Mart's Sam's Club segment both generate operating margins near 3 percent.
Related Link: This Retail Expert's Holiday Outlook Says It's Not About If Consumers Spend, But Where They Will Spend
The analyst added that Wal-Mart's operating margin continues to face headwinds from investments in technology, increase in wage rates and labor hours, reduced reimbursement rates from Pharmacy Benefit Mangers, among others. Meanwhile, Costco's "remarkably consistent" operating margins could see some improvements from initiatives including its new co-branded credit card agreement with Citi but the company is also in the midst of a multi-year program to modernize its IT systems which will also negatively impact its margins.
On the other hand, Target's gross margin have "reached a stabilization" and the company expects its EBITDA margins to be between 9.5 percent to 10.0 percent. The company is also "likely better positioned" to absorb any wage increases relative to its peers.
Earnings – Winner: Target
McShane is projecting Target to generate a "solid" earnings per share compounded annual growth rate (CAGR) of 12.3 percent through 2017. The company is also expected to grow its net income at an average rate of 9.1 percent buy nearly $3 billion worth of its stock on an annual basis.
The analyst is projecting Costco to generate an earnings per share CAGR of 10.8 percent through 2017, while Wal-Mart's is expected to decline at a 4.8 percent CAGR.
Balance Sheet & Cash Flow – Winner: Costco
According to McShane, Costco has the "strongest" balance sheet as the company carries the greatest amount of cash and equivalents and also has the lowest lease-adjusted debt-to-EBITDA ratio.
Target has the highest financial leverage of the three retailers, but it has the capacity to raise $1.7 billion in cash from debt issuance to potentially pursue a "more aggregative" capital allocation policy. Nevertheless, the company has the best free cash flow yield among three.
Wal-Mart is in the "least favorable position" to significantly raise incremental debt based the analyst's estimates of declining EBITDAR over the next few years.
Valuation – Winner: Target
Finally, McShane argued that at Target's current level of approximately 15x FY2 P/E, investors are buying a retailer with a "renewed focus on execution on its core competency." On the other hand, the analyst stated that Costco's stock "appears expensive" at 25.1x FY2 consensus earnings.
Finally, Wal-Mart's stock is "cheap" at a FY2 P/E of 13.9x, but the stock is "not a great value at this point" and trading a "steep" discount to its one-year high of 17.3x.
Pair Trade Idea
McShane concluded that Target is the "surprising" winner as the stock offers the greatest opportunity for upside to earnings per share estimates. As such, the analyst suggested a pair trade idea of being Overweight Target and Underweight Wal-Mart.
Posted-In: Broadline Retailers Citi Kate McShane retailersAnalyst Color Top Stories Analyst Ratings Trading Ideas Best of Benzinga
View Comments and Join the Discussion!