Apple Hires Deep-Learning Expert, Patents iPhone Screen Protector & More Stories From Cupertino Last Week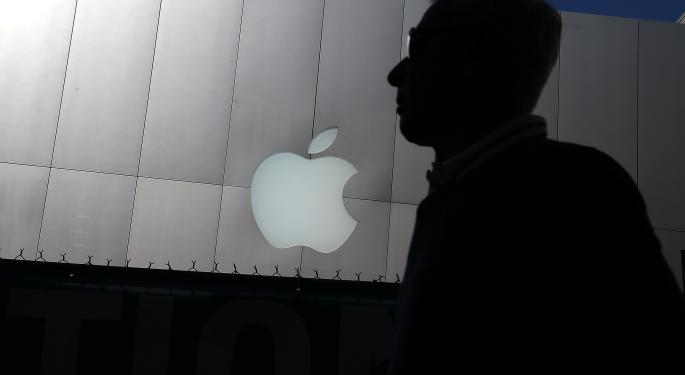 Shares of Apple Inc. (NASDAQ: AAPL) have lost more than 8 percent over the past six months as investors may be losing confidence in its ability to demonstrate sustained growth.
Sherri Scribner of Deutsche Bank highlighted several new developments that may be of interest to investors.
Several of the new developments include the hiring of a deep-learning expert and the filing for a patent application.
In a report published Sunday, Sherri Scribner of Deutsche Bank highlighted recent Apple news stories over the past week that investors should be aware of.
Class Action Lawsuit Filed
Two plaintiffs filled a class-action lawsuit against Apple over its WiFi Assist technology. The feature was turned on by default after users upgraded to iOS 9 and automatically switches over to cellular data when it experiences a weak WiFi signal, which resulted in a large increase in their cellular costs.
Apple Hires Deep-Learning Expert
Apple has hired Jonathan Cohen, Nvidia's director of machine learning, according to a report by Re/code. Deep learning is used for Siri and mapping, but Apple may have other plans for the expert.
Related Link: Are Apple iPhone Estimates Too High?
Scribner cited the Re/code report which said that Cohen has experience in self-driving cars at Nvidia. The executive's experience includes working on automotive computer vision solutions, including Nvidia's DRIVE PX technology.
The analyst suggested that the hire "further validates" speculation that Apple is "actively working on something in the automotive area."
Apple Files For A New Patent
Apple submitted a new patent application with the U.S. Patent and Trademark Office. The patent was filed under the name "Active screen protection for electronic device.
Scribner, citing an Apple Insider report, stated that the new patent application "describes a series of retractable protector tabs positioned on the front of n iPhone, which are made of plastics, polymers, and thin metals, that are activated when an iPhone detects a drop."
Apple Music Boasts 15 Million Users
Apple CEO Tim Cook said during a Wall Street Journal event that Apple Music boasts 15 million users, 6.5 million of which are active paying subscribers. Scribner stated that Apple Music's user base is "solid" for a new service even though it trails Spotify's 75 million user base, of which 20 million are paid subscribers.
The analyst added that the key challenge moving forward for Apple is converting more of its non-paying users into paying customers.
Related Link: FBR's Dan Ives Believes Apple Music Is 'Off To A Solid Start'
Apple Updates On Privacy
Apple told a federal court judge that it does not have the ability to access data on any mobile device that is running iOS 8 or higher. However, the company does have access to certain categories of files that are stored on devices running iOS 7 and older.
The announcement follows a request by the Justice Department, which requested Apple's assistance in gaining access to a particular iPhone device that is running iOS 7. The request is related to an undisclosed investigation to which Apple denied the request, stating that by doing so it could "threaten the trust between Apple and its customers and substantially tarnish the Apple brand."
However, a court order may force Apple to assist the Justice Department.
Apple Expands Solar Projects In China
Apple announced it plans on building a new solar energy project in China to lower its carbon footprint. The new project is expected to produce in excess of 200 megawatts of clean energy and will eliminate 20 million metric tons of pollution over the next five years.
Posted-In: Apple Car Apple Music Apple Patent CupertinoAnalyst Color News Analyst Ratings Tech Best of Benzinga
View Comments and Join the Discussion!