Citron Calls Valeant The 'Pharmaceutical Enron,' Sees 60% Downside In Stock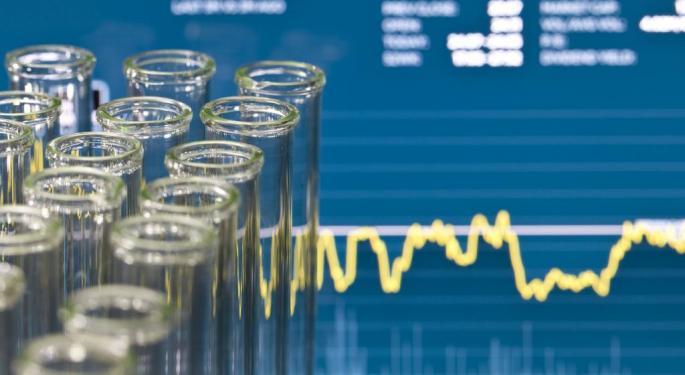 Pharma giant Valeant Pharmaceuticals Intl Inc (NYSE: VRX) is crashing on Wednesday after a scathing new report from Citron Research.
Shares have fallen as low as $101, a 31 percent decline. The stock opened the day's trading near $150 per share -- an enormous move for a company with a market capitalization near $50 billion.
In Citron's report, the short-seller said it has now published a "smoking gun" detailing what it calls a "cover up" concerning Valeant's relationship with specialty pharma company Philidor RX.
Citron's 'Cover Up' Thesis
On its most recent conference call, Valeant chief executive J. Michael Pearson said his company bought an option to acquire Philidor in late 2014.
As the New York Times reported, Pearson said [paraphrased by the Times] "Valeant consolidated Philidor's results in its own financial reports."
$VRX game over....Citron publishes smoking gun

— Citron Research (@CitronResearch) October 21, 2015
Citron deconstructs the apparent mysteriousness of this "option" transaction. From the new report:
"An option? To acquire a company to which you are the only customer? Why would Valeant, a major big cap pharma, a darling of the hedge fund crowd, a suitor of Allergan and an aggressive acquirer of pharmas like Salix, Bausch & Lomb, etc., etc., be secretly maneuvering to buy a little known pharmacy with a dubious ownership structure? And then consolidate its financials? Why was this entity NEVER disclosed in any prior company disclosure?"
'Fraud' Thesis
The next question Citron asks is perhaps the most important: What is being covered up? The firm states its believed answer, which it says should "send alarm" to all Valeant shareholders: "Philidor owns R&O Pharmacy," which it says is a "fraud to create invoices to deceive the auditors and book revenue."
Citron explains its reasoning in a few key quotes:
"The two companies have the same patient privacy disclosure, in fact formatted identically, on both companies' websites...he R&O website refers to themselves as Philidor."
"The pharmacies -- R&O, in Camarillo California, and Philidor RX in Horsham PA, have the identical toll free number to reach their Privacy Officer."
"[I]t appears to Citron that Valeant/Philidor have created an entire network of phantom captive pharmacies ... the same privacy notice appears on several other "ghost ship" putative pharmacy websites."
Citron believes Valeant has created a network of Philidor clones used to produce "phantom sales."
Enron Comparison
Citron also provides the following graphic, comparing Valeant commentary with that of Enron. "These similarities are too close to ignore," Citron writes.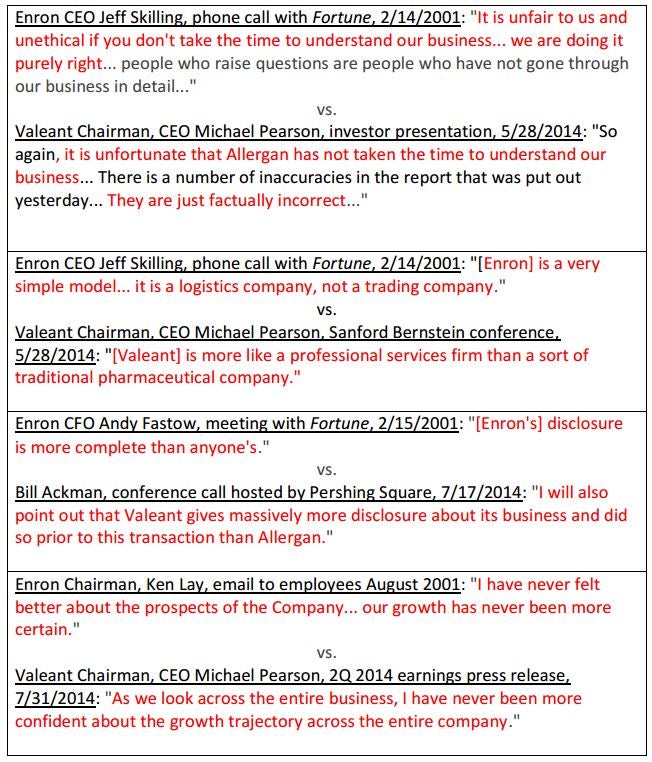 Another graphic from the report: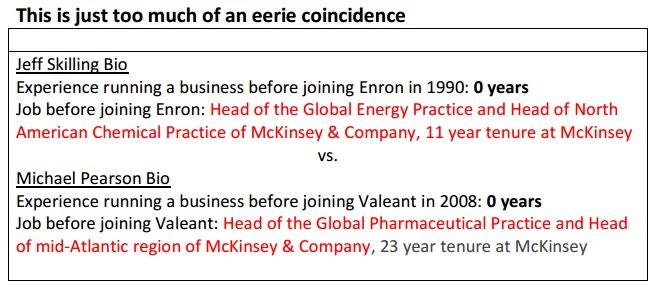 Citron's Conclusion
Citron concludes with one point it believes will reveal a "web of deception."
"From the moment of the first public mention of Philidor, within 72 hours, Valeant is now holding an option to acquire Philidor and investors find out only in retrospect that Valeant has been consolidating Philador financials?"
The full report can be accessed from the link above. Benzinga has reached out to Valeant and is awaiting a response.
Posted-In: Analyst Color Biotech Short Sellers Short Ideas Top Stories Movers Trading Ideas General Best of Benzinga
View Comments and Join the Discussion!