What Happened At TechCrunch Disrupt (Translated For Investors)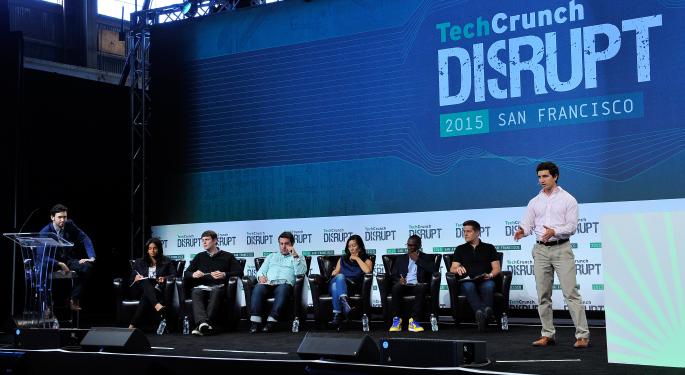 Neil Doshi of Mizuho Securities attended the TechCrunch Disrupt 2015 conference.
Highlights include: Facebook Inc (NASDAQ: FB) "firing on many cylinders," Fitbit Inc (NYSE: FIT)'s CEO defended his business, Google Inc (NASDAQ: GOOG) (NASDAQ: GOOGL)'s Alphabet viewed favorably.
The general theme among venture capital firms was that many "unicorns" are "real" businesses with "massive" market opportunities.
Neil Doshi of Mizuho Securities attended the TechCrunch Disrupt 2015 conference in San Francisco, noting it was "business as usual" in the Silicon Valley despite a weakening global market, a slowing Chinese economy, and mixed reaction to the Fed's decision.
Here are some of Doshi's notable highlights:
Facebook Is 'Firing On Many Cylinders'
Facebook's VP of Engineering, Andrew Bosworth, discussed seven "interesting" trends at Facebook.
1. Facebook's Instant Articles was designed to improve the user experience of waiting eight seconds for content to load. The improvement will likely lead to improved cross-selling and lead generation capabilities.
2. The shift to mobile is "over" and while PC usage may be decreasing as a percentage of total usage, it's growing on absolute terms.
3. Messaging on Facebook Pages is doubling year-over-year and some companies now field the "majority" of customer requests on Facebook.
4. Facebook could monetize WhatsApp in a similar way to how WeChat users in Spain make reservations at restaurants through the messaging platform.
5. Bosworth highlighted a "click to message" option for businesses that allows a company to directly interact with customers.
6. Facebook used to encourage businesses to buy "likes," but now encourages newsfeed advertisements that can be better measured.
7. Bosworth is "not sure" what the advertising landscape will be like for virtual reality but suggested VR should have ads that are "life-like."
Related Link: Is Snoop Dogg's Marijuana Platform Good For The Industry?
VC Community Positive On Google's Alphabet
John Doerr, a venture capitalist at Kleiner Perkins, stated that he is a "strong believer" of Google's Alphabet structure and the various projects are "good for the company."
Doshi also noted that Google's Alphabet is participating in many "key areas" of future growth including virtual reality, artificial intelligence, fintech, healthcare SaaS offerings, drones and biotech.
Fitbit's Business May Be Just Fine
Fitbit founder James Park defended his business with several statistics and facts that support the company – even in a competitively heightened environment.
Doshi noted that consumers spend $200 billion on health and fitness products. As such, the market is large enough for Fitbit to succeed even against Apple Inc. (NASDAQ: AAPL) Watch. Moreover, Fitbit has been able to brand themselves to both elite athletes and the masses, an accomplishment that many other companies have been unable to achieve.
Looking forward, Fitbit is expected to introduce more advanced sensors and more fashionable products.
Private Companies: Unicorns May Be 'More Reality Than Myth,' Macro Environment Is Fine
The general theme among several large venture capital players was that valuations on several private companies may be higher, many of these are "unicorns" (defined as a private firm with $1 billion-plus valuations) are "real" businesses with a "massive" market opportunity.
Doshi also highlighted a growing trend in which the traditional total addressable market (TAM) analysis no longer applies. An example of such is Uber given the fact that the company is "redefining" their respective market.
Doshi also noted that "significant" levels of private rounds of funding are providing many "unicorns" with more time and flexibility to "focus and solidify" their business ahead of a public offering.
Separately, discussions and presentations from venture capitalists led the analyst to conclude that the "rapid growth" across emerging businesses in the technology landscape (i.e Uber, AirBnB) are "not likely to be hampered" by macro concerns.
View Comments and Join the Discussion!
Posted-In: Airbnb Andrew Bosworth Facebook Instant Articles FitbitAnalyst Color Top Stories Analyst Ratings Tech Best of Benzinga