JPMorgan Names Google, Facebook And LinkedIn As Top Internet Picks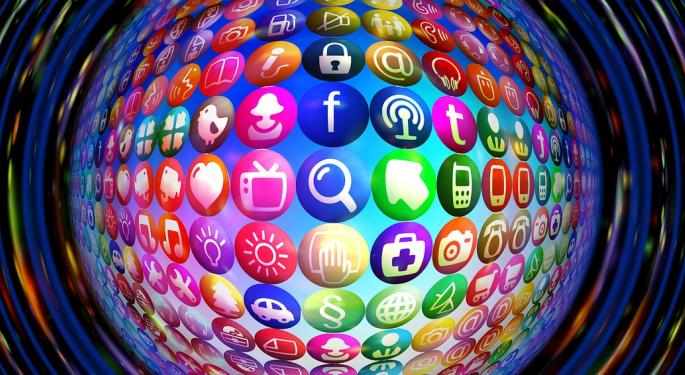 Doug Anmuth, JPMorgan's Internet analyst stated in a note on Thursday that Internet stocks under his coverage fell 5 percent in 2014 versus the S&P 500's 11 percent gain.
Anmuth noted that the underlying secular trends "remain strong."
Doug Anmuth, JPMorgan's Internet analyst, commented in a note on Thursday that 2014 was a "challenging" year for Internet stocks, which have declined 5 percent on average versus the S&P 500's 11 percent gain.
The analyst added that the first half of 2015 has only been "a bit better," with the group trading lower by 7 percent versus the S&P 500's 6 percent decline.
Secular Trends Remain Strong
Anmuth continued that despite some losses, underlying secular trends in the space remain "strong," as the Internet continues to grow in terms of user time and money spent.
However, the analyst pointed out that "some of the early gains are behind" as online advertising has already grown to 30 percent of total ad spend in the United States and Europe, while smartphone adoption rates have "slowed down."
Related Link: Jury Finds Pendrell Patents Valid, But Samsung, Google Did Not Infringe On Patents
Key Trends Ahead
Looking forward to the remainder of 2015, Anmuth stated there are eight key trends that investors should focus on when considering investments in Internet companies:
1. Mobile adoption is maturing, but monetization is "still catching up."
2. Larger Internet companies are "widening" the performance gap with smaller companies in terms of cost discipline and increased transparency.
3. Online and mobile video ads will continue to be a "big growth driver" of online spend.
4. Brand advertisers are expected to "materially" increase mobile advertising projects.
5. The "battle" for user identification across devices will continue.
6. Mobile commerce will gain "real" traction.
7. Online and offline shopping will continue to converge.
8. The "blurring of the lines" will continue among online travel companies.
Google: Fundamentals Remain Strong, Online Spending Shift Will Benefit
According to Anmuth, Google's fundamentals remain "strong" and the company will remain a "primary beneficiary" of the secular shift to online spending.
The analyst suggested that the company is still "relatively early" in several monetization initiatives, including mobile search ads, which are being improved to include location-based attributes that will likewise improve conversion rates.
Anmuth continued that YouTube is expected to capture more video dollars, as users continue to adapt online video watching. Moreover, Google Play's strength will continue.
The analyst also stated that Google is still a "growth" company (despite its market share and size), as evidenced by its second-quarter, year-over-year revenue growth acceleration of 18 percent. In addition to being a growth company, the creation of Alphabet offers "increased" transparency and allows for a greater management focus and a "more open" discussion on capital allocation/returns.
Finally, Google's valuation is "attractive," particularly when considering the company's cash position, which amounts to approximately $101 per share. This offers the possibility (although there are no imminent signs) for the stock to become more shareholder-friendly by levering up its balance sheet and returning cash to shareholders.
Shares are Overweight rated with an $800 price target.
Related Link: Squashing Google's "App Bear" Case
Facebook: Company Can 'Significantly' Improve Monetization Over Time
Anmuth stated that Facebook's "virtual ownership" of the social graph, coupled with a "strong" competitive moat and continued focus on the user experience positions the company to "significantly" improve its monetization initiatives over time.
The analyst continued that Facebook could become an "enduring" blue-chip company that is "built for the long term" given its "massive" reach and targeting abilities that provide "significant" value to advertisers.
Anmuth pointed out that Facebook dominates the Internet experience, as 24 percent of U.S. mobile time is spent on the platform – and this data doesn't even include Instagram and WhatsApp.
In fact, Facebook boasts 1.4 billion monthly active users (MAUs) and users spend on average 46 minutes per day on Facebook, Instagram and Messenger.
Facebook's data and targeting capabilities provide "significant" value to advertisers. Moreover, the analyst suggested that Facebook is still in its early phase (through Custom Audience, Conversion Lift, Video ads, DPAs), while Instagram's monetization activities have also just began.
Shares are Overweight rated with a $118 price target.
Related Link: Instagram Ads Have Huge Potential For Facebook
LinkedIn: Expanding Its Total Addressable Market
Finally, Anmuth named LinkedIn as a top pick in the Internet sector, as the company continues to expand its total addressable market.
Anmuth argued that LinkedIn is "well positioned" to take market share within the $27 billion worldwide market for staffing, while also taking share in the $100 billion global online advertising market.
In addition, LinkedIn recently expanded through new initiatives and acquisitions to the $15 billion sales solutions market and $30 billion learning and development market.
Anmuth noted that LinkedIn is "disrupting" both the traditional offline and online job recruitment markets, while its "deeper" corporate penetration and increasing engagement will drive strong results moving forward.
Shares are Overweight rated with a $300 price target.
Image Credit: Public Domain
Posted-In: Doug Anmuth Facebook MonetizationAnalyst Color Long Ideas Top Stories Analyst Ratings Tech Trading Ideas Best of Benzinga
View Comments and Join the Discussion!