The Fall Of Volkswagen: How Analysts Are Reacting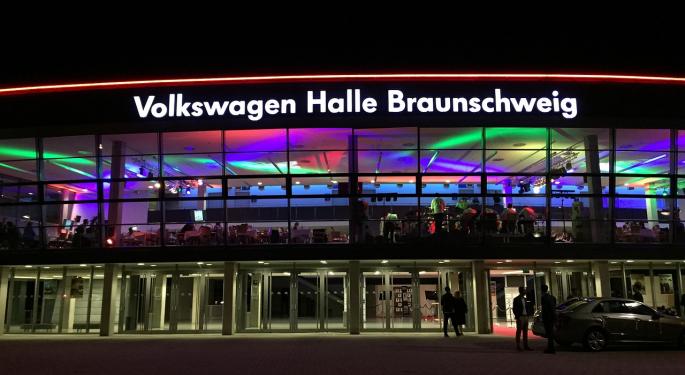 Shares of Volkswagen AG (ADR) (OTC: VLKAY) plunged to new 52-week lows of $24.40 on Tuesday.
Investors and traders continue reacting to the negative headlines that the company manipulated its emissions standards data.
Volkswagen stated it will fully cooperate with regulators, as emissions under real driving conditions were said to have been 40 times higher than the company reported.
Shares of Volkswagen (European listed and its OTC equivalent) plunged to new 52-week lows on Tuesday following news reports that the company sold diesel cars equipped with software designed to evade federal nitrogen oxide emissions standards in violation of the Clean Air Act.
The company also admitted that manipulation did indeed take place and it will cooperate with the appropriate regulators moving forward.
Here is a roundup of what Wall Street's top analysts are saying.
Deutsche Bank: Beyond A 'Usual' Recall
Tim Rokossa of Deutsche Bank commented in a note that the headlines imply "intentional cheating" by Volkswagen and the consequences could be "far bigger" than any other case involving an auto manufacturer.
Rokossa noted that at the very least, the announcement makes Volkswagen's U.S. turnaround "significantly harder" and will "not go down well" for the "long-awaited" breakthrough of diesel engines in the United States that the company was "pushing" for quite some time.
Related Link: Legal Issues Are Giving Volkswagen Investors An Enormous Headache
The analyst also stated that the announcement could have consequences in Europe, where the market share of diesel cars are "much higher."
On the other hand, Rokossa pointed out that companies who fully cooperated with regulatory agencies have received lower fines. So far, there have been no direct injuries reported.
Morgan Stanley: Large Potential Penalties
Harald Hendrikse of Morgan Stanley commented in a note that there are three key implications from the issue: 1) Volkswagen faces "large" potential penalties of up to $37,500 per vehicle that is not in compliance, in addition to a worst-case $18 billion penalty risk; 2) Volkswagen will have to bring the cars involved into compliance, which may involve "significant" costs; 3) Volkswagen (and to some degree Audi) may see its brand reputation "tarnished."
Hendrikse also noted that even though the company has "plenty" of net cash, its operating performance is expected to suffer for some time.
Societe Generale: Concerns Beyond Financial Damage
Stephen Reitman of Societe Generale commented in a note that Volkswagen's potential fine isn't the largest issue facing the company.
According to Reitman, his biggest concern is the reputation risk and potential criminal charges. The company used its clean diesel claims as a "strategic pillar" to differentiate itself, which has now been "deeply compromised."
Reitman added that a potential investigation and uncovering of the responsible parties could potentially involve management and the company's board of directors, leading to "significant uncertainty" beyond the already "sharp" decline in the stock.
Bank Of America: $37.5K Fine Per Car 'Seems Very High'
Douglas Karson of Bank of America commented in a note that the reported $37,500 fine per vehicle found to not be in compliance seems "very high" following the recall and penalties surrounding Navistar, General Motors and Toyota, all of which were in the several billion dollar range.
Karson further speculated that Volkswagen could settle its fine for "a few billion" dollars, although it is very early. The figure does not include potential criminal litigation from the U.S. Department of Justice along with potential civil suits. In addition, the company may also be subject to investigations into its European- and Asian-sold diesel cars to determine if they are also in violation of the respective emission standards.
Credit Suisse: Dividend At Risk
Alexander Haissl of Credit Suisse commented in a note that Volkswagen's financial implications could be "material."
Haissl noted the company has already taken a €6.5 billion provision to cover legal costs, but this figure is "unlikely" to be the final cost given potential charges from regulatory penalties, civil litigation and market share losses.
As such, this will "likely put pressure" on Volkswagen's balance sheet and dividend payments.
Image Credit: Public Domain
Posted-In: Alexander Haissl Audi Bank of AmericaAnalyst Color Topics Top Stories Analyst Ratings General Best of Benzinga
View Comments and Join the Discussion!