Citi's Economist Reacts To Canada's Q2 GDP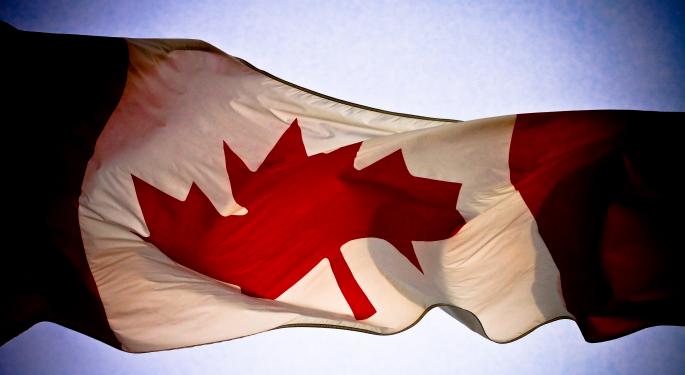 Canada's economy experienced two quarters of negative GDP growth this year, technically placing the economy in a recession. The economy contracted by one half percent in the second quarter, while the first quarter was revised down to 0.8 percent annualized from a previous negative 0.6 percent.
Citi: Q2 Was Better Than Expected
Dana Peterson of Citi stated that real GDP's 0.5 percent decline in the second quarter was actually less than the Street's expectations for a one percent decline.
According to Peterson, the main difference between expectations and the print, was that the drag from inventories (-1.2 percent) was not as significant as expected (-1.7 percent). Final domestic demand contributed 0.04 percent annualized to GDP in the second quarter, as gains in consumer (+2.3 percent) and government spending (+1.2 percent) were offset by falling nonresidential investment (-17.1 percent).
Finally, net exports were a "bright spot" added 0.6 percent to GDP, consistent with expectations. However, the analyst suggested that "tepid" global demand for commodities and "mounting" China woes suggest a reversal in the third quarter.
Related Link: Get Ready To Trade! Statistics Canada To Release Canadian Trade Balance
Central Bank May Be Forced To Take Action
Peterson said the declines seen in Canada's economy were "roughly consistent" with the Bank of Canada's Monetary Policy Report forecast in July. As such, the Central Bank may hold off on easing measures in the immediate term, but if the economy does not begin reviving, it may take a different tone to boost the economy in the near term.
The analyst added that the fallout from declining oil prices may have been "more broadly disbursed" than anticipated. However, the country still saw a three percentage point bounce in mining, oil and gas output in June while the services sector continued to grow in the recent sector and real industry output rose by 0.5 percentage points.
At the same time, Canada's unemployment rate has "remained stable" and wages are "rising rapidly."
"So the jury is out concerning whether Canada is actually in recession," Peterson concluded. "But downside risks related to an extended period of low oil prices, slowing Chinese growth, and financial market volatility are intensifying, which could thwart a 2H Canadian revival."
Image credit: Alex Indigo, Flickr
View Comments and Join the Discussion!
Posted-In: Canada Canada GDP Canada Recession Dana Peterson GDPAnalyst Color Economics Analyst Ratings Best of Benzinga