Why The Ferrari IPO Is Freaking Out Bernstein Analysts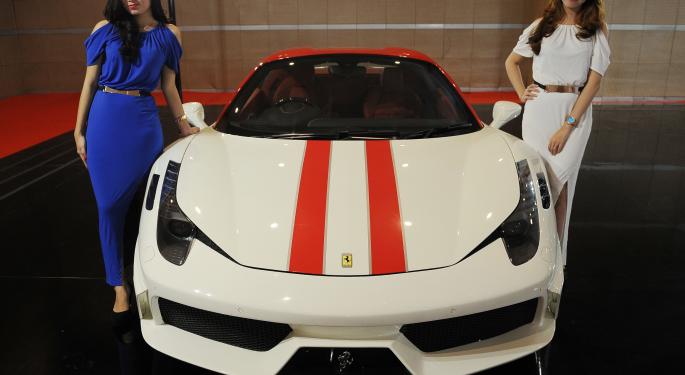 Fiat Chrysler Automobiles NV (NYSE: FCAU) plans to spin off 10 percent of its stake in Ferrari. Year-to-date, Fiat Chrysler has gained 18.7 percent against 8 percent declines in the S&P 500.
Bernstein's Max Warburton issued a stern warning to potential investors that Ferrari was a "low growth, low free cashflow, modest return business with massive technology costs and complex regulatory challenges." In short, Warburton said that investors should stay away.
Of the "10 reasons for caution," Bernstein highlighted the fact that Ferrari has a limited growth record and low cash flow for a €10 billion value.
Bernstein analyst Max Warburton reviewed the Ferrari IPO documents, which outline Fiat Chrysler's desire to sell 10 percent of the company. The other 80 percent that Fiat owns would be distributed to Fiat shareholders "in due course," the note said.
However, Warburton cautioned potential investors to not buy into the €10 billion valuation, particularly given the fact that the company faces a challenging competitive and regulatory landscape. For example, U.S. CO2 emission rules could limit Ferrari to 10,000 annual sales globally.
Bernstein was even skeptical that the IPO would happen. Warburton noted that the IPO document seemed "rushed" and that it contained references to a "Project Owl," while leaving out key information, like how much cash Fiat would "extract from Ferrari before the listing." And the doc repeatedly warns readers that the deal may not complete as planned – meaning that Fiat may not actually spin off its other 80 percent ownership.
Warburton slapped a €9 price target on Fiat, a stock that closed Monday at €12.01 on the Borsa Italiana S.p.A. Warburton said that the firm struggled "to understand the dramatic performance" of Fiat this year, which even given a 7.8 percent decline on Monday had gained 25 percent year-to-date.
Posted-In: Bernstein Fiat Chrysler Max WarburtonAnalyst Color Eurozone Price Target Markets Analyst Ratings Best of Benzinga
View Comments and Join the Discussion!