Not So Fast, Chip Investors: Sector Could Be 'Hit Hard,' Says Analyst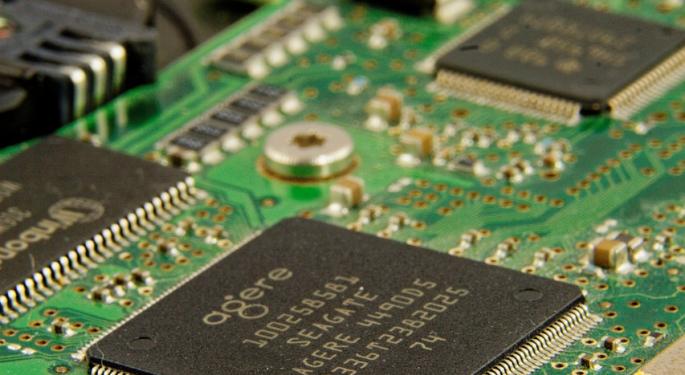 Many companies within the semiconductor/chip sector have been counting on much of their growth to come from the lucrative transition of Chinese consumers from 3G smartphones to 4G smartphones. This doesn't bode well for many companies, at least according to analysts at Chardan Global Insights.
Jay Srivatsa of Chardan commented in a note on Friday that China's recent move to devalue its currency is likely to be an indicator of a "more prolonged" slowdown in the country. The analyst also maintains a view that China's "lack of desire" to weather business cycles in favor of providing stimulus to sectors that are weak and in need of correction is a "poor" policy decisions. As such, the government's decision could have a meaningful impact on many companies that operate in China.
The Sector
Srivatsa continued that Apple Inc. (NASDAQ: AAPL) along with SAMSUNG ELECT LTD(F) (OTC: SSNLF) operate in the higher-end segment, while other semiconductor and chip companies like Skyworks Solutions Inc (NASDAQ: SWKS) and Texas Instruments Incorporated (NASDAQ: TXN) have "various levels" of exposure to the Chinese market. However, the analyst suggested that a macro slowdown in China could slash consumers' disposable income (and increase the savings rate), which is likely to prolong the timeline of the transition to 4G.
Related Link: 5 U.S. Stocks Suffering From China Exposure
It's Not Just China
While investors may disproportionately focus on the Chinese smartphone market, Srivatsa stated that a slowdown in China could hurt companies such as Intel Corporation (NASDAQ: INTC), NVIDIA Corporation (NASDAQ: NVDA), Hewlett-Packard Company (NYSE: HPQ) and others, as the PC, laptop and server sales represent the majority of revenue for these companies.
"To the extent that a slowdown in China could have reverberations in other Asian economies, we believe the PC market could be in for another year of declining growth," Srivatsa concluded.
Bottom line, Srivatsa urged investors to stay away from companies with "significant" exposure (more than 20 percent) to the Chinese market. In addition, the risk-to-reward profile on many of the beaten up stocks in the sector "does not favor" putting new money into shares at this time.
Image Credit: Public Domain
View Comments and Join the Discussion!
Posted-In: 3G 4G 4G Chinha Chardan Global Insights China Currency Jay SrivatsaAnalyst Color Analyst Ratings