The Next AOL? Disney And Time Warner Could Be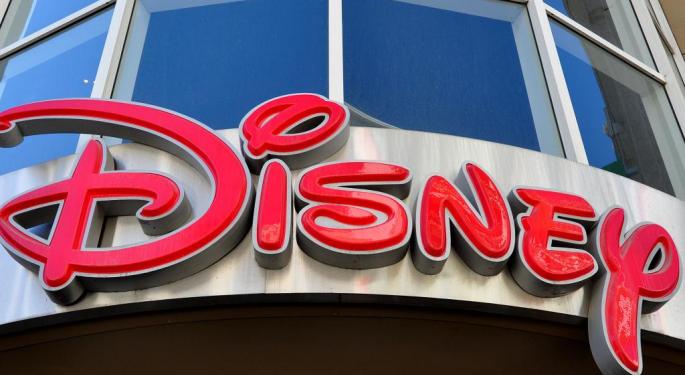 For some investors Walt Disney Co (NYSE: DIS) represents a great long-term holding within the media and consumer space. While Todd Juenger of Bernstein reaffirmed this investment thesis in an industry-wide note on Thursday, he stated that he "must" downgrade the name as the company has run out of conviction that can result in the stock outperforming over the next 12 months.
"On a recent sleepless night, we had this epiphany: the market is now valuing U.S. ad-supported TV businesses as structurally impaired assets," Juenger wrote. "We believe this is fair and warranted, because: a) we believe TV advertising is undeniably in secular decline; and b) affiliate fees are now also being put at increased risk."
Juenger said the market is now valuing the domestic TV business similar to satellite TV, publishing, and even AOL, Inc. (NYSE: AOL). What's troubling for the domestic TV business is these comps have demonstrated declining subscriber fees and/or advertising "displacement." Granted, some of the comps may have "hopeful" futures in the digital space, but the future looks "very different" as it is "less sizable and profitable" than the analog past.
Disney Leading The Bear Story
According to Juenger, Disney's commentary during its most recent quarterly conference call that it is seeing signs of an acceleration in the rate of pay-tv subscriber decline has resulted in media stocks being "massively" revalued downward.
The question investors are now asking is three-fold: 1) is the de-rating justified or an overreaction? 2) has tail risk or discount rate increased that much? and 3) is there evidence that anything is significantly changing in the business?
Related Link: Disney CEO Agrees That ESPN Business Model May Face Streaming, OTT Challenges
Juenger attempted to answer his own questions, noting that TV advertising is entering a "prolonged" period of "structural decline" as more and more viewers migrate towards a non-ad-supported (or less-ad supported) platform. Meanwhile, the "grand-daddy" of TV, ESPN, has shown the first signs of material risk to affiliate fees.
"We understand, and in fact agree, with the market's decision to fast-forward to the inevitable conclusion and start valuing these businesses as if they are declining assets," Juenger argued. "In practice, this means increasing the risk applied to an increased cord-cutting scenario. Which, in practice, means lower multiples."
Juenger added that when an industry is beginning to demonstrate "massive secular upheaval," the market simply enough won't pay for these businesses assuming the status quo will persist. This scenario "usually ends badly" for investors who "cling to hope" that the market can't get any worse.
Fox Has The Most Upside, But…
Juenger "reluctantly" maintained an Outperform rating on shares of Twenty-First Century Fox Inc (NASDAQ: FOXA) with a price target lowered to $38 from a previous $42 as the company could still generate "significant" margin expansion and earnings acceleration in fiscal 2017/2018.
In the meantime, the analyst has "significant doubts" that the stock will "work" in the interim time period. Specifically, the company's fiscal 2016 advertising growth guidance seems "unrealistic" while its first major film of the year, "Fantastic Four," failed "miserably."
The company did note that it has cost levers it can pull to maintain EBITDA, but investors may not be satisfied with achieving EBITDA targets through cost cutting initiatives.
Time Warner Downgrade A 'Borderline' Call
Juenger downgraded shares of Time Warner Inc (NYSE: TWX) to Market Perform from Outperform with a price target lowered to $90 from a previous $101. The analyst stated that the downgrade was "right on the borderline" as the company does offer a "good choice" for nervous investors.
However, given the overall negative outlook of the sector, a "borderline" call by default is relegated to the negative side.
The analyst explained that Turner is going to face "significantly more" advertising pressure while recent original launches have "not been successful," and syndicated repeats continue to weigh on ratings. At the same time, "strong" growth at CNN and Cartoon Network have offset weakness at TNT/TBS over the past year.
With that said, the analyst is finding it "harder to believe" that CNN and Cartoon Network can continue showing strong growth rates while TNT/TBS finds success. Although, "it could happen."
Meanwhile, Juenger doubts many Millennials will pay $15 a month for HBO Now but may have been willing to pay the same $8 per month Netflix charges. Finally, "it remains a mystery" why Marvel films have a strong track record compared to DC films.
The Math Justifies A Disney Downgrade
While Disney's upcoming slate and initiatives (i.e., Shanghai Disney) gives the company assets that "ought to hold up well" in any scenario, the analyst's math simply can't justify a rating which implies the stock will see outsized growth. As such, the analyst downgraded shares to Market Perform from Outperform with a price target lowered to $114 from a previous $125.
In fact, the stock's current valuation is implied valuations that are "generally higher" than the market tends to give them credit for.
As an example, an implied sum-of-the-arts (current) valuation for Disney places an 11.4x multiple on its Cable segment. The analyst's analysis (+1 year) places a "more appropriate" 10.0x multiple which is actually "by far" the highest domestic network multiple of any group.
For Disney to justify an Outperform rating, the Media Networks business would need to sustain a multiple greater than 13x.
Other Notable Ratings
Shares of AMC Networks Inc (NASDAQ: AMCX) were maintained at Market Perform with a price target lowered to $82 from a previous $87.
Shares of CBS Corporation (NYSE: CBS) were maintained at Market Perform with a price target lowered to $52 from a previous $61.
Shares of Discovery Communications Inc. (NASDAQ: DSCA) were maintained at Market Perform with a price target lowered to $29 from a previous $36.
Shares of Viacom, Inc. (NASDAQ: VIAB) were maintained at Underperform with a price target lowered to $42 from a previous $57.
View Comments and Join the Discussion!
Posted-In: BernsteinAnalyst Color Short Ideas Downgrades Price Target Top Stories Analyst Ratings Trading Ideas Best of Benzinga