Calls Of Note: Wall Street Research Moving The Market On Thursday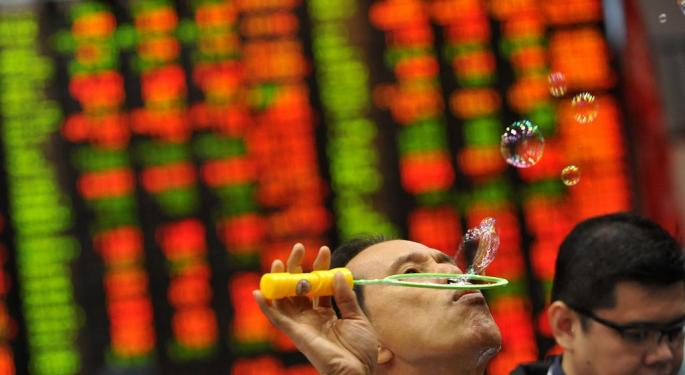 The following represents a hand-picked selection of notable research curated by an analyst known in some circles as "The Sith Overlord Of The Street."
Morgan Stanley: Initiating Intercept Pharmaceutical At Underperform
Andrew Berens of Morgan Stanley initiated coverage of Intercept Pharmaceuticals Inc (NASDAQ: ICPT) with an Underperform rating and $165 price target, marking one of the analyst's "highest-conviction, out-of-consensus calls."
According to Berens, an upcoming review of the company's lead candidate OCA could provide new data and insight into the drug's adverse lipid effects which increases perceptions of risk and hurts its commercial viability.
Morgan Stanley: Upgrading Monster Beverage To Overweight
Dara Mohsenian upgraded shares of Monster Beverage Corporation (NASDAQ: MNST) to Overweight from Equal-weight with an unchanged $160 price target following "transitory" issues in which the stock pulled back 10 percent from recent highs.
According to Mohsenian, Monster Beverage will "eventually" pursue a repurchase program with its $3 billion pro-forma cash balance as soon as the fourth quarter. In addition, the company's third quarter topline miss was "transitory" and related to inventory issues which are now mostly resolved.
Credit Suisse: SunEdison Could Generate Returns
Patrick Jobin of CreditSuisse commented on Sunedison Inc (NYSE: SUNE)'s partnership with Dominion for the "Four Brothers" solar project in Utah.
According to Jobin, SunEdison will develop the project and retain 50 percent of the cash flow and can finance its contribution with $150 million in project-level debt and no equity investment but will occur operating expenditure. The analyst added that "bears are barking up the wrong tree on funding concerns" and "the panic selling is severely overdone."
Atlantic Securities: Downgrading Alibaba To Neutral
James Cordwell of Atlantic Securities downgraded shares of Alibaba to Neutral from Overweight with a price target slashed to $80 from a previous $103 as underlying GMV growth continues to slow while the "anticipated" offsetting monetization improvements have yet to materialize as ad revenue growth continues to lag GMV growth.
Cordwell noted Tmall's trajectory compared "unfavorably" to JD.Com Inc(ADR) (NASDAQ: JD) which may suggest "competitive pressures" exists. At the same time, the analyst expected underlying monetization to improve at Tmall but instead the company reported a "lackluster" ad revenue growth.
Deutsche Bank: Upgrading Qlik To Buy
Karl Keirstead of Deutsche Bank upgraded shares of Qlik Technologies Inc (NASDAQ: QLIK) to Buy from Hold with a price target raised to $50 from a previous $42 following a meeting with management.
According to Keirstead, Qlik's management's tone showed they are not seeing any sign of industry demand softness and sounded "bullish" over its overall pipeline – especially for large deals.
Barclays: Bearish On Offshore Drillers
J. David Anderson of Barclays stated that the Offshore Drillers group will likely see further downside as spending is likely to decline in 2016 while floater retirements have "stalled" recently.
According to Anderson, there have been 38 total floater retirements since last October, but only three since June. As such, "market attrition" won't take place fast enough for the market to rebalance the 51 floater newbuilds under construction that are set to be delivered through 2017. In addition, the analyst is expecting many companies to soon announce spending cuts as operators wait for signs of oil price stability and lower development costs.
Longbow: Appliance Survey Results
David MacGregor of Longbow Research discussed the results of his appliance survey and noted that July sales comped in the three to four percent range while Sears Holdings Corp (NASDAQ: SHLD) may have actually compared negatively year over year.
MacGregor also noted that Whirlpool Corporation (NYSE: WHR)'s success in reestablished positive Latin America margins in the second half of 2015 may be "frustrated" by the ongoing "collapse" of the Brazilian currency where sales may also be down five to eight percent.
Bank of America: Initiating Rite Aid At Buy
Robert Willoughby of Bank of America initiated coverage of Rite Aid Corporation (NYSE: RAD) with a Buy rating and $11 price target as the company benefited from a "bolus" of prescriptions and front-end sales since Walgreen's "ill-conceived" dispute with Express Scripts in 2012.
Willoughby also added that the company's growth prospects is "improving" and has also returned to acquisitions as a driver of growth. Rite Aid is also an "attractive financial engineering story" with opportunities to reduce debt, refinance obligations and lower its cost of capital.
BMO: Upgrading Merck To Outperform
Alex Arfaei of BMO Capital Markets upgraded shares of Merck & Co., Inc. (NYSE: MRK) to Outperform from Market Perform with a price target raised to $70 from a previous $65 given a "more optimistic" view on its pipeline.
Arfaei also added that upcoming data readouts should boost the Street's expectations for its assets (particularly Keytruda and Hep-C) as the company is on the verge of seeing five to six years of "strong growth."
JPMorgan: Downgrading Memorial Production To Neutral
Gabriel Daoud of JPMorgan downgraded shares of Memorial Production Partners LP (NASDAQ: MEMP) to Neutral from Overweight with a newly established $11 price target following a distribution reset which "we fear may not be enough."
Daoud also noted that the company is now a "show-me story" as cost control execution issues overshadow an otherwise strong asset base. In addition, the company's leverage continues to "creep higher" which is also concerning.
Oppenheimer: Bullish On Skyworks on iPhone, Broader Market
Rick Schafer of Oppenheimer met with Skyworks Solutions Inc (NASDAQ: SWKS)'s management team in which the tone was "decidedly upbeat" and mirrors the company's recent "bullish" earnings call.
According to Schafer, the iPhone 6 contains approximately $5 of Skyworks' content, and the analyst is expecting a 15 percent-plus content increase in the iPhone 6s. In addition, the analyst is expecting Skyworks' band counts to rise from 20 in the iPhone 6 to more than 30 in the future iPhone 7. Finally, the company's "Broad Market" (26 percent of sales) is expected to grow at a mid-teen percentage compounded annual growth rate over the mid to long-term and deliver gross margins above the corporate average.
Bernstein: Upgraded Yahoo To Outperform
Carlos Kirjner of Bernstein upgraded shares of Yahoo! Inc. (NASDAQ: YHOO) to Outperform from Market Perform with an unchanged $52 price target as the stock's price of around $34 per share represents "the worst case scenario" valuation.
Kirjner continued that Yahoo's stake of Alibaba is worth $18.40 per share (at a stock price of $73.40), while Yahoo! Japan is valued at $6 per share. Adding on Yahoo's $4.40 per share in net cash and a $3.30 per share valuation of Yahoo core derives a total of $32.10 per share – roughly seven percent below Wednesday's closing price.
View Comments and Join the Discussion!
Posted-In: Alex ArfaeiAnalyst Color Long Ideas Short Ideas Top Stories Analyst Ratings Movers Trading Ideas Best of Benzinga