The Evolving TV Business: 'Experience, Not Content, Is King'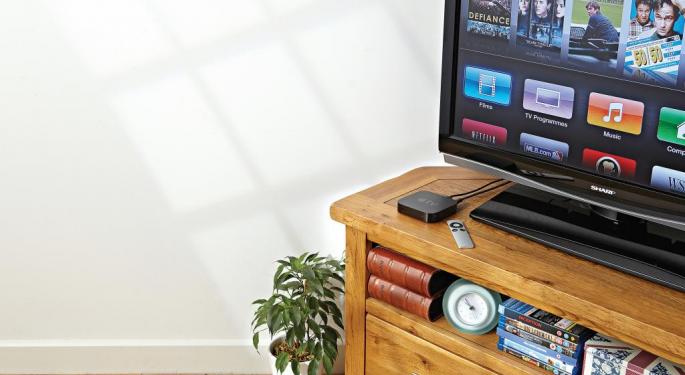 The television landscape has changed dramatically during the past five years. Streaming services such as Netflix, Inc. (NASDAQ: NFLX), Hulu, and Amazon.com, Inc. (NASDAQ: AMZN) Prime have usurped an industry that previously relied on families gathering around a TV set to enjoy scheduled programming.
Rich Tullo, Director of Research at Albert Fried & Company, recently conducted a comprehensive study of the changing patterns in television consumption. He spoke with Benzinga to offer some insights.
Consumer Independence
One important trend that he highlighted was that viewers, with access to streaming platforms as well as DVR technology, are increasingly "scheduling their own TV" instead of abiding by the schedule of major cable networks.
As a result, he said, "content is no longer king" for companies like Walt Disney Co (NYSE: DIS). In the past, a few good programs on ABC would extend benefits to the rest of the channel's shows, because viewers would watch programs as they were broadcast. Now, however, content is much more stand-alone: audiences can DVR "The Bachelorette" or watch it online without ever having to see "The Whispers."
"The content isn't really attribute to the network it's on anymore," Tullo explained. "It just stands by itself."
Thus, a few good shows alone can no longer make an elite media company, according to Tullo. In his opinion, "experience" is the most crucial component.
"Content contributes to experience," he clarified, but it's not just about quality; seamless technology and the ability to schedule and watch TV "on your own terms" is also important.
Related Link: Will Comcast Stream Fulfill The Dream Of Cable-Free TV?
Bearish On Netflix
Streaming platforms like Netflix have seemingly excelled on this front. But Tullo exercised caution, pointing out that 47 of its 50 top shows are licensed. And because so much of the content is borrowed, he noted, Netflix's recent 80 percent increase in domestic paid streaming and subscriptions translated to only 36 percent top line growth.
"You have to own [the product]," Tullo emphasized. "Netflix owes [billions] to Hollywood and is generating losses." He said the platform's expansive library of content is good for generating hype but that "there's not much behind it."
Perhaps a more ideal model would be that of HBO, a subsidiary of Time Warner Inc (NYSE: TWX). The independent entertainment company features a highly-rated lineup of programming as well as a streaming platform to complement its television channel. Furthermore, Time Warner controls the rights to its content.
Insurgency
Tullo predicts what he calls content M&A insurgency on the part of entertainment companies -- a shift in the way the bundle their programming. Traditionally, companies like Twenty-First Century Fox Inc (NASDAQ: FOX) and Time Warner would partner to require to bundle their content, forcing a television provider like DirecTV (NASDAQ: DTV) to include both companies' channels in their packages to subscribers.
However, with content becoming increasingly independent from the networks on which they appear, Tullo believes that bundling individual programs on streaming sites may be more efficient and profitable than bundling entire channels.
"if I'm AMC and I've got eight shows in top 50 [on Netflix], and The BBC has six or seven of the top 50, then for $500 million I can double my market share for markets that count in the future," Tullo suggested.
Thus, he believes that M&A in the television space will become increasingly efficient and oriented along the lines of individual shows.
Up-And-Comers
Tullo also believes companies like Yahoo! Inc. (NASDAQ: YHOO) and Google Inc (NASDAQ: GOOGL) (via Youtube) could have an important role to play in the evolving entertainment space.
"The opportunity for those guys really lies in serial viewing," he said. Serial viewing, according to Tullo, basically includes highlights of sports games and snippets of regular television shows.
He also highlighted the opportunity to penetrate the live streaming space. Yahoo, he pointed out, already live streams concerts.
There are a host of changes pulling the rug out from under the feet of the traditional entertainment business. As the sector continues to evolve, those traders and investors who are able to anticipate the direction of progress will be positioned for big gains.
Posted-In: albert fried cable Rich TulloAnalyst Color Top Stories Exclusives Analyst Ratings Tech Best of Benzinga
View Comments and Join the Discussion!