The Citi Fixed Income Note Traders Are Passing Around
A new report by Citi Research analyst Matt King focuses on the liquidity of fixed income investments. While liquidity has never been better by some measures, other signs are more troubling and could mean more extreme volatility is on the way.
Current State Of Liquidity
King points out that the cost to trade U.S. Treasuries (UST) is relatively low, which is good for liquidity. However, while the number of outstanding USTs has doubled in recent years, it has now become more difficult to execute large trades without a major impact on prices.
As an example, King mentions the 37bp intraday move in USTs in October 2014 that had "little obvious explanation."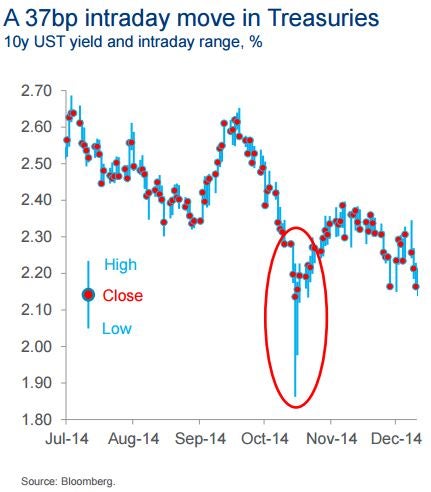 Corporate Bonds
When it comes to corporate bonds, King presents a chart that indicates that out of 26,000 publicly registered bonds in 2014, 3,000 of them (11 percent) never traded at all, 5,000 of them (20 percent) traded on five days or fewer, and only 277 of them (1 percent) traded daily.
Related Link: The Islamic Bond Market Is Getting Enormous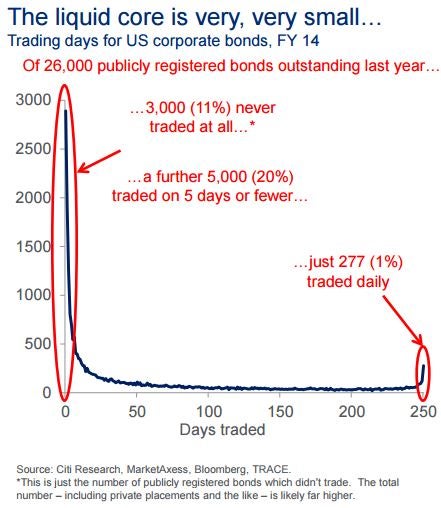 In addition to the majority of trading volume in corporate bonds being concentrated on a handful of bonds, it is also concentrated on a handful of traders. According to the report, the data from a large dealer shows that half of the total 2014 trading volume in investment grade (IG) bonds came from only 36 clients. To make matters worse, the number of dealers that bond traders use has also declined significantly in recent years.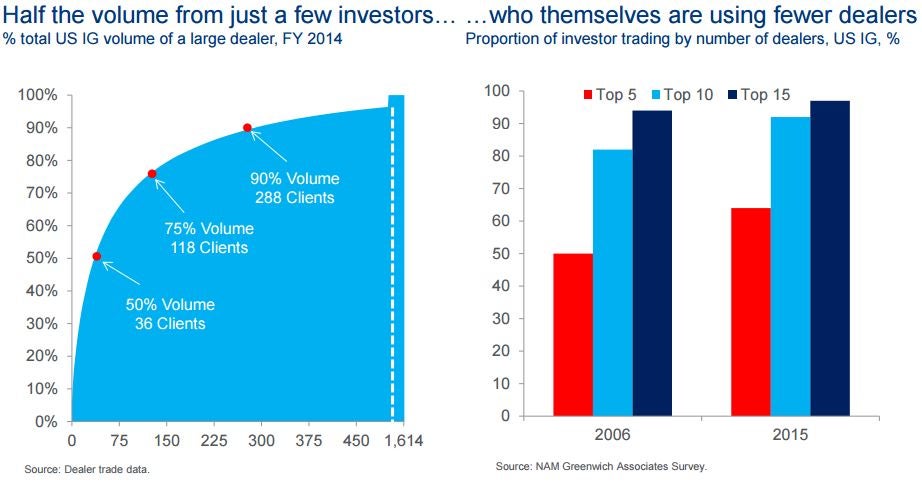 Outlook
King believes that the current state of liquidity in fixed income markets leaves them vulnerable to extreme volatility. "A shift towards an agent-based model and a loss of heterogeneity leaves liquidity vulnerable to the whims of end users," King concludes.
The end result is that traders should be prepared for more "flash crashes" in fixed income markets such as the one that occurred in October of last year.
Posted-In: Citi Research Matt KingAnalyst Color Bonds Markets Analyst Ratings
View Comments and Join the Discussion!