20 Stocks With The Highest Exposure To China's Lagging Economy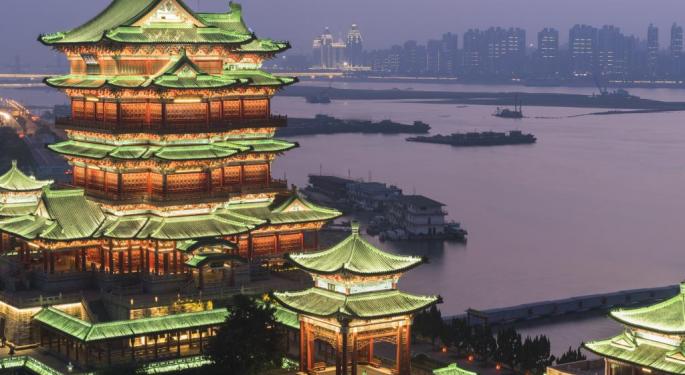 Investors woke up on Tuesday to a surprise move in China as the country's central bank, The People's Bank of China, devalued the nation's currency to jolt its lagging economy.
The central bank stated it will implement measures that will allow the yuan to weaken by nearly 2 percent. The move is expected to boost exports and push down borrowing costs.
Just a few days ago China said that it saw an 8.3 percent decline in exports in July – a decline that is substantially lower than the 1 percent economists were estimating.
The center of the yuan's trading band was moved lower by 1.9 percent on Tuesday at 6.2298 per US dollar. The currency is pegged to the U.S. dollar and marks a pressing issue between Washington and Beijing.
Tech Companies With High China Exposure
Goldman Sachs released a list of the top-20 S&P 500 companies with revenue exposure to China. At top of the list is Skyworks Solutions Inc (NASDAQ: SWKS) with an 83 percent revenue exposure in China. Ranking third in Goldman Sachs' list is QUALCOMM, Inc. (NASDAQ: QCOM) with a 61 percent exposure.
In Qualcomm's case, the company's third quarter operating margin of 7.5 percent was at the low end of management's guidance range due to a weaker sales mix of premium tier customers in China.
"Lower than expected sell through in China of certain handset models using our premium tier chipsets is impacting demand in the fourth quarter," Qualcomm's Chief Financial Officer George Davis warned during the company's most recent conference call.
Quaclomm did note that a stronger than expected share in the low tier market was already factored into future guidance, but it remains to be seen how the devalued currency will impact the forward looking guidance as the company collects revenue in a now weaker Chinese currency.
Other tech companies with large revenue exposure to China include Broadcom Corporation (NASDAQ: BRCM) at 55 percent, Micron Technology, Inc. (NASDAQ: MU) also at 55 percent and NVIDIA Corporation (NASDAQ: NVDA) at 54 percent.
Wynn Resorts: Second Largest S&P 500 Company Exposed To China
Goldman Sachs named Wynn Resorts, Limited (NASDAQ: WYNN) as the second highest S&P 500 company exposed to revenue in China at 83 percent.
The casino and hotel operator conducts substantial amount of business in Macau and relies on Chinese nationals visiting its properties.
Following the devaluation of China's currency, Chinese nationals will see their purchasing power hurt in Macau as the region's currency is the Macanese Pataca. Wynn Resorts, like other hotel operators in the region, rely on the "mass market" (i.e none high rollers) to support their gross gaming revenue.
Similar to Qualcomm, it is not immediately clear what affect the weaker Chinese currency will pose on Wynn's bottom results. While it is likely the high rollers will brush off the lowered exchange rate given their large gambling budgets, investors will be watching if the mass market cuts back on its collective gambling budget.
What Other Industries Are Affected?
Years of strong growth within China's middle and upper class has spurred luxury makers to focus on the Chinese market.
Goldman Sachs' list of top 20 S&P listed companies with revenue exposure to China did not contain any luxury good makers, nor did it contain apparel and fashion names that count China as a key market, such as Coach Inc (NYSE: COH).
Yum! Brands, Inc. (NYSE: YUM) ranked seventh on Goldman Sachs' list with a 52 percent revenue exposure to China. The company operates over 6,800 restaurants in over one thousand cities in China and investors have historically turned cautious on the name at the first sign of trouble in the country.
Starbucks Corporation (NASDAQ: SBUX) announced in January that it plans to increase its store count in China to 3,000 by 2019. For the time being the company was not included in Goldman Sachs' list of largest companies exposed to China.
Naturally, every industry will likely see some effect from the Chinese government's decision. Investors will be paying particularly close attention (as if they haven't already) to any commentary companies have to offer regarding their outlook in China.
See the full list of companies from Goldman Sachs below.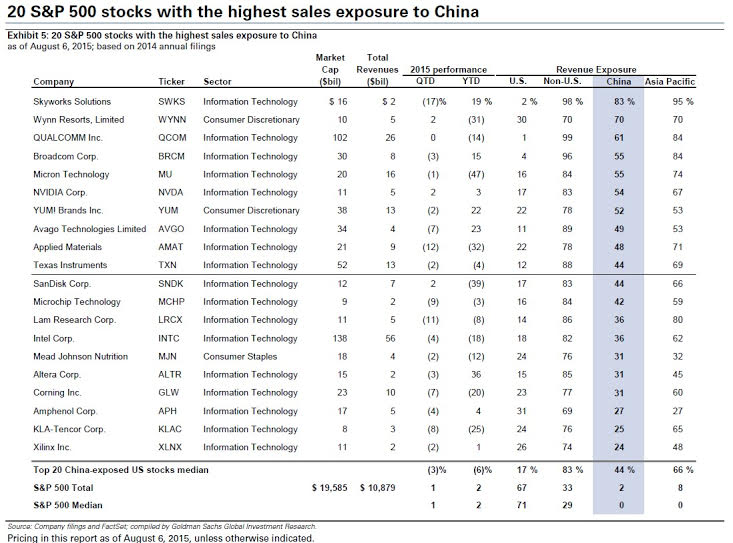 View Comments and Join the Discussion!
Posted-In: Analyst Color Short Ideas Emerging Markets Forex Top Stories Economics Markets Analyst Ratings Best of Benzinga