The Wall Street Research Making Waves Today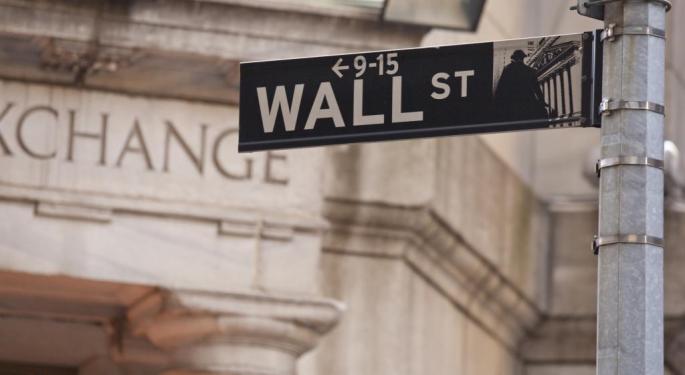 The following represents a hand-picked selection of notable research curated by an analyst known in some circles as "The Sith Overlord Of The Street."
JPMorgan: Downgrading Linn Energy
Gabriel Daoud of JPMorgan downgraded shares of both Linn Energy LLC (NASDAQ: LINE) and LinnCo LLC (NASDAQ: LNCO) to Underweight from Neutral with a $5 price target.
According to Daoud, investors are focusing on the upcoming suspension of the $450 million common distribution (that will be used to improve the balance sheet), rather than its "solid" second quarter in which production topped Street expectations while also "handily" trumping the midpoint of guidance by 60mmcfe/d.
Brean: Q2 In Focus
Tom Forte of Brean Capital previewed Groupon Inc (NASDAQ: GRPN)'s second-quarter results which are scheduled for next Friday.
Forte is expecting Groupon to report sales of $734.1 million, representing a 2.3 percent decline from last year. The sales estimate is slightly lower than the consensus estimate of $740.3 million but falls in the top-half of management's $700 million to $750 million guidance. EBITDA is estimated to come in at $59.9 million, also below the consensus estimate of $66.7 million while management guided for a $55 million to $75 million range.
Shares remain Buy rated with an unchanged $11 price target.
Related Link: It's Going To Be A Huge Day For Energy ETFs
Bernstein: ACE and Chubb Deal In Focus
Josh Stirling of Bernstein upgraded shares of Ace Limited (NYSE: ACE) to Outperform from Market Perform with a price target raised to $140 from a previous $108. At the same time, the analyst also upgraded shares of Chubb Corp (NYSE: CB) to Outperform from Market Perform with a price target raised to $147 from a previous $127.
The analyst noted that both companies are "leaders" in their respective markets and when combined, it will offer investors a "high quality franchise" with leverage to growth both in the U.S. and International.
Canaccord: Initiating Lending Club, OnDeck At Buy
Michael Graham of Canaccord Genuity initiated coverage of two names within the $3.4 trillion of consumer credit and $300 billion of small business credit market.
Graham noted that LendingClub Corp (NYSE: LC) (Buy, $24 price target) focuses primarily on the consumer loan market with a focus on consolidating credit card debt. The company's marketplace model allows the company to grow without accumulating capital on its balance sheet.
Graham also stated that On Deck Capital Inc (NYSE: ONDK) (Buy, $22 price target) leverages the Internet and big data with a credit scoring model that gives SMB (small, medium size businesses) a credit decision within minutes and supports same-day funding. The analyst added that the company is "revolutionary" as SMBs have historically had a "very difficult" time in gaining credit.
Cowen: Downloading Zillow Ahead Of Q2
Thomas Champion of Cowen And Company downgraded shares of Zillow Group Inc (NASDAQ: Z) as the company failed to provide historical pro-forma subscriber data its first quarter results. As such, the analyst is expecting a "rapidly decelerating" agent subscriber growth of 9 percent in the second quarter and 3 percent in the third quarter.
Shares were downgraded to Underperform from Market Perform with a price target lowered to $60 from a previous $90.
Leerink: Jazz Management 'Under The Gun'
Jason Gerberry of Leerink commented in a note that Jazz Pharmaceuticals plc – Ordinary Shares (NASDAQ: JAZZ) is "under the gun" to structure a patent settlement with Roxane and advance its Xyerm life cycle program.
Gerberry noted that a generic patent challenge to Xyrem remains a "lengthy process" due to the "complexity" of the case. A patent trial could occur as soon as the fourth quarter with a second case approximately one year after. On the other hand, the analyst expressed optimism of Xyrem, noting it can "add long-term value."
Shares remain Outperform rated with a price target raised to $220 from a previous $201.
Oppenheimer: Murphy Oil Downgraded, Deficit Spending To Continue
Fadel Gheit of Oppenheimer downgraded shares of Murphy Oil Corporation (NYSE: MUR) to Perform from Outperform while removing a $55 price target as the company's deficit spending is expected to continue into 2017 and beyond.
The analyst is projecting the company to face a cash flow deficit of $1.6 billion this year and $900 million the following year, which will be funded from its $1.3 billion cash on hand and additional borrowings.
Ladenburg: Novavax Presents Phase II Data
Kevin DeGeeter of Ladenburg Thalmann commented on Novavax, Inc. (NASDAQ: NVAX) top-line data from the Phase II dose-ranging study of its quardrivalent seasonal influenza vaccine.
The analyst expects BARDA (Biomedical Advanced Research and Development Authority) to continue funding development of the program, including Phase III clinical trial costs and manufacturing scale up.
Shares were maintained with a Buy rating with a price target raised to $14.15 from a previous $10.80.
Related Link: Why Wall Street Isn't Freaking Out About LinkedIn's Earnings
Citi: Upgrading GoPro, Notes Flying Cameras
Jeremy David of Citi upgraded shares of GoPro Inc (NASDAQ: GPRO) to Buy from Neutral with a price target raised to $90 from a previous $63.
According to David, GoPro is a "long-term beneficiary" of two mega-trends which are flying cameras (drones) and virtual reality (following its acquisition of Kolor and partnership with Google to facilitate the creation of virtual reality content).
Pacific Crest: Turnaround At A10 Networks
Brent Bacelin of Pacific Crest maintained an Overweight rating on shares of A10 Networks Inc (NYSE: ATEN) with a price target raised to $11 from a previous $10.
According to Bacelin, the company's third-quarter guidance "confirms" that its revenue is on track to return to a double-digit growth rate in the second half of the year. In addition, shares are "mispriced" at a 1.3x EV/sales multiple while its peers are valued at around 3.0x EV/sales.
Wunderlich: 'Continued High Confidence' In Time Warner-Charter Deal
Matthew Harrigan of Wunderlich maintained a Buy rating on shares of Time Warner Cable Inc (NYSE: TWC) with a $219 price target given a "high confidence" that its merger with Charter will "pass muster" in Washington.
If the deal is not approved, the analyst suggested the stock can be supported by a "floor value" of $187.
Posted-In: BernsteinAnalyst Color Upgrades Downgrades Price Target Top Stories Analyst Ratings Trading Ideas
View Comments and Join the Discussion!