Ray Dalio On China: Over The Next 3 Years The Country Could See A Drag On Growth Of 0%-4%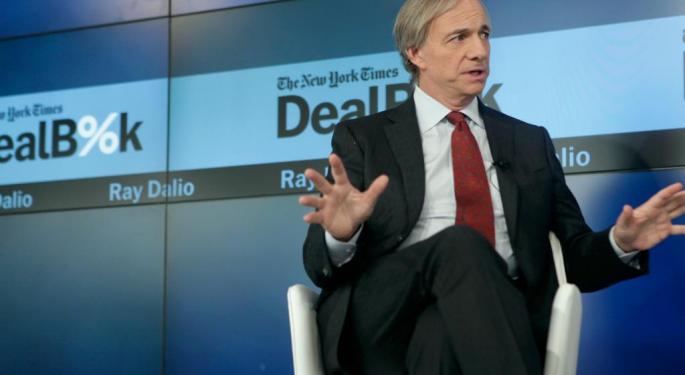 In a recent report, Ray Dalio and his team at Bridgewater Associates provide an updated view on China, following the recent developments in the stock market.
The firm had previously conveyed its thinking about the debt and economic restructurings "being negative for growth over the near term and positive for growth over the long term."
Usually, the firm would expect the stock market bubble bursting would to have a rather small net negative impact on growth. However, in this case, it seems like the impact will be larger, they state. "Because the forces on growth are coming from debt restructurings, economic restructurings, and real estate and stock market bubbles bursting all at the same time, we are now seeing mutually reinforcing negative forces on growth," the report explains.
The analysts highlight, however, that it is too early to assess the reach of the impact of the decline in the stock market on credit and economic growth. Nonetheless, indications of this will surface soon, they assure.
Given that the stock market and credit bubbles have already burst simultaneously in many other countries, Dalio and his team look into past cases, and conclude that the most analogous ones "created a depressant on real GDP growth of 1.8% on average, annually, for three years relative to what growth would have been without these events; bad cases saw an annual drag of 4% for three years; and, well managed cases saw no drag over three years (i.e., growth averaging its potential)."
The experts continue to highlight that although the stock market losses were significant, they were concentrated, affecting about 8.8 percent of the population only. However, they note that "even those who haven't lost money in stocks will be affected psychologically by events, and those effects will have a depressive effect on economic activity."
The firm would expect the outcome in China to be within the aforementioned range (0 percent to -4 percent). The actual result will depend on how the country's policymakers use the tools available for treating the issue.
The SSE Composite Index (SHA:000001) fell 1.29 percent on Friday trading.
Posted-In: Bridgewater Associates China Ray Dalio VetrAnalyst Color Hedge Funds Analyst Ratings General Best of Benzinga
View Comments and Join the Discussion!