Evercore ISI's Schoenebaum Breaks Down Celgene-Receptos Merger
In a new presentation, Evercore ISI analyst Mark Schoenebaum breaks down the recently announced Celgene Corporation (NASDAQ: CELG) buyout of Receptos Inc (NASDAQ: RCPT). The deal is valued at about $7.2 billion, and the $232/share price that Celgene is paying represents about a 12 percent premium to the market value of Receptos at the time the deal was announced.
Major Product
Receptos' major product is Ozanimod, which is in phase 3 testing for two different indications: multiple sclerosis (MS) and ulcerative colitis (UC).
According to Schoenebaum, Ozanimod is similar to Novartis AG (NYSE: NVS)'s MS drug Gilenya, which currently produces annual sales of about $2.6 billion and is "one of only a few recently approved oral drugs in an MS market historically dominated by injectables."
However, Schoenebaum points out that subtle differences in Ozanimod's selectivity could mean that the drug avoids the required warning labels related to slow heart rate and heart block that Gilenya is subject to, which could differentiate Ozanimod from the competition.
When it comes to the UC indication, Schoenebaum once again sees Ozanimod as an active, oral alternative to injectable UC treatments.
Valuation
Evercore is projecting peak Ozanimod sales of about $2.6 billion per year in 2024 and then a slow decline in sales until the drug's patent cliff in 2033.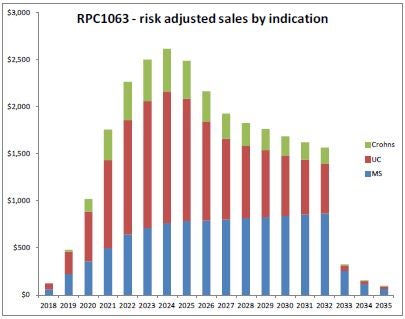 These projections fall short of the annual peak projections of $4-$6 billion that Celgene announced.
Celgene sees a negative impact to earnings per share of between -$0.12 and -$0.40 per year for 2015-2017 due to the costs associated with the deal. However, the company raised its 2020 earnings guidance by $0.50 per share.
Threats To The Deal?
Celgene is expecting the deal to close in Q3 of this year. Evercore sees no antitrust issues with the potential deal, and does not expect any meaningful clinical data or FDA activity between now and the expected closing date.
View Comments and Join the Discussion!
Posted-In: Evercore ISI Mark SchoenebaumAnalyst Color Biotech M&A Analyst Ratings General