Drones, Hero4 Give GoPro Enormous Opportunity Heading Into Earnings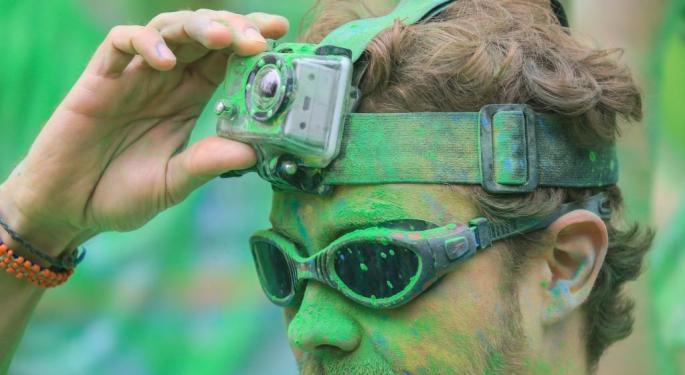 GoPro Inc (NASDAQ: GPRO) is slated to release its Q2 earnings after the closing bell on Tuesday. The company has continued to expand in multiple directions over the past quarter: releasing new cameras, expanding its media profile, and planning forays into the drone space and virtual reality.
Analysts around the Street were commenting on GoPro in advance of the earnings release.
Back To Basics
Despite its multi-pronged growth approach, GoPro still takes pride in its original core business -- cameras.
In a note published July 13, Dougherty analyst Charles Anderson said that the company "reversed many downtrends in our data," which he attributed primarily to the announcement of its newest camera -- the Hero4 Session. According to the analyst, "GoPro" Google searches were up 40 percent year-over-year following the announcement, and YouTube searches were up 20 percent.
Although downloads of the GoPro app ticked down on both the App Store and Google Play, Anderson maintained that one should "expect these metrics to be weak in front of a new camera launch (buyers waiting)."
Related Link: GoPro Beat Last Quarter By A 'Crazy Amount,' Will It Repeat In Q2?
Furthermore, Anderson doesn't believe that these metrics fully reflect the likely growth in GoPro sales. He said that "GoPro YOY unit growth outperformed Google searches in Q4 and Q1." In addition, "apps downloaded do not capture buyers of the low-end $130 HERO camera (it has no Wi-Fi to pair with an app) nor do they capture repeat buyers of GoPro products (the app would already be installed)."
But GoPro's anticipated Q2 success isn't only tied to its newly announced Hero4 Session. In a report published June 10, Piper Jaffray analyst Erinn Murphy highlighted company executives' satisfaction with the launch of the HERO+ LCD.
Barclay's Joseph Wolf, in a report published July 14, said that good execution since the IPO has helped GoPro "solidify the hardware lead. New developments like 360 video, drones, better software, and a planned a portal should further expand the lead."
New Frontiers
Murphy noted GoPro's planned forays into two emerging industries: drones and virtual reality. She said that GoPro plans to enter virtual reality during the second half of 2015 and the drone space during the first half of 2016. According to her, the drones will constitute a multi-billion dollar market by 2020, while the virtual reality industry will be worth upwards of $65 billion by 2025.
In a report published June 23, JMP Securities analyst Alex Gauna said that "the drone market [was] booming." Leaders in the space, such as Parrot, have reported three-fold year-over-year sales increases. GoPro has already penetrated the drone industry, at least superficially, with a GoPro-compatible Solo drone "available in many major Best Buy geographies."
With respect to virtual reality, Gauna said that the technology could help GoPro "sell more capture devices and provide imaging and editing software solutions that differentiate its capabilities."
Total Addressable Market
Between action cameras, drones, and VR, analysts see GoPro's total addressable market as primed to expand rapidly. Murphy highlighted that company execs believe that the market for its cameras is at least as large as the 80 to 90 million unit market for digital cameras and camcorders. In her view, "the entry-tier action camera market is still very young with many future users yet to even purchase a device yet."
Wolf predicted that the firm would sell 7.2 million devices in 2015, significantly greater than the 6 million he predicted a year previously. "The new Session and drones mean the TAM is larger still."
Murphy thinks that annual sales could soon climb to 10 million.
Additionally, Gauna sees plenty of space to grow in international markets. He noted that non-U.S. sales increased by 66 percent in Q1 to comprise about half of total revenue. In most regions where GoPro devices are sold, he furthered, the company faces no real competitors. In China specifically, Murphy mentioned, GoPro has documented a favorable consumer response after having been in the market for less than half a year.
However, Oppenheimer analyst Martin Yang, in a report published July 1, was less optimistic. Yang said that many consumers could be turned off by the long and arduous editing process required to create a "beautiful" GoPro video. Nevertheless, he said that many companies have been able to turn profits with small TAMs by creating a "trusted brand -- something GoPro could certainly be."
The stock gained 7 percent on Monday, closing at $60.80.
Below is a summary of the positions of the analysts' highlighted above:
Piper Jaffray: Overweight, $68 Price Target
Barclays: Overweight, $65 Price Target
JMP Securities: Market Outperform, $105 Price Target
Oppenheimer: Neutral, No Price Target Given
Posted-In: Alex Gauna Barclays Charles AndersonAnalyst Color Previews Top Stories Analyst Ratings Trading Ideas Best of Benzinga
View Comments and Join the Discussion!