iPhone Momentum, China On Apple Analysts' Minds Heading Into Tuesday's Report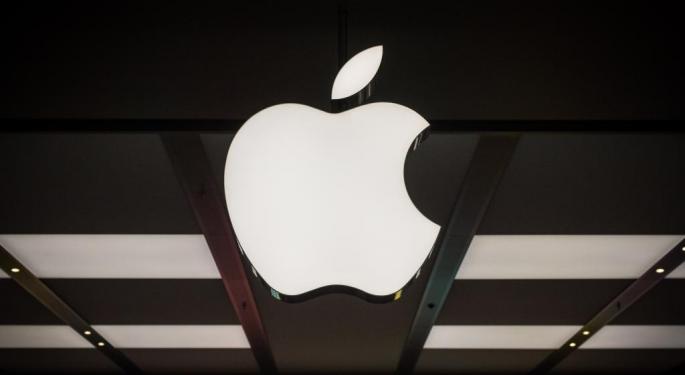 Apple Inc. (NASDAQ: AAPL) is scheduled to report its third quarter results after Tuesday's market close. Estimize, the crowd-sourced earnings and economic rating platform is expecting the company to earn $1.86 per share in the quarter on revenue of $49.346 billion. This compares to the Wall Street consensus estimate calling for Apple to earn $1.79 per share on revenue of $49.092 billion.
Here is a summary of what Wall Street's top experts are saying ahead of the print.
Susquehanna: Android's Negative Is Apple's Positive
Chris Caso of Susquehanna Financial Group commented in a note in late June that recent Asia checks concluded Android devices are suffering from product launch delays due to supply chain issues which supports a bullish view on Apple.
According to Caso, product introductions for QUALCOMM, Inc. (NASDAQ: QCOM)'s Snapdragon 810 phones have been "below plan" which is having a "negative effect" on the Android high end smartphone market. Specifically, concerns relating to overheating issues have "dogged" Qualcomm's S810 chipset from the start.
Caso continued that Android's supply chain issues "help to explain" why the iPhone is performing better than expected so late in its product cycle. The analyst added that his checks further explain why Apple's builds appear to be ahead of plan for the second quarter.
Looking forward, the analyst suggested that these "dynamics" also explain why Apple and its supply chain partners "might be more comfortable" with the launch of the iPhone 6s, despite the already large upgrade cycle to iPhone 6 over the past year.
Credit Suisse: Apple Benefited From 'Robust' iPhone Demand
Kulbinder Garcha of Credit Suisse commented in a note on July 8 that recent data points continue to suggest Apple benefited from a "robust" demand for the iPhone business which offset iPad weakness.
Garcha is estimating Apple shipped 56 million iPhone units in the June quarter which represents an eight percent decline from the first quarter but a spike of 60 percent year over year. The analyst also added that he continues to see iPhone strength in the coming quarters, culminating in total deliveries of 250 million units for the year.
Looking forward, Apple could also benefit from a "major" opportunity in emerging markets. In fact, the analyst suggested that emerging markets could add an incremental $96 billion in sales and $3.15 in earnings per share "over time" as the company continues to expand not only its retail presents, but tis online presence. This growth opportunity is "underappreciated" by investors and not accurately reflected in the current share price.
Cantor Fitzgerald: Apple 'Still' In Transformational Phase
Brian White of Cantor Fitzgerald commented in a note that despite the sharp sell off in Chinese equities, the company is "still in the midst of a transformational, super cycle."
According to White, Apple's momentum in China is "too strong" to suffer from the "derailed" market fall. The analyst suggested that Apple's continued success in China is driven by the introduction of the much larger-sized iPhone, coupled with the country's expanding 4G network. In fact, Apple surpassed Xiaomi to become the number one vendor in China's smartphone market in the first quarter.
Outside of China, White suggested that the Apple Watch will prove to be "the go to" gift this holiday season and the Watch will prove to be the best selling new product in Apple's history in its first 12 months.
UBS: What China Risk?
Steven Milunovich of UBS commented in a note on July 9 that Apple was likely to have shipped 49.4 million units in the second quarter while a "strong supply chain" may actually suggest a figure of 50 million units is "possible."
According to Milunovich, China has provided over half of Apple's recent growth. The analyst added that his checks indicate Apple continues to penetrate the Chinese market and aggressively target the higher income market as consumers in the country continue upgrading to more expensive phones. In fact, Apple has the highest brand commitment level in the country.
The analyst did note that a slowing Chinese economy is a risk for Apple, but the firm's economist Tao Wang sees a "limited impact" on the economy as there is "little evidence" of previous stock market gains substantially affecting household consumption. Moreover, the correlation between consumption and stock prices is "ambiguous."
Bottom line, the analyst stated that "Apple is ok for now."
Piper Jaffray: Expect Continued iPhone Momentum
Gene Munster of Piper Jaffray commented in a note on Sunday that Apple is expected to show "continued strength" in its iPhone unit growth with a "slight acceleration" from the previous quarter.
Munster is expecting Apple to earn $1.82 per share in the second quarter on revenue of around $50 billion, resulting in a 39.5 percent gross margin rate. The company is expected to show shipments of 49 to 50 million iPhone units.
Munster noted that a 49 million unit shipment represents an "acceleration" as the company continued gaining share at the high-end of the market – a trend that is expected to continue throughout the rest of the year. However, the analyst cautioned that the "well-known negative" is that Apple will enter difficult comps starting in the December quarter which could "soften investor optimism" around iPhone share growth.
Munster also added that Apple may guide its next quarter's revenue to a range of $48 billion to $51, implying 48 million to 49 million iPhone shipments. The company's gross margin guidance is expected to fall in a range of 39 percent to 40 percent.
Posted-In: Andoid AppleAnalyst Color Long Ideas Top Stories Analyst Ratings Tech Trading Ideas Best of Benzinga
View Comments and Join the Discussion!