David Einhorn: Micron Will Be Worth More Than Netflix, Intuitive Surgical Short Covered, Apple Still No. 1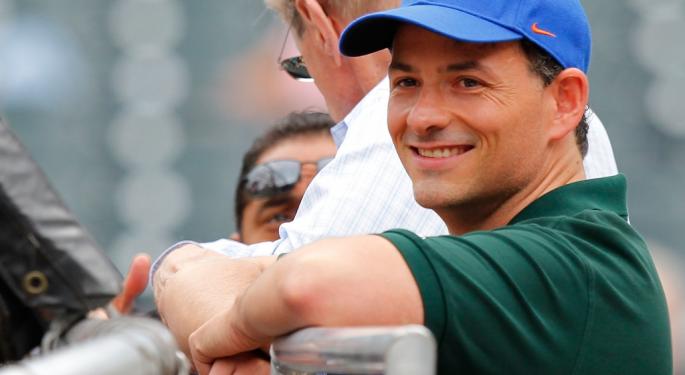 David Einhorn and Greenlight Capital's second quarter letter is out. Below are the highlights.
Netflix: 'Apparently Red Ink Is The New Black'
Netflix, Inc. (NASDAQ: NFLX) reported GAAP earnings per share of $0.38 ($0.77 adjusted) versus $0.69 estimates in the first quarter, but subscriber growth and foreign exchange adjustments led to an overwhelmingly positive reaction from investors.
To Einhorn, this was a surprise. "[A]pparently Red Ink is the New Black," he wrote in the letter, before asking: "Why did the stock react that way?"
"Cynically," he added, "if it soared on bad news, imagine what it would do with good news. Practically...NFLX changed its story and pushed its promises into the distant future, with grand hopes for the decade starting in 2020. It transitioned from being a company judged by how much it earns into a company judged by how much it spends," Einhorn suggested.
"In today's market, the best performing stocks are companies with exciting stories where accountability is in the distant future."
Micron Will Be Worth More Than Netflix Long-Term
The shock and awe of Einhorn's letter didn't stop there. He also talked Micron Technology, Inc. (NASDAQ: MU).
"Our assessment is that MU shares have fallen too far," he wrote. The stock trades at below 12 times "annualized trough earnings" and below "5x prior peak earnings," but the future should lead to higher peaks and higher troughs in an industry environment Einhorn describes as "bright."
The mammoth prediction: Einhorn predicts over the longer term, Micron will be worth more than Netflix. The latter currently trades at about twice the market valuation as Micron. "It's a contrarian view, but we don't think the movie is over."
We Hold 'Small Position' In Greek Banks And Warrants
Einhorn on Greece:
"Greece has been anything but sun-kissed. We continue to hold a small position in Greek bank stocks and warrants. The best we can say is that from the outset we recognized this to be a high-risk, high-reward proposition and sized the position accordingly. Neither our losses nor remaining downside exposure are significant."
A bit more:
"The European leaders fear that if Syriza can claim even a moral victory, it will inspire other European countries to oust their current leaders in favor of populist governments who campaign on the promise of debt repudiation...Bank of Japan Governor Haruhiko Kuroda summarized the view of the global central planners when he said, "I trust that many of you are familiar with the story of Peter Pan, in which it says, 'the moment you doubt whether you can fly, you cease forever to be able to do it.' Yes, what we need is a positive attitude and conviction." Perception supplants reality. The moment leaders (or markets) start making it about the math, gravity comes into play."
Portfolio Exits
Einhorn, lastly, revealed what stocks he has sold out of recently.
Greenlight closed its long positions in Altice SA (AMS:ATC), CONN'S, Inc. (NASDAQ: CONN), EMC Corporation (NYSE: EMC), Marvell Technology Group Ltd. (NASDAQ: MRVL) and Playtech PLC (LONG:PTEC).
Notably, Einhorn added he covered his short position in Intuitive Surgical, Inc. (NASDAQ: ISRG). "Given its lofty valuation, we were surprised that the market shrugged off repeated earnings misses and weak gross margin," he wrote. The stock rose nearly $7 per share after this commentary went public.
Largest Positions
At the end of the second quarter, Einhorn's biggest positions were Apple Inc. (NASDAQ: AAPL), Consol Energy (NYSE: CNX), General Motors Company (NYSE: GM), gold, Micron and Sunedison Inc (NYSE: SUNE).
View Comments and Join the Discussion!
Posted-In: Analyst Color Long Ideas News Hedge Funds Top Stories Movers Tech Trading Ideas Best of Benzinga