One Step Closer To A Grexit?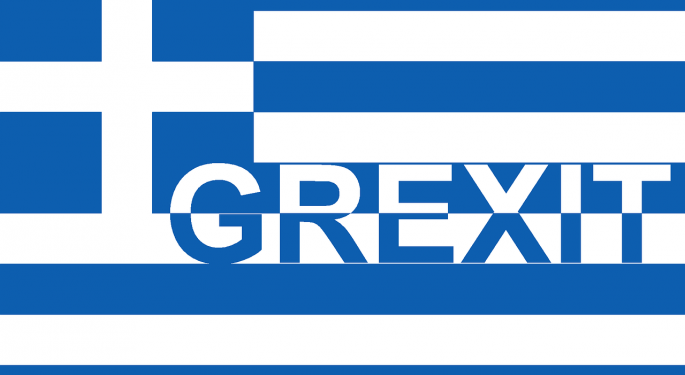 Barclays analyst François Cabau believes that Tuesday's Euro Summit represented "one more step toward Grexit."
He explained that no agreement was reached during the meeting, with the Greek position already having been weakened after Sunday's referendum vote. According to Cabau, eurozone leaders have asked Greek Prime Minister Alexis Tsipras to send them detailed proposals for a third bailout package by Thursday, which they plan to review on Sunday to see if conditions have been met to negotiate the program.
Accommodation To Continue
French President François Hollande said that the ECB "is expected to remain sufficiently accommodative to support the Greek banking system until then." At the same time, however, German Chancellor Angela Merkel and European Commission President Jean-Claude Juncker aren't ruling out a Grexit, according to Cabau.
Related Link: Citi: Fear A Grexit, But Prepare For "Grimbo"
Cabau explained that a renewed bailout plan would probably involve "a short-term bridge program to face the summer repayment," which would require short-term public finance discipline on the part of Greece. In addition, a larger multi-year loan would be granted that "would be more biased toward structural reforms."
Skepticism Remains
However, Cabau is skeptical that such a deal will be passed. The "No" vote in Sunday's referendum, he said, is a strong indication that the Greeks aren't willing to accept additional austerity measures. On the other hand, however, he thinks it would be very difficult for other euro member nations to swallow an agreement on significantly better terms for Greece – the German and Spanish legislatures would likely present significant hurdles ahead of general elections this year.
The analyst expects "major economic and financial disruption" over the next several days. He projects that Greek banks will run out of cash as soon as Sunday and that the Greek government will almost certainly default on the €3.5 billion it owes to the ECB later this month. A default on the loan would probably trigger a termination of the ECB's emergency lending assistance. Without sufficient capital, Cabau expects the state to hand its employees and pensioners IOUs "as early as this month."
The outlook for Greece, at least from Cabau's perspective, is increasingly bleak.
Image Credit: Public Domain
Posted-In: Alexis Tsipras Angela MerkelAnalyst Color Eurozone Global Top Stories Markets Analyst Ratings
View Comments and Join the Discussion!