Market Strategist Says General Electric Shares Aren't 'Sexy,' But Dividend & Balance Sheet Make It A Buy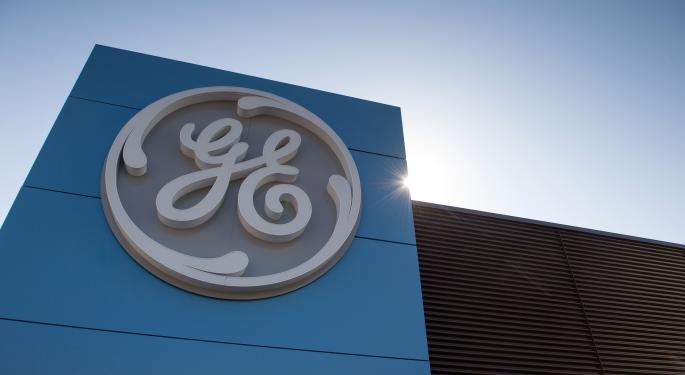 Karl Snyder was recently a guest on #PreMarket Prep, a daily trading idea radio show hosted by Joel Elconin and Dennis Dick.
Karl Snyder is chief market strategist at Garden State Securities, a provider of investment management products to small businesses, corporate executive, and the individual investor.
The investment pro discussed why shares of General Electric Company (NYSE: GE) are a buy at current levels.
Snyder disclosed he is long shares of General Electric himself and continues to hold on to the investment despite the fact that shares haven't moved since its large buyback decision.
Snyder argued that the stock offers a decent dividend of 3.3 percent, while also noting that owning shares is more appropriate for a long-term holding and not for trading.
He said shares gave back a little bit after the big gap up (when the company announced its buyback program) when it hit 52-week highs of $28.68. Despite the pullback, owning shares of General Electric is still worthwhile.
"It's not sexy, it's not going to rip, but it's a name you can kind of feel comfortable owning," Snyder said. "It gives a good dividend, not that I'm a big time dividend investor – but you can't beat 3.3 percent."
Snyder did note that he would have preferred the company to offer a special one-time $5 per share dividend rather than initiate its buyback program.
As long as shares stay above the $26.50 level, it is a worthwhile investment considering the company may shock the investment community with a surprise announcement that can serve as a catalyst to boost shares higher.
Bottom line, Snyder argued that "the market likes what they are doing" by shedding non-core divisions and the stock has held up as investors find the balance sheet attractive, not to mention the company's core "bread and butter" industrial business performing well in the global economy.
View Comments and Join the Discussion!
Posted-In: dividend stocks Garden State Securities General Electric Industrial Karl SnyderExclusives Trading Ideas Interview Best of Benzinga