More Evidence China Is In A Stock Market Bubble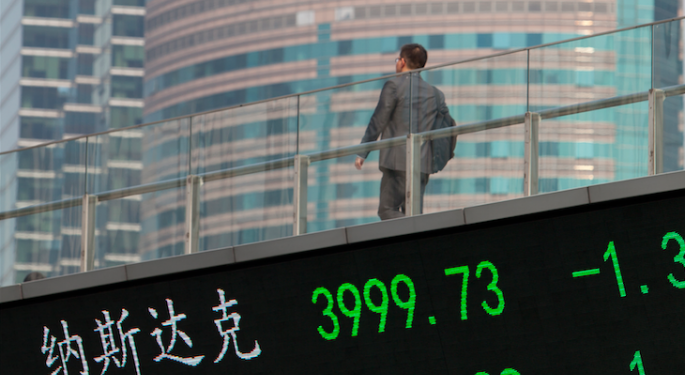 A new report by BNP Paribas looks at the extraordinary recent gains in China's A-share markets and presents the case that China is in the middle of a major equity bubble.
BNP lays out the case for "irrational exuberance" in China and discusses the potential global ramifications of a bursting bubble.
Massive Gains
The S&P 500 Index has had a good year so far in 2015, climbing more than 1.8 percent. However, the gains of the Chinese markets put the S&P to shame.
The Shanghai Composite is up about 52 percent year-to-date (YTD) and 140 percent year-over-year (Y/Y), and the smaller Shenzhen Composite is up more than 115 percent YTD and 185 percent Y/Y.
Related Link: Russian Inflation Is Easing, But What's Next?
"The scale and speed of these gains scream 'speculative bubble,'" writes BNP analyst Richard Iley.
Telltale Signs
According to Iley, recent market movement in China shows almost all of the classic signs of a bubble. There is little fundamental justification for the move, there has been a huge pickup in trading volume, many new entrants to the market and irrational stock valuations.
In fact, while the S&P 500's current price to earnings ratio (PE) is about 20.5, the Shenzhen Composite's PE is a whopping 66.
Anomaly
While the current market conditions in China do seem to point to the existence of an equity bubble, Iley notes one exception: a driver.
Most market bubbles are driven by some sort of new technological or financial innovation. This innovation allows market participants to rationalize their behavior, as they convince themselves that the new innovation makes the current situation unique.
This potential bubble's key driver appears to be a surge in equity margin debt, which has skyrocketed in China by almost 3.0 percent of GDP since mid-2014.
Global Impact
According to PNB Paribas, U.S. investors have little to fear from the bursting of a Chinese stock bubble, however.
"Equity bubbles are less pernicious than credit and housing bubbles, where fixed liability and long duration ensure a much longer-lasting fallout," Iley explains. He believes that the bursting of the bubble is unlikely to have an overly pronounced macroeconomic impact outside of China.
View Comments and Join the Discussion!
Posted-In: Analyst Color Psychology Global Top Stories Economics Markets Analyst Ratings General Best of Benzinga