10 Images From EY's U.S. Oil & Gas Reserves Study
EY recently released its annual U.S. Oil and Gas Reserves Study, which includes year-end 2014 numbers as well as a look back at where the industry has come in the past several years. Here are 10 telling charts and tables included in the report.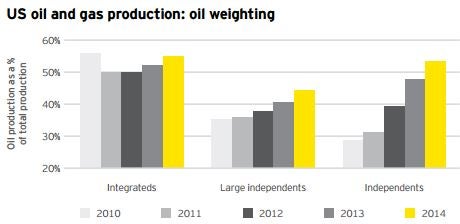 The percentage of production that is devoted to oil has consistently risen in recent years.

Not surprisingly, spending has also been on the rise in recent years, although next year's report will indicate the massive drop-off in 2015 capex resulting from the collapse of crude prices.

In hindsight, much of the spending in the oil & gas industry in 2014 is now cringe-worthy at current price levels, but much of it will also pay off in the long term for the companies. Devon Energy Corp (NYSE: DVN) was the biggest buyer of proved properties in 2014, Encana Corp (NYSE: ECA) was the biggest spender on unproved properties, Royal Dutch Shell PLC (NYSE: RDSA)(NYSE: RDSB) led the way on exploration spending and Chevron Corp (NYSE: CVX) spent the most on development during the year.

The top five companies in terms of 2014 revenue were BP PLC (NYSE: BP), Chevron, ConocoPhillips (NYSE: COP), ExxonMobil Corp (NYSE: XOM) and Anadarko Petroleum Corp (NYSE: APC).

At the heart of the oil collapse is oversupply, which is highlighted in the report's graph comparing 2014 oil production to 2010 production.

Perhaps even more relevant to oil prices than production levels is reserve levels, which have continued to swell since 2010.

The usual suspects led the way in oil production in 2014, and ConocoPhillips took the top spot in terms of both production and year-end reserves.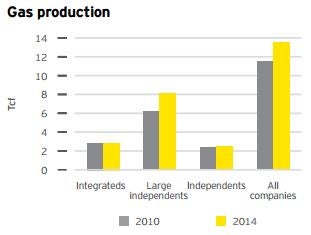 Gas production has also significantly grown since 2010.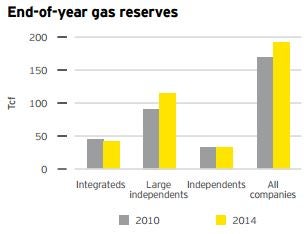 Expanding gas reserves have been pressuring gas prices as well.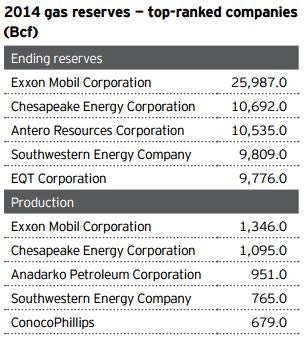 Exxon led the way in gas production in 2014, and had nearly 2.5 times as much year-end gas reserves as any other company.
© 2021 Benzinga.com. Benzinga does not provide investment advice. All rights reserved.
---