Twitter 'Fixable,' Says Sacco; Analyst Worries About Q2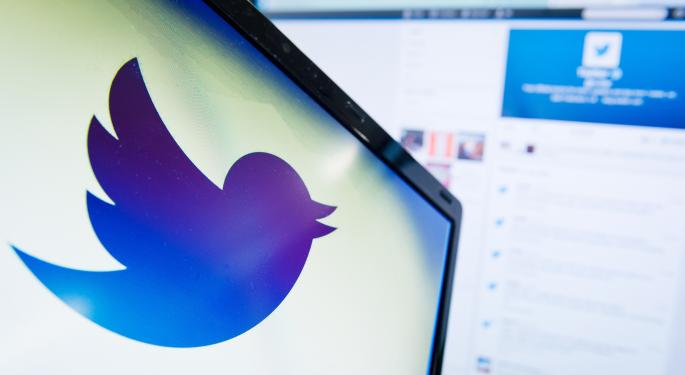 Twitter Inc (NASDAQ: TWTR)'s woes are easy to fix, a prominent early investor in the social media giant said Wednesday. But a Wall Street analyst chimed in with warnings about the company's short-term outlook.
Twitter traded recently at $36.91, up $0.51. Shares are off nearly 23 percent during the past three months.
The investor, Chris Sacca of Lowercase Capital, acknowledged that Twitter may be too hard to use and that participants feel drowned out by the crowd's roar.
"The good news is this is all fixable," said Sacca, adding, however, that an incremental approach won't work.
"Twitter will need to take huge risks, deeply question its key assumptions, and launch materially new stuff early and often," Sacca said.
But Sacca's suggestions don't address the company's immediate problems, SunTrust's Bob Peck said.
"It's possible that monthly average users could decline for the first time ever," Peck said of Twitter's second quarter, with results expected June 27.
Peck also sees risk from a budget shift by advertisers, who may pull back from Twitter.
Twitter missed expectations in each of the past two quarters. If it misses in the second quarter, "it's possible Twitter may look to make some changes," Peck said.
Sacca, a former executive at Google Inc (NASDAQ: GOOGL) who has also made significant early investments in Uber, Kickstarter and Instagram, was broadly upbeat on Twitter's prospects, noting that revenue is growing at a 74 percent clip.
But new user growth has stalled and advertising has fallen short of hopes, Sacca said.
Moreover, Sacca noted that nearly 1 billion users have tried Twitter and "not stuck around."
"My biggest concern is the abundance of public doubt and misunderstanding when it comes to Twitter's vision and the near future for the service," Sacca said.
"It's hard to blame Wall Street or the press. Twitter has failed to tell its own story," Sacca added.
The investor suggested that to make Twitter more user friendly, it should add features including live events, sort its content into "channels" and add a "save button" for users' favored content.
Addressing how users can be made to "feel heard," Sacca suggested adding a "Hearting" function; "read receipts" from celebrities and celebrity "thank you bombs."
Posted-In: Bob Peck Chris Sacca Lowercase Capital SunTrustAnalyst Color Analyst Ratings Tech Best of Benzinga
View Comments and Join the Discussion!