Technical Expert Watching Wendys, Home Depot
The Steady Trader Head of Investment Strategy Serge Berger recently mentioned that Home Depot Inc (NYSE: HD) and Wendys Co (NASDAQ: WEN) are in his watchlist.
Home Depot
Shares of Home Depot fell 1.74 percent on Tuesday, even though the company reported better than expected earnings and revenue for its first quarter, and boosted its guidance for 2015.
Berger explains, "The price action on an intraday basis was particularly discouraging on Tuesday, which reminded me that stocks tend to top on good news, not on bad news."
He adds: "While I am not calling for an absolute price top in shares of Home Depot, it is noteworthy that the retailer's rally since late last summer took on a steeper slope than the 2011 - 2013 rally and as I always point out, from steep rallies more often than not come steep mean-reversion moves lower."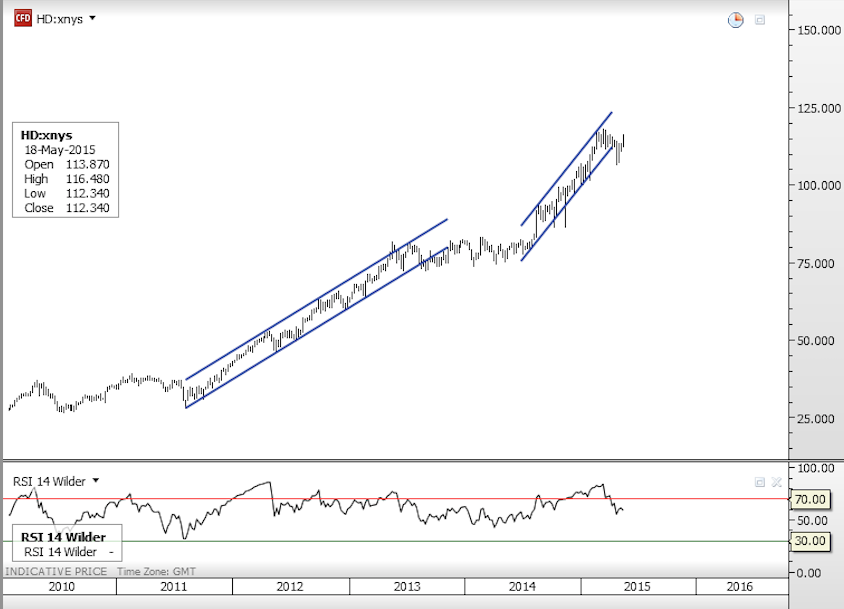 The expert continues, "While the price action in the bigger picture above is flashing some warning signs, it's the intraday bearish reversal move on Tuesday that has me looking at HD stock on the short side for the near-term."
The stock was surging on Tuesday's early hours, before quickly and sharply reversing this, to fall over the rest of the day. The day ended with the stock at its absolute lows, on a big surge in volume.
Related Link: Expert: Staying Away From Apple...In 2 Charts
"The big nasty red bar left behind on Tuesday is referred to as a bearish reversal day, which traders could now use as a reference day to look at the stock from the short side," Berger explains.
"Looked at through the lens of investor psychology, Tuesday's price action speaks to the fact that the bulls had no stamina and quickly let the ball get in the hands of the bears, who took control for the rest of the day."
Wendy's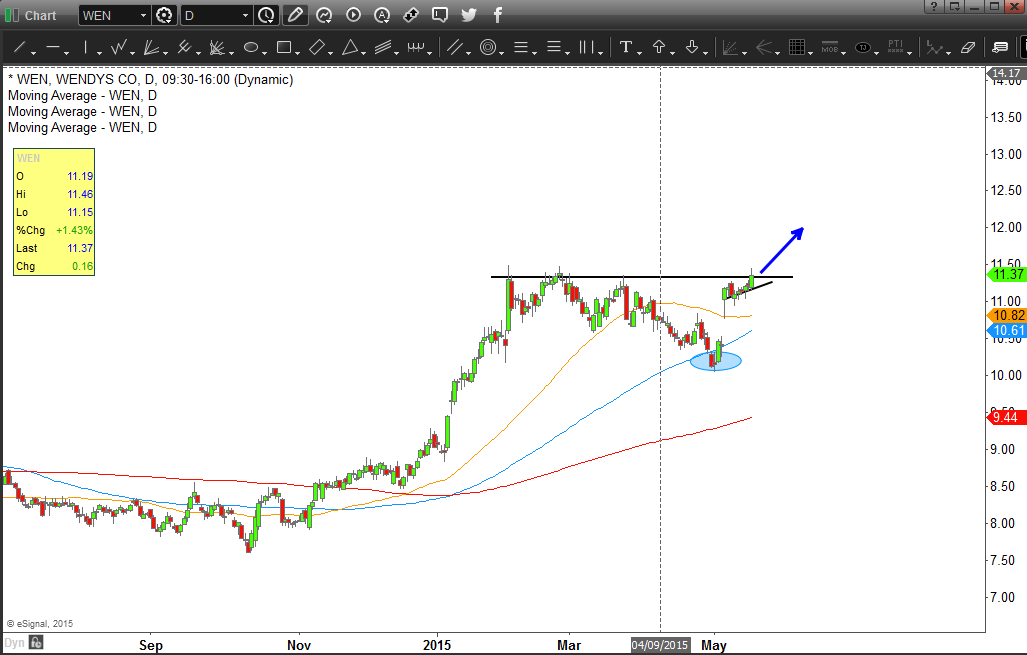 The second chart looks into Wendy's, which "gapped higher and rallied to the horizontal line of resistance around the $11.30 area" in early May, following the company's latest earnings report.
Last Monday, the stock marginally peeked above $11.30 and now seems to be building up some post-earnings momentum, Berger explains.
Posted-In: Serge Berger The Steady TraderAnalyst Color Technicals Trading Ideas
View Comments and Join the Discussion!