11 Questions For Yahoo CEO Marissa Mayer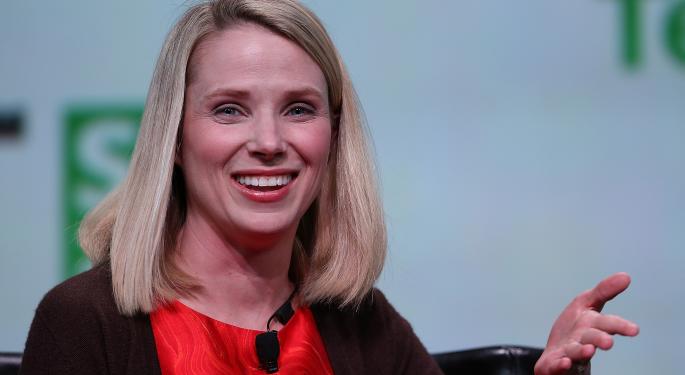 In a report published Monday, Axiom Capital analyst Victor Anthony maintained a Buy rating on Yahoo! Inc. (NASDAQ: YHOO), while reducing the price target from $52 to $51 as a result of Alibaba's valuation.
Yahoo is to report its 1Q15 earnings on April 21. The company is likely to post its results in-line with expectations. The results should reflect "continued improvements in investment areas of mobile, video, native and social but are unlikely to show overall Core improvement," Anthony said, while adding, "However, the tax-free spin-off of the Alibaba shares, a potential monetization of Yahoo Japan further down the road, efforts to improve the Core business, and the continued equity shrink are all reasons to own the shares."
While mentioning that investor focus would be on the progress of the SpinCo, recent Search changes, wins and prospects, overall progress on Core, and capital allocation, Axiom Capital noted 11 questions for Marissa Mayer:
The company has been testing Google Inc (NASDAQ: GOOG) search ads on mobile devices. What is the thinking behind this test and what were the results? What are the specifics (impact on expenses/monetization targets) of the amended search partnership with Microsoft Inc (NASDAQ: MSFT) and does the test with Google suggest that you are contemplating shifting a portion of searches to Google?
Following along on Search, you stated on the last call that you are in the search distribution business and are interested in the Apple Safari search partnership. Do you see a greater than 50 percent chance of being the search provider for Apple Inc(NASDAQ: AAPL)?
What have you learned since winning the Mozilla search partnership? Google has openly sought to get Mozilla users to switch back to Google. What percent of users have switched back to Google? What can you do to win back those users who have switched back to Google?
Most search engine pundits believe that you would be chasing after the wind by developing your search business. What gives you confidence and what level of investment should we expect on Search.
There have been press reports of recent management realignments and changes at Yahoo. What was the premise behind these changes and are you now comfortable with your current management team and structure?
There has been speculation in the press of Yahoo potentially making a large acquisition. What pieces are missing from your business model or what areas would you like to shore-up with acquisitions. What deal sizes, if any, should investors expect you to make?
Yahoo has longed viewed Yahoo Japan as a strategic asset rather than a financial one, but it now appears that you are thinking of monetizing that asset. What is the timing on maximizing the value of that asset and why not pursue a deeper operating relationship as a means of increasing value?
Progress on SpinCo – IRS approval, Board of Directors, management team?
You expect MVNS (Mobile, Video, Native, Social) to generate $1.5B in GAAP revenues in 2015, up 36 percent from $1.1B in 2014, after growing 100 percent YoY in 4Q and 95 percent YoY in 2014. Why the slowdown in the growth rate and when in 2015 should we expect MVNS to drive growth of Core or offset growth challenges in the Core?
How has the hiring of Katie Couric been additive to Yahoo and what do you hope to achieve financially with your original programming efforts?
You are investing in growth areas, you are partnering, and you have made multiple acquisitions and could make more. When do you expect to drive operating leverage and what longer-term margin targets have you set for the business?
Posted-In: Axiom Capital Research Marissa MayerAnalyst Color Price Target Reiteration Analyst Ratings Best of Benzinga
View Comments and Join the Discussion!