7 Ways To Play The Digital Ally Spike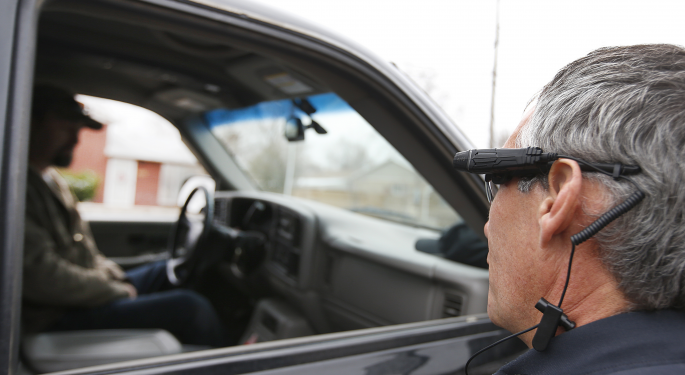 Digital Ally, Inc. (NASDAQ: DGLY) closed up 12.64 percent on Thursday after investors poured into the stock. The company (which is not covered by Wall Street analysts and is currently down more than 4 percent) has received a lot of media attention this week, but there are other ways to play this move.
1. Taser
Sean Udall, CIO of Quantum Trading Strategies and author of The TechStrat Report, told Benzinga that TASER International, Inc. (NASDAQ: TASR) has "way more contracts and contacts in this space." That could give it an advantage over Digital Ally.
"Taser's market cap is $1.5 billion," said Udall. "[It's] a pretty big company in this niche market."
Related Link: GoPro Could Thwart Digital Ally's Growth Potential
2. GoPro
"TASER and GoPro are the bigger names that have this same sort of headline potential, if you're trying to play that," Cody Willard, chairman of Scutify (a financial social network), told Benzinga.
GoPro Inc (NASDAQ: GPRO) has not yet developed wearable cameras for law enforcement, but many investors hope/speculate that the company will enter the space very soon.
3. Ambarella
Ambarella Inc (NASDAQ: AMBA) supplies HD chipsets to GoPro, Huawei, Xiaomi and a number of other manufacturers. The company also makes its own wearable reference kit for the police and security markets.
"It's tripled in the last year," said Willard. "I still own it. They're basically the Intel of the HD wearable camera market."
4. Sony
Sony Corp (ADR) (NYSE: SNE) is also on Willard's list.
"You're gonna see Sony get into the market," said Willard. "I think they'll figure out how to use their own chipsets. I think they might be the Samsung of the wearable industry. They've invested a lot of time and energy in the scene already."
If Digital Ally is a legitimate firm, Willard said he expects it to get acquired by one of these companies (or some other firm that is "actually doing business on a major level with the federal government"). If not, he thinks Digital Ally "will get squashed" by Sony or another company in the space.
5. Google
Willard expects Google Inc (NASDAQ: GOOG) (NASDAQ: GOOGL) to be the dominant player for most wearable devices.
"I like Google because of the Android operating system," he said. "It's going to be the de facto operating system for most wearable devices and cameras."
6. SanDisk
Willard likes SanDisk Corporation (NASDAQ: SNDK) because wearable devices are going to need local storage. He expects the company, which manufacturers a variety of memory cards, to benefit from that.
7. Synaptics
Last but not least is Synaptics, Incorporated (NASDAQ: SYNA).
"People are going to need to interface with wearable devices," said Willard. "[Synaptics] makes interfaces for smartphones and tablets."
Synaptics does not currently supply interfaces for wearable devices, but Willard thinks that might change in the next few years.
"Look out five years and you're going to be talking about billions of wearable devices sold annually," Willard added.
Synaptics previously supplied the scrolling wheel for the first Pod. The company acquired an iPhone supplier last year to win back Apple Inc. (NASDAQ: AAPL)'s business.
It is unclear if Synaptics was successful, but both Apple and its iPhone 6 were mentioned during Synaptics' Q1 earnings call.
Disclosure: At the time of this writing, Louis Bedigian had no position in the equities mentioned in this report.
Posted-In: Ambarella Cody Willard digital allyAnalyst Color Long Ideas Tech Trading Ideas Interview Best of Benzinga
View Comments and Join the Discussion!