Why First Solar, SunPower YieldCo Is Like Coke And Pepsi Coming Together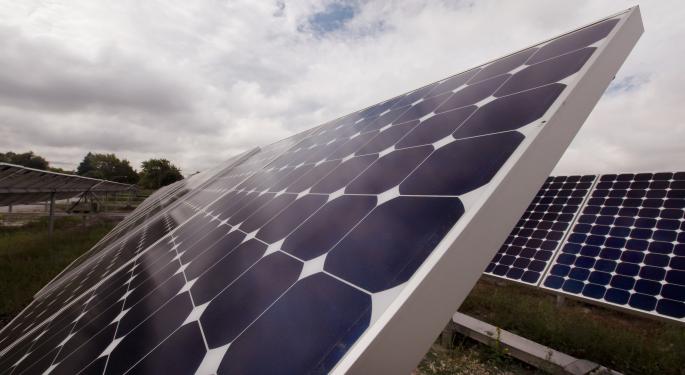 Long-time rivals SunPower Corporation (NASDAQ: SPWR) and First Solar, Inc. (NASDAQ: FSLR) surged after the two rivals announced that they had formed a YieldCo.
Raymond James analyst Pavel Molchanov compared this YieldCo to Duke working with North Carolina or The Coca-Cola Co (NYSE: KO) working with PepsiCo, Inc. (NYSE: PEP).
"It's very unusual to have collaboration of this kind between two of the world's largest solar developers, which have historically been rivals," Molchanov told Benzinga. "[They're] two of the biggest rivals in the solar industry. It's an intriguing announcement, obviously, and very bullish for both stocks."
Molchanov noted that First Solar had previously said that it decided against a YieldCo.
"First Solar actually made a U-turn on this issue, because it seemed like they did not want to do it," Molchanov explained. "SunPower was interested all along. I was expecting SunPower to do a YieldCo, but not together with First Solar."
Related Link: Did Apple Just Miss The M&A Deal Of A Lifetime?
'Unprecedented' Deal
Molchanov stressed that the combination of these two rivals "is really unprecedented." Now he said investors will have until the filing of the S-1 (by the end of this quarter) to learn the size of the YieldCo.
"That is to say, how many megawatts of capacity will it have?" Molchanov questioned. "That will, of course, determine the market cap of the YieldCo."
Asset Locations
Molchanov also wants to know where YieldCo's assets will be located.
"Is it going to be mostly U.S. or will it be Europe?" he wondered. "Or some emerging market assets -- Middle East, Africa, for example? Both of these companies are quite diverse globally."
Thirdly, Molchanov has questions about the two firms' working relationship.
"Because they are competitors," he emphasized. "They've been competitors for 10 years and they are competitors now. They're not going to stop being competitors just because they have this joint venture. Balancing that potential conflict of interest…it's going to be very interesting to see how they will manage to do that."
YieldCo Will Not Lead To A Merger
Don't expect SunPower and First Solar to take the relationship one step further.
"A merger between SunPower and First Solar is totally out of the question," said Molchanov. "They have very different technologies. I don't think there would be any rationale in doing a full merger. But this kind of joint venture, even though it's totally unexpected, I actually can see this working out very well."
By joining forces, Molchanov believes that SunPower and First Solar can "create a YieldCo that is not only very large, possibly larger than any of the other YieldCos currently public, but also one that can grow at a significantly fast rate."
"That's the benefit," he said. "This is definitely the solar story of the month, quite possibly the year."
What's Next: A SolarCity YieldCo?
SolarCity Corp (NASDAQ: SCTY) is primarily a residential solar company, but that shouldn't stop the firm from doing its own YieldCo.
"It absolutely can [do a YieldCo]," said Molchanov. "But this particular decision by SunPower and First Solar does not actually have any direct relevance as far as SolarCity is concerned."
Disclosure: At the time of this writing, Louis Bedigian had no position in the equities mentioned in this report.
Posted-In: Coke Pavel Molchanov PepsiAnalyst Color Top Stories Exclusives Analyst Ratings Tech Best of Benzinga
View Comments and Join the Discussion!