Citi Research: Why This Recent REIT IPO Has A 21% Upside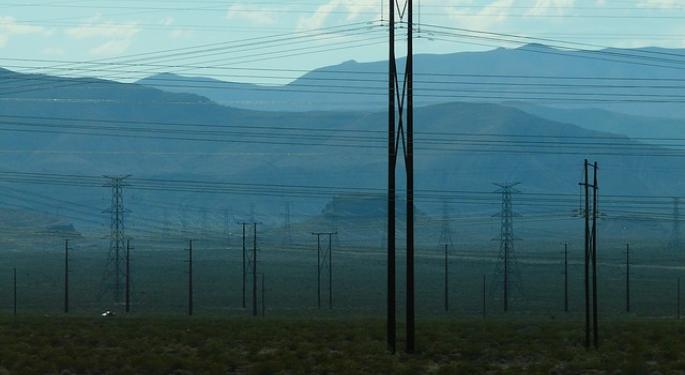 Citi Research on Tuesday published a research report initiating coverage on InfraREIT Inc (NYSE: HIFR).
'Launching with a Buy – Unique Platform for Infrastructure Growth'
Source: Company Prospectus Filing
This REIT currently owns electric transmission and distribution assets located in Texas and leased back to its utility sponsor.
Citi – Buy Rating, $33 PT
The InfraREIT IPO was well received with 20 million shares priced at $23 on January 30, trading in a range of $26.10 to $28.43 through February 23.
Citi valued HIFR based on "a forward dividend yield metric which we view as the most relevant for an absolute return dividend growth vehicle."
Citi Valuation: "12 month TP of $33 is based on projected 2017 dividend per share of $1.30 and target dividend yield of 3.8 percent."
Notably, the Citi target price assumes a 5 percent discount rate.
Based upon a current price of $28 per share plus an assumed dividend yield of 3.2 percent, Citi projects a 21 percent upside for shareholders based upon the $33 price target.
Op-Co & Lease-Co Structure
Sharyland, L.P. is a Texas-based electric utility company that is owned by the Hunts. The utility leases back the transmission and distribution assets now owned by InfraREIT.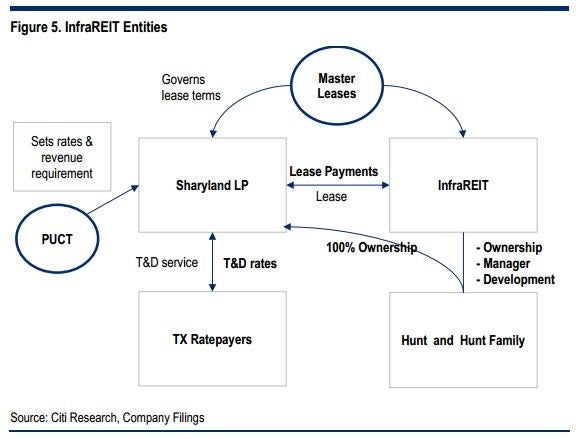 The REIT is externally managed by a Hunt entity, which receives 1.5 percent of prior year book value as a fee – capped at $30 million – plus an incentive payment based upon dividend performance. In addition, there is a contractual relationship for InfraREIT to purchase over $1 billion of new transmission assets to be leased by Sharyland, currently under development by Hunt. These assets provide a clear runway for HIFR organic growth through 2017.
According to Citi, "Following the IPO, Hunt owns 27 percent of InfraREIT through its 7.2 percent stake in InfraREIT and 21 percent stake in InfraREIT Partnership LP Units. Hunt's holdings are subject to 100 percent 1-year lock-up, 80 percent 3-year lock-up and 50 percent 5-year lock-up."
Related Link: Checking In With Easterly, The REIT IPO That Debuted On A Bad Day For Real Estate
InfraREIT IPO Assets Overview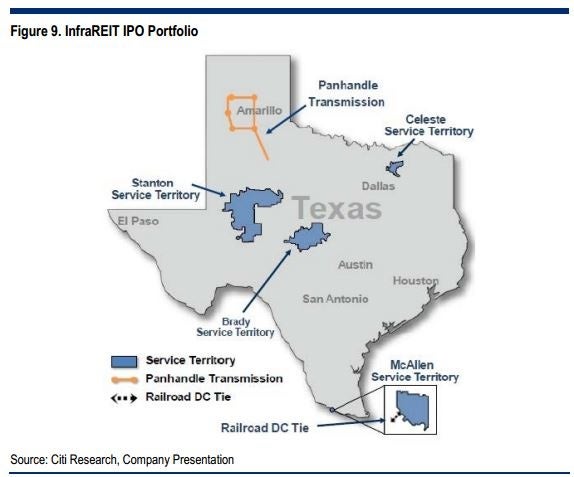 HIFR's IPO portfolio consists of 620 miles of transmission lines and 10,500 miles of distribution lines. Citi estimates "2014 year-end IPO rate base at $1.1B, which is 75 percent transmission."
Citi – Investment Thesis
Citi believes "that InfraREIT has a stable operating business with high visibility high quality rate-regulated cash flows and no re-contracting risk."
"The growth profile of HIFR compares favorably to peers and has high visibility due to organic and ROFO growth opportunities."
"Beyond ROFOs, HIFR is well positioned to benefit from much needed infrastructure development in the US, which will be enabled by attractive currency and strong management team and sponsor."
(Right of first offer (ROFO) "is a contractual obligation by the owner of an asset to a rights holder to negotiate the sale of an asset with the rights holder," according to Investopedia.)
Related Link: Real Estate Crowdfunding: Are IPOs The Next Step?
Citi – HIFR Risk Summary
Regulatory risk in Texas: "HIFR's only tenant, Sharyland, could receive rate order in its next GRC in 2016 that is below our current expectations."
Regulatory risk outside of Texas: "HIFR may fail to secure regulatory recognition of its operating structure and strategy and/or fail to secure attractive rate recovery in jurisdictions other than Texas"
Interest rate risk: "Higher interest rates may make it more expensive for HIFR to finance its growth program and reduce the appeal of HIFR's dividend growth strategy to investors, adversely impacting the performance of shares."
Citi Views – Regulatory Risks/Non-Tax Paying Entities
"As a REIT, InfraREIT receives tax deduction for its dividends, eliminating double taxation and driving lower cost of capital. But wouldn't the regulators claw back the tax advantage, either through disallowances or lower ROEs? The answer is – it depends."
"Pipeline companies and privately held utilities organized as partnerships have been in existence for a long period of time and have successfully litigated the inclusion of income tax allowance into rates based on the premise that their owners will ultimately owe the tax."
"In our review of precedents across existing and future potential InfraREIT jurisdictions, we find that the FERC (Federal Energy Regulatory Commission), Texas, New Mexico and Arizona offer constructive framework for determining imputed income tax allowances for pass-through entities, while California does not."
Given that future expansion and growth is contemplated by InfraREIT in the southwestern U.S., investors would be wise to pay close attention to regulatory rulings and relevant court decisions.
Image credit: Public Domain
Posted-In: Federal Energy Regulatory CommissionCiti Research FERCAnalyst Color REIT Analyst Ratings Trading Ideas General Real Estate Best of Benzinga
View Comments and Join the Discussion!