Bridgewater Sees Housing Market Grinding Forward
A recent report by Bridgewater focused on the current state of the housing market in the U.S. The recovery from the bursting of the housing bubble during the financial crisis has been mostly slow and grinding. Bridgewater analysts explain the major reasons why the housing market is not booming like it could be.
Supply Glut Is Gone
According to the report, the oversupply of homes that resulted from the housing bubble is no longer a major factor depressing the market. Distressed sales and years of weak construction numbers have mostly eliminated the glut of houses on the market. Analysts believe the supply/demand balance has returned to the market, but at much lower pricing levels than at the peak of the bubble.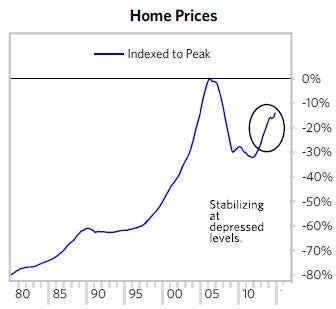 Related Link: Housing Stocks Are Mixed, This Analysts Says A Recovery "Is Still On First Base"
Reasons For Lackluster Market
Analysts note that this is the point in a market cycle that housing activity would typically be robust. However, they point out several reasons why this recovery is tepid. The largest single factor in relatively low demand for housing is high lending standards. Mortgage originators are still being overly cautious about lending after the litany of lawsuits that resulted from lending practices during the bubble. New regulations and oversight increase the pressure on lenders to be extremely selective with clients.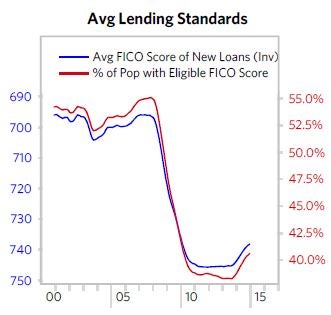 In addition to high lending standards, analysts note that the lack of wage growth accompanying the economic recovery is also a factor in low housing demand.
Pressure May Be Easing
Analysts believe that policy makers may be taking note of the housing market headwinds and may soon be taking steps to ease the regulatory burden on mortgage lenders. At this point, an uptick in lending could easily produce a surge in housing prices, given that prices are much lower than at the height of the bubble and supply is much tighter. Analysts see this combination as a recipe for a continued recovery.
Posted-In: Bridgewater housing bubbleAnalyst Color Analyst Ratings General Real Estate
View Comments and Join the Discussion!