Stifel Previews Ford Earnings, Trims Estimates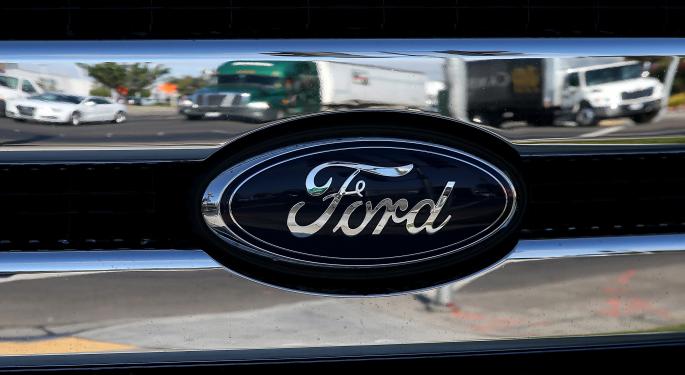 In a report published Tuesday, Stifel analyst James Albertine provided a preview on Ford Motor Company's (NYSE: F) fourth-quarter 2014 earnings, scheduled for report on Thursday before market open. The specialist reiterated a Buy rating and a $22 price target.
The Estimates
Stifel now expects EPS of $0.23, versus its prior $0.29 estimate (Street: $0.23), FY15 EPS of $1.62, compared to its prior projection of $1.68 (Street: $1.61) and FY16 EPS of $1.93, versus a previous expectation of $2.00 (Street: $1.91). The new model seeks to reflect "additional costs related to the roll-out of new products in North America, foreign exchange impacts globally, continued stagnation in Europe, and underperformance in South America."
Revenues are estimated as follows: "a) NA ($20.496 bn, -6.8% y/y), (b) SA ($2.431 bn, -10.1% y/y), (c) EU ($6.681 bn, -4.6% y/y), (d) Asia Pacific ($2.867 bn, -1.1% y/y), (e) Middle East ($1.115 bn), and (f) Ford Motor Credit ($1.790 bn, +22.5% y/y off significantly easing compare)."
Finally, they estimate 4Q14 segment pretax income and margin: "(a) NA ($1.472 bn, 7.2% PTI margin), (b) SA (-$198 mm, -8.2% PTI margin), (c) EU (-$271 mm, -4.1% PTI margin), (d) Asia Pacific ($93 mm, 3.3% PTI margin), (e) Middle East (-$4 mm, -0.4% PTI margin), and (f) FMC ($380 mm)."
Stifel's Thoughts
Despite the reduction in its estimates, the research firm reiterated a Buy rating, mainly on the back of Ford's relative strength in comparison to its global OEM peers. After attending the North American International Auto Show in Detroit, the analysts note "Ford's consistent approach to (a) reducing global vehicle platforms, and (b) dedicated re-engineering of infotainment/safety/autonomous drive technologies to remain a leader among global manufacturers."
They "view the global automotive market as a jump-ball for market share, with all manufacturers jockeying to improve on existing products while reaching into new, faster growing segments, like cross-over utilities."
The report continues by pointing out some near-term catalysts, which "may include monitoring the ongoing 2015 F-150 roll-out (emphasis on share and pricing y/y, currently running at roughly 5 days inventory turn on dealer lots), monitoring the competitive pricing environment (D-3 trucks vs. F-150, Japanese OEMs vs. market), EU stabilization (essentially an easing situation in Russia), and a broader global discussion related to fuel economy standards/regulations (we believe there is some probability CAFE standards are deferred and/or modified to include benefits related to semi-autonomy, non-MPG/indirect greenhouse benefits from newer technologies)."
Posted-In: Detroit James Albertine North American International Auto ShowAnalyst Color Previews Reiteration Analyst Ratings Trading Ideas Best of Benzinga
View Comments and Join the Discussion!