This Analyst Index Gauges Sentiment Across The Retail World; Here's Where Apple, Starbucks, Lululemon & Tesla Sit
Ratings are effective ways of interpreting how a company is performing based on a standard set of criteria. In the real estate space, a scale from 1 to 10 evaluating how mall and outlet focused retailers view the marketplace can easily be seen as helpful.
Such a scale exists and is implemented by MLV & Co.
Related Link: Credit Suisse's 8 Consumer Stocks To Avoid
Specific rankings examples for Apple Inc. (NASDAQ: AAPL), Starbucks Corporation (NASDAQ: SBUX), Lululemon Athletica inc. (NASDAQ: LULU), Tesla Motors Inc (NASDAQ: TSLA) and Sears Holdings Corp (NASDAQ: SHLD) are included below.
MLV & Co. utilizes a proprietary Tenant Sentiment Index (TSI) metric to evaluate 60 key publicly-traded retailers, and sees mall REIT tenants entering 2015 with a "highly-varied, but net positive bias toward growth."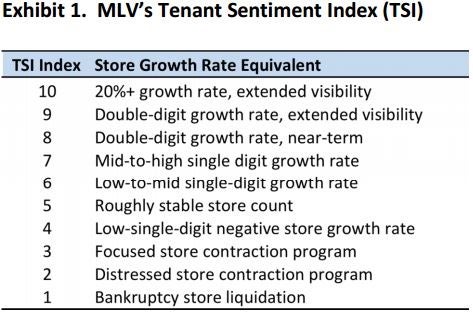 Related Link: This Industry Is Already Up 5.4 Percent In 2015
MLV noted that while their "demand-side read-through" was less bullish for malls, the lack of new mall supply bodes well for same store NOI growth this year.
3 Key Themes
The firm noted a few key trends worth watching.
1. Omni-Channel Business Model: In other words, a major focus on synergies between e-commerce and bricks & mortar.
2. Leasing: The transfer of mall space from mid-price department stores to "junior anchors chains."
3. Teen Retailers: Ongoing retrenchment across this embattled segment is being offset by U.S. growth of foreign-based apparel chains.
Key Quotes
Apple (TSI level 7):
"Opened 10 stores… ending with a total of 437 stores, 41 percent of which are outside the United States. We are projecting a total of approximately 25 new store openings in fiscal 2015, about three quarters of which will be outside the US."
Lululemon (TSI level 8):
"Ended the quarter with 289 total stores versus 247 a year ago. There are now 222 stores in our comp base, 37 of those in Canada, 151 in the United States, 25 in Australia and New Zealand and 9 ivivva [brand]."
Starbucks (TSI level 8):
"Opened in the final quarter over 200 stores in the U.S. and, for the year, 505 stores, about half of them being company-operated and half of them licensed. They're all performing at record levels and they continue to contribute significantly to our growth…So, just in closing, over the next five years, we got an incredible opportunity in the Americas. We'll open more than 3,500 new stores."
Related Link: Amazon Faces Competition From An Unlikely Source
Tesla Motors (TSI level 8):
"In terms of number of stores by the end of next year…it's probably on the order of 100 in China alone…probably worldwide, it's on the order of 300."
Sears Holdings (TSI level 3):
"Consistent with our objective to enhance our financial flexibility, we recently disclosed that we are actively exploring the monetization of a portion of our owned real estate portfolio, potentially in the range of 200 to 300 stores, through a sale-leaseback transaction, with the selected stores to be sold to a newly-formed real estate investment trust, or REIT."
© 2021 Benzinga.com. Benzinga does not provide investment advice. All rights reserved.
---