A Closer Look At Major Retail Chains That Announced Store Closures In 2014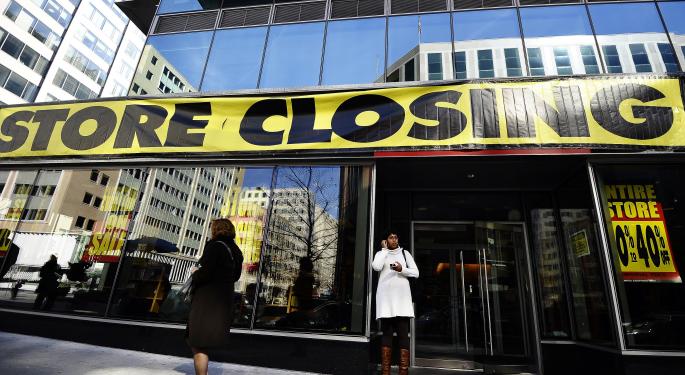 Brian Sozzi of Belus Capital Advisors on October 6 said J.C. Penney Company Inc (NYSE: JCP) should have announced further store closures during its analyst day.
"With the top and bottom lines moving in the right direction (store closures won't be viewed as a sign of weakness), analyst day is the right moment to announce a store base restructuring that in our view, was in careful consideration this past summer."
Shares of J.C. Penney slid more than 10 percent on October 8 following the company's presentation in which no further large-scale store closures were announced.
While Sozzi may have been disappointed with the company's decision not to announce further store closures, Kimberly Greenberger of Morgan Stanley wasn't.
In a note to clients on October 1, Morgan Stanley's retail analyst wrote that "we think massive store closures (200+) and immediate cost cuts are unlikely given the associated cost." The analyst adds that J.C. Penney may close 10 to 20 stores annually, "depending on opportunistic lease renewals."
Here is a look at other retailers that closed stores in 2014:
Macy's Inc (NYSE: M) announced in early January that it plans to close five Macy's stores in early spring.
Macy's expects the closures will save the company around $100 million a year as part of a cost reduction initiative.
Macy's decision to close stores was a financial one. The company argued that its sales and profitability has "significantly increased" over the past four years due to the implementation of certain successful strategies. However, the company identified specific areas where it can improve efficiency at the corporate level while creating a better shopping experience for its customers.
Macy's estimates that its store closures would result in the loss of 2,500 employees, many of which served customers in stores. At the same time, Macy's confirmed that its total workforce is expected to remain at a similar level as it plans to expand its online operations, direct-to-consumer fulfillment centers and new stores.
Related Link: Wells Fargo: J.C. Penney Successor 'Not A Proven Apparel CEO'
"Our stores remain a very important component of our omnichannel strategy for both the Macy's and Bloomingdale's brands. We continue to maintain a very strong nationwide network of stores through an ongoing process of selectively adding new locations while also trimming those that no longer meet our performance requirements or where our leases were not renewed," Terry Lundgren, Macy's chief executive officer said in the press release.
During the Staples, Inc. (NASDAQ: SPLS) fourth quarter conference call in March, Chief Executive Officer Ronald Sargent said: "Our customers are using less office supplies, they're shopping less often in our stores and more online, and the focus on value has made the market place even more competitive."
At the same time, Sargent announced an initiative to further close 225 Staples locations across the United States and Canada. The move comes at a time when the company has already reduced its retail footprint by more than one million square foot through the closures of 40 stores and 40 downsizes and relocations.
Staples has been experimenting with the idea of developing a new, leaner 12,000 square-foot store that has shown early signs of success. However, the company also noted during its conference call that "our progress has not been fast enough."
By closing 225 locations, the company hopes it will become more efficient at the brick and mortar level while growing its e-commerce initiatives by tripling its product assortment to more than 1.5 million items on Staples.com.
Staples estimates that it will eliminate approximately $500 million of annualized expenses throughout the next two years, with $250 million of that realized in 2014.
Upscale retailers are certainly not immune from store closures as the luxury retailer Coach (NYSE: COH) announced in June it plans to close 70 stores across North America as it struggles to keep up with hot competitors like Michael Kors (NASDAQ: KORS).
In June, Coach reported its revenue for the fourth quarter declined 16 percent from a year ago while same-store sales fell 17 percent.
During Coach's fourth quarter conference, the company confirmed that the majority of its store closures will occur in the first half of the new fiscal year while outlet locations will be phased out during the entire fiscal year.
Coach expects to realize savings of $70 million in fiscal 2015 and $150 million in ongoing annual savings beginning in fiscal 2016.
It was simply a matter of time before Amazon.com's (NASDAQ: AMZN) and other e-retailers massive online presence would disrupt the traditional book selling space.
Related Link: Brian Sozzi: 'Say Hello To The New CEO Of Your Mom's J.C. Penney'
June marked the first time ever that online book sales outnumber sales collected at physical bookstores, according to BookStats.
Store closures has been part of Barnes & Noble's (NYSE: BKS) strategy which was announced in January 2013. The company announced it plans to close about 20 retail stores a year over the next 10 years.
Barnes & Noble expects to maintain 450 to 500 stores by 2023, a reduction from the 1,361 stores the company reported (in June) that it operated at the end of fiscal 2014. In the first quarter of 2015, the company closed three retail bookstores.
Despite the store closures, Barnes & Noble expects fiscal 2015 retail comparable store sales and retail core comparable store sales to decline by a low single digit.
In addition to closing stores, Barnes & Noble plans to separate its Nook division in to a separate company. The company expects the transaction to complete by the end of the first quarter.
Barnes & Noble most recently closed three retail bookstores during its first quarter 2015 at a time when retail sales fell 5.3 percent in the quarter to $955 million.
Posted-In: Amazon.com barnes and noble Belus Capital Advisors Brian SozziAnalyst Color News Retail Sales Analyst Ratings Best of Benzinga
View Comments and Join the Discussion!