Michael Kors Vs. Coach, Purse For Purse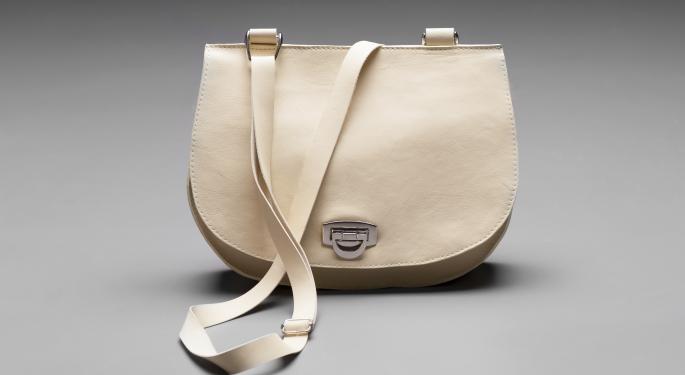 A popular debate, currently brewing in social media, is the comparison of the luxury brand retailers Michael Kors Holdings (NYSE: KORS) and Coach (NYSE: COH).
Historically Kors has been satisfying its shareholders with hefty returns since the company's IPO back in 2011, while Coach has been a S&P lagger since its falling in 2012.
Wall Street fans of Coach, in the comparison against Michael Kors, believe the stock will recover from its two-year slump. Although Michael Kors is twice the size of Coach in market cap, the dispute is commonly argued on short term gains between the two retailers.
Tale Of The Tape
The comparisons between the luxury retailers lies in the companies' handbag and small leather goods (SLG) categories. Within the last year, Michael Kors management has recognized Coach as a major competitor, due to that company's penetration in the handbag/SLG category. Coach, in turn, recognizes Kors as a competitor in the SLG space -- but its management puts more focus on major global competitors such as Louis Vuitton, Prada, Gucci, Furla and Longchamp.
Related: Tigress Analyst Weighs In On Rumor Of AT&T Taking Interest In Akamai
While Coach and Kors have large growth potential in international markets, the two companies' largest markets are in the U.S. -- making up 68.1 percent of Coach's revenues and 83.5 percent of Kors revenue. Nearly 60 percent of Kors U.S. sales come from its handbags and SLG categories.
Market Strategies
Kors management predicts they will double their penetration domestically in the next few years. Coach is the market leader of the SLG and handbag category domestically, generating over $3 billion, more than a third larger than Michael Kors domestic SLG revenue just under $2 billion.
The $10 billion handbag market is projected to grow by 10 percent annually, and analysts predict both Coach and Michael Kors will benefit from the SLG market growth through domestic sales.
Kors SLG forecasts suggest an increasing from its current $100 million to $1 billion in sales, according to JPMorgan specialty retail analyst Brian Tunick. According to Tunick, the handbags and accessories sales growth is one of the fastest growing in retail, generating nearly $35 billion, with the market expected to grow at seven percent CAGR to $50 billion by FY 2018, and North America (making 33 percent of total market) at $11.6 billion -- with analyst anticipating growth at nine percent CAGR generating $18 billion in sales.
Same-Store Sales
Coach's same-store sales (SSS) disprove its recovery, decreasing by nearly one standard deviation each quarter since the company's Q3 of 2013, currently at -21 SSS reported in its Q3 2014 earnings.
On the other hand, Kors' SSS figures have been picking up at an easing pace since its heavy surge in Q2 2013, currently at 26.20 SSS, as reported in the company's Q4 2014 earnings.
On a rating scale of largest to smallest of nearly 150 luxury brands expected growth year-over-year, conducted by Bloomberg's Senior Luxury Analyst, Michael Kors leads consensus expectations for its following first quarter 2015 by being the number one company expected to grow in sales figures.
In a comparison of analyst ratings, Michael Kors takes the lead with a majority of 65.4 percent of analysts reporting a Buy rating (with 23.1 percent Hold and 11.5 percent Sells) compared to Coach's Buy ratings, making 27.5 percent of the total weight (with 57.5 percent Hold gradings and 15 percent Sell ratings).
It should be taken into account that only 26 analysts have conducted coverage on Michael Kors historically, compared to 40 for Coach.
Most recently, in a reports released Wednesday, Buckingham Research Group analyst David Glick reiterated a Buy rating for Michael Kors, He also downgrades Coach from Neutral to Underperform, and decreases its price target from $32 to $28 a share.
According to a Bloombergs DCF model, Michael Kors revenue is projected to grow by 26.97 percent in FY 2015, while Coach forecasts anticipates a 10.52 percent loss due to recent decrease, in return influencing a low growth rate.
Coach wins the EPS battle against Kors, with a trailing 12-month EPS of $3.3, $0.2 higher than Kors $3.1. With a one year EBITDA growth just under 60, Kors generates a much higher earnings than Coach's one year EBITDA growth of -20.50.
Although neither retailer is considered a target for a potential merger, both companies have appealing buyout valuations -- with Kors producing an enterprise value multiple (with a 12 month trailing EBITDA and current ev) of 15.7, nearly a standard deviation higher than Coach's 5.2.
Conclusion
It appears Coach has a long road to recovery, despite the companies strong penetration in SLG and handbags in its domestic market. A turnaround for Coach isnt unlikely, with high expectations of growth in the SLG space. Low analyst expectations can also influence a surprise in growth presented in Coach's the near future.
Michael Kors should continue its solid growth at a steady pace. Coach's near term earnings passing Michael Kors seems unlikely as of now but the two companies EPS are not far off, unlike the two retailers price charts.
Posted-In: Bloomberg Brian Tunick Buckingham ResearchAnalyst Color Short Ideas Topics Analyst Ratings General
View Comments and Join the Discussion!