2 Reasons Why Aereo's Downfall Is Bad For Netflix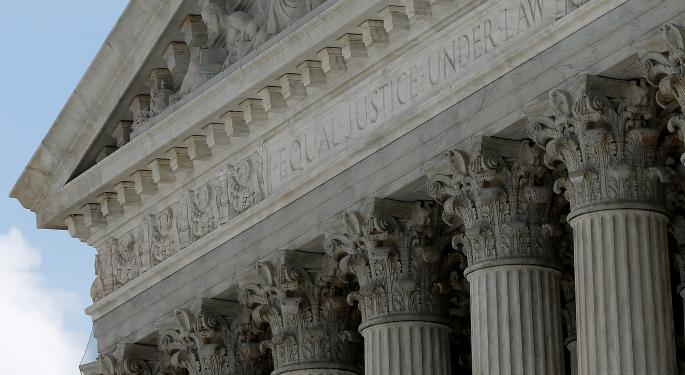 Netflix (NASDAQ: NFLX) may not be directly affected by Wednesday's Supreme Court ruling, but the streaming video giant could still be hurt by the fall of Aereo.
The Supreme Court ruled that Aereo (which allows consumers to stream live TV for a fee) violated the Copyright Act of 1976. Unlike traditional pay-TV providers, Aereo does not pay CBS (NYSE: CBS) or any other broadcaster for the right to stream live content. This could effectively destroy Aereo, which couldn't afford to pay broadcasters without changing its pricing model.
Even then, it might be difficult for Aereo to overcome Wednesday's ruling. Aereo isn't the only company that has to worry about the Supreme Court's decision, however.
Related: AT&T And DirecTV Merger Is 'Bad For All Consumers'
"Netflix is at a disadvantage because of this for two reasons," Rich Tullo, Director of Research at Albert Fried & Company, told Benzinga. "The first reason is more competition for their content, because they are in competition with syndicated TV for content."
ABC recently sold Modern Family's syndication rights for more than $1 million per episode. If Aereo had been allowed to continue streaming live TV, it could have eventually hurt this business model. Tullo believes that by diminishing the value of syndication rights, Netflix could have purchased popular shows at lower prices. That theoretical advantage was eliminated the moment the Supreme Court announced its ruling.
"If there were 100 million homes with Aereo subscriptions, then those 100 million homes would need Netflix subscriptions to supplement their TV," Tullo added. "The success of Aereo, long-term, is probably kind of required to get Netflix to that 50, 60 million subscriber level. It creates the demand from cord-cutting, as opposed to the demand from supplementing or cord-splicing. We think that that's [another] ramification."
Unexpected Rally
Shares of several broadcasters, including CBS and 21st Century Fox (NASDAQ: FOX), rose after the Supreme Court ruling was announced. Tullo said the initial spike "caught me a little off guard because I didn't think they were down that much ahead of the [ruling] to be up so much on the news."
"Having said that, it is legitimately good news for the industry because it suggests that what they're doing is sustainable, as opposed to kind of fighting the aggregation and online disruption that Aereo represented," he added. "I think it's probably very negative news for IAC/InterActiveCorp (NASDAQ: IACI) and Barry Diller."
Diller, a famous entertainment mogul who helped create the Fox Broadcasting Company, was among those who invested $97 million in Aereo.
Disclosure: At the time of this writing, Louis Bedigian had no position in the equities mentioned in this report.
View Comments and Join the Discussion!
Posted-In: ABC Albert Fried & Company Barry DillerAnalyst Color News Analyst Ratings Tech Interview Best of Benzinga