Amazon's Fire Phone Needs Stellar Apps To Beat Apple's iPhone 6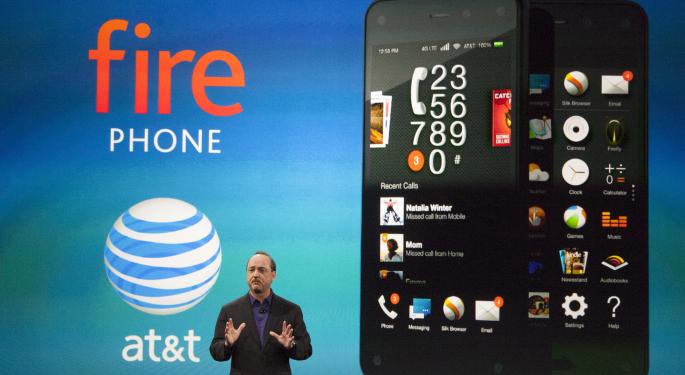 Amazon (NASDAQ: AMZN) could develop the best smartphone in the world, but it won't get anywhere without great apps.
Ian Fogg, Director of Mobile & Telecoms at IHS Technology (NYSE: IHS), believes that app acquisition is one of the biggest challenges that Amazon will face.
"I think the challenge for Amazon is that the smartphone market is really, really competitive," Fogg told Benzinga. "They have some differentiating features with its Dynamic Perspective. But for that to be compelling, they need developers to support it with games and other applications written specifically for it."
Fogg is concerned that game developers and other third-party app makers will look at the Fire Phone and wonder how many units are actually out there. Bear in mind that Amazon does not like to reveal how many Kindle devices it has sold, nor will it say exactly how many people subscribe to Amazon Prime.
Related Link: Will Apple's iPhone 6 Charge Wirelessly?

If there aren't many consumers buying Fire Phones (again, it could be difficult to gauge how many units are actually sold), Fogg said that app developers are less likely to take advantage of its unique features.
Fogg also said that by signing an exclusive deal with AT&T, "that caps the maximum addressable audience for them."
"That makes it very hard to reach scale," he said.
All About The Apps
Apps are so important that Fogg suggested Amazon could pay for third-party developers to create new applications for the Fire Phone.
"It's the apps that make a smartphone smart," said Fogg. "You can go so far with your own in-house apps. But to make it compelling, you need to have a wide range of third-party apps, which are running really well on your smartphone."
As a new entrant, Fogg believes that Amazon has to be better than its opposition. They have to inspire developers to take advantage of the Fire Phone's unique capabilities.
Related Link: Amazon's Fire Phone Is Like Something Only Steve Jobs Could Do
"Otherwise a consumer [will say] there isn't that much of a difference between a Fire Phone and a Samsung Galaxy or an iPhone or a Sony Xperia," said Fogg.
In that scenario, consumers may opt for one of the other devices.
100 Million Objects
Fogg said that Amazon's new Firefly feature is "technically impressive." But he wonders if it is enough to attract consumers.
"The second issue is, while it recognizes 100 million objects, there are a lot of objects in the world," said Fogg. "That's quite a small percentage of the amount of objects in the world."
On the other hand, Fogg thinks that this is a great feature for Amazon.
"If they can find other reasons that will convince consumers to buy the Fire Phone, then this will be a value-added feature that I'm sure Fire Phone owners will use," Fogg concluded.
Competition Is Coming
Apple has not announced when it will release the next iPhone, but many analysts expect the device to debut in September or October.
Earlier reports indicated that it could arrive as soon as this summer. That no longer appears to be the case.
Little is known about the next-generation iPhone, but it is expected to ship with a larger display.
Disclosure: At the time of this writing, Louis Bedigian had no position in the equities mentioned in this report.
View Comments and Join the Discussion!
Posted-In: Amazon Apple comments Fire Phone Ian FoggAnalyst Color Analyst Ratings Tech Best of Benzinga