Was Apple Smart To Buy Beats Over Spotify?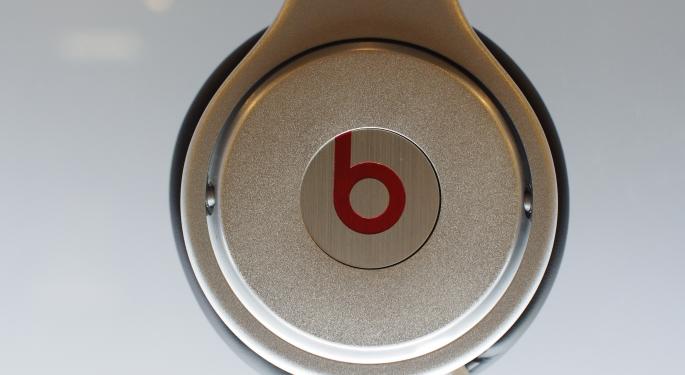 Before the acquisition was official, it was easy to second-guess the rumor that Apple (NASDAQ: AAPL) planned to acquire Beats Electronics.
Now that two entities have confirmed their intent to merge, investors will start to take a closer look at Apple's decisions.
"Here, I will give some credit to [Apple CEO] Tim Cook between buying Spotify and buying Beats," Trip Chowdhry, Managing Director of Equity Research at Global Equities Research, told Benzinga. "If they bought Spotify, they would have had to pay more -- probably $5 billion. That's another $2 billion.
"That would tell me, as an analyst, Apple has lost its way forever. It would tell us Apple has no clue. They are buying subscribers. No! What they are buying is a technology, which is very good."
Related: Did Apple Spend $3 Billion On 'Mediocre Headphones'?
Chowdhry, a staunch critic of Cook and other Apple executives, has previously told investors that the Board should hire a new CEO. Even now, Chowdhry is still frustrated by Cook's actions.
"Tim Cook has not done anything for the last three years," said Chowdhry. "This was a problem. The industry is shifting. You cannot ignore the industry shift. You have to innovate. For the last three years, Tim Cook has been coasting. He has been asleep at the wheel. He is ignoring the industry. Actually, the fix for iTunes should have happened 18 months back."
But Chowdhry thinks that Apple should have acted even sooner.
"When you're seeing certain trends, it has to be addressed right there and then," said Chowdhry. "If they had acted three years back…they could have bought the company, fixed the problem [and] gained the market share for less than $200 million."
Apple waited and paid more "because of the laziness of Tim Cook," Chowdhry added.
"Better late than never," he insisted.
Nothing Lasts Forever
In discussing the limited benefits of the Beats acquisition, Chowdhry said that there is nothing in the world that's truly sustainable.
"Today something is cool, tomorrow it is obsolete and un-cool," he said. "We are seeing that with Facebook. We are seeing that with LinkedIn. The consumer is very fickle. You have to always keep re-innovating."
During the interview, Chowdhry also criticized iTunes Radio, a product that "shouldn't have been launched."
"When somebody uses iTunes Radio, they look at it and after five minutes they never come back to it," he said.
Chowdhry has more faith in Beats Music.
Disclosure: At the time of this writing, Louis Bedigian had no position in the equities mentioned in this report.
Posted-In: Apple Beats Beats Electronics comments Global Equities Research iTunes RadioAnalyst Color Tech Best of Benzinga
View Comments and Join the Discussion!