RBC Report: "Cash is Becoming King, and Semis are Wearing the Crown"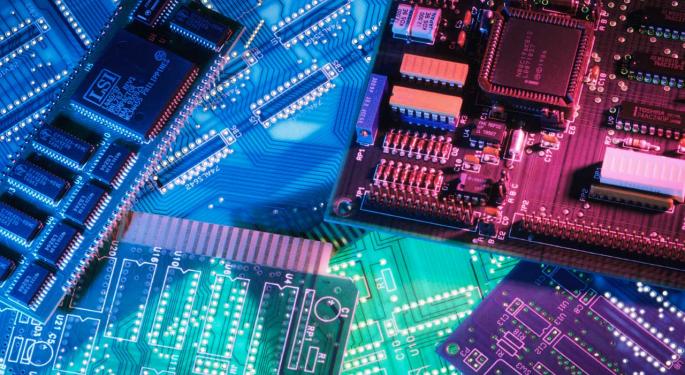 Monday, May 19, 2014, RBC released a report about the semiconductor industry putting the spotlight on the maturing market being a positive for rising free cash flow.
RBC analyst Doug Freedman believes the business model is changing, and the valuations should too.
The semiconductor industry has traditionally been valued with space off price-to-earnings (P/E) multiples and EV/EBITDA multiples with operating profits being paramount to evaluate the effectiveness of the on-going industry.
However, Freedman believes the growth phase is transitioning into a more mature era, and slower unit demand is leading to an excess capacity and broader industry under-utilization that is expected to persist to 2016.
Freedman wrote, "Given this backdrop, lower capital investments are needed as today's capacity is sufficient to meet demand. Consequently, we are likely to see greater FCF generation in the industry with companies endorsing shareholder-friendly capital-allocation strategies."
Coverage of RBC Upgrades for May 19, 2014
With lower capital investments needed and free cash flow being generated in greater amounts, Freedman says there are five main characteristics that should unfold: 1) lower capex as a % of sales; 2) rising industry FCF/share; 3) semiconductor leadership in FCF growth within the S&P500 sectors; 4) increasing emphasis to drive FCF vs. EPS; and 5) rising P/FCF multiples across the industry, where the sector is trading at six turns below the S&P500.
Lower capex as a percentage of sales
With maturation in the semiconductor industry and the view that unit trends will be affected by integration and slower demand, Freedman believes that the new capex-to-sales range will normalize between 18%-22% vs. 20%-32%.
As a result of the capex-to-sales expected to normalize, companies will favor using FCF dollars for shareholder-friendly actions which include buybacks and dividends
Rising Industry FCF/share
Estimate that FCF/share on the Philadelphia Semiconductor Index (SOX) grow 30% in 2015 to $30.
The 30% grow on SOX will exhibit a compound annual growth rate of 11% from 2013 to 2018.
The estimated FCF/share is to grow to $49.81 in 2018 from $29.13 in 2013.
Semiconductor Leadership in FCF Growth Within the S&P 500 Sectors
Semiconductors are the fastest frowing in terms of FCF/share aggregate growth in i)2003-2013 and ii)2007-20013 in the S&P500 and SOX.
Expect strong FCF growth trend to continue given the early-to-mid-cycle nature of the recovery.
Rising P/FCF Multiples Across the Industry
In the SOX index and S&P500 Semiconductor Index, groups are trading at 13.7x and 14.3x, far below the SP500 Index at 19.5x
It is believed these multiples could expand over time
Sector Trading Call
Freedman advises buying semi group on potential weakness, which is said to appear this summer resulting from normal trading patter.
Early Q3 should exhibit outperformance, followed by product cycle related inventory balancing in late Q4 and early Q1.
Freedman says, "the call not to wait until mid-summer is based on the thought that generalist funds will continue to rotate into the group even as tech related look to lock in near-term profits, thus the summer sell off could be less than typical
The PHILX Semiconductor (NASDAQ Indices: SOX) was last traded up 5.67 at 581.69 at 12:13PM EDT.
View Comments and Join the Discussion!
Posted-In: altera Broadcom Corp. Doug Freedman Micron Technology NVDAAnalyst Color Upgrades Analyst Ratings