Rackspace Soars As Analysts Respond To Company's Decision To Explore Strategic Relationships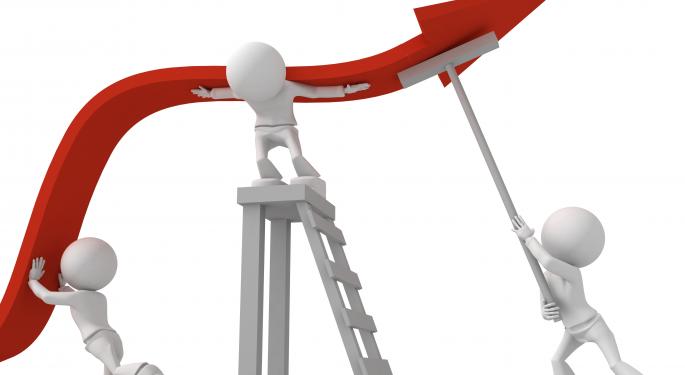 Shares of Rackspace Hosting (NYSE: RAX) continue to surge following reports that the open cloud company hired Morgan Stanley to evaluate strategic alternatives.
Investors Optimistic on Rackspace's Long-Term Strategy
Minutes before Thursday's close, Bloomberg reported that Rackspace hired Morgan Stanley to explore strategic relationships. Shares surged over 11.5 percent from $28.27 to $31.62 in the two minutes following the report. The stock closed at $30.68, but shareholders continued to move shares in after-hours and pre-market trading.
Rackspace's common stock fell to $30.199 in after-hours trading before the 8-K Form was published at roughly 4:14 p.m. ET. In the filing, Tiffany Lathe, Vice President and General Council of Rackspace Hosting, wrote:
"In recent months, Rackspace has been approached by multiple parties who have expressed interest in exploring a strategic relationship with Rackspace, ranging from partnership to acquisition.
Related: General Motors And Toyota: History Repeating Itself?
Our board decided to hire Morgan Stanley to evaluate the inbound strategic proposals and to explore other alternatives which could advance Rackspace's long-term strategy.
No decision has been made and there can be no assurance that the Board's review process will result in any partnership or transaction being entered into or consummated. The company has not set a timetable for completion of this process and does not intend to discuss or disclose further developments with respect to this process unless and until the Board approves a specific partnership or transaction."
Following the 8-K report, shares popped up over 10 percent before seeing some sell-off and holding at $32.50 through the night.
In pre-market trading, investors maintained their enthusiasm and saw shares reach $39.06, up more than 27 percent from Thursday's close. The stock opened at $37.27 on Friday.
Analysts Eager to Pipe in on the "Hot" Stock
Piper Jaffray analyst Andrew Nowinski noted that breadth of potential strategic buyers is "extensive" and could fetch an offer within $44.90 to $53.55 per share. Nowinski sees Cisco Systems (NASDAQ: CSCO), EMC (NYSE: EMC), VMware and Equinix (NASDAQ: EQIX) as potential suitors to help build up or even create a "formidable" cloud offering.
Piper added that Google (NASDAQ: GOOG) and Amazon (NASDAQ: AMZN) could gain the fast-track on the enterprise market through an acquisition or partnership with Rackspace. The Overweight analyst reminded investors that M&A speculation limits downside risk for the stock.
Jim Breen from William Blair reported that the open cloud company could be a "strategic asset" to companies in the OpenStack ecosystem, including AT&T (NYSE: T), International Business Machines (NYSE: IBM), EMC, Hewlett-Packard (NYSE: HPQ) and VMware. The analyst commented that Rackspace operates the largest production development of OpenStanck and the second largest cloud provider, following Amazon. AT&T and EMC were widely reported to be interested in Rackspace's competitor, Softlayer, according to Breen.
Credit Suisse analyst Sitikantha Panigrahi, who holds an Overweight rating on Rackspace, sees valuation of over $47.00 per share. With past acquisitions of Savvis and Terremark fetching 10x and 14x forward EV/ EBITDA multiples, Panigrahi remarked that similar multiples would imply a $43.00 to $60.00 share price.
Shares of Rackspace Hosting are currently trading at $36.26, up 18 percent.
Posted-In: Analyst Color News Rumors Financing Legal Management M&A Events Best of Benzinga
View Comments and Join the Discussion!