First Cannabis Job Fair EVER Highlights Marijuana Industry's Rapid Growth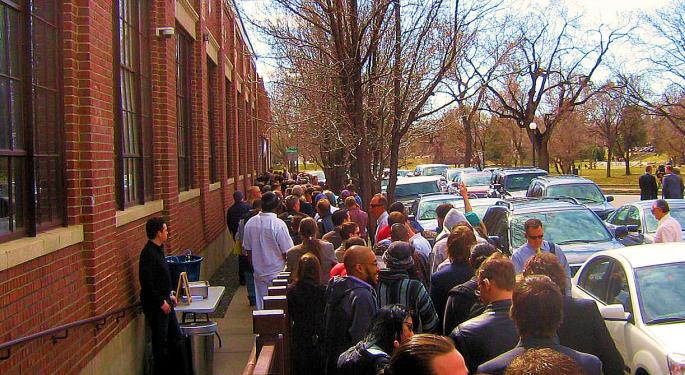 The organizers of CannaSearch, what is thought to be the nation's first-ever marijuana industry job fair, could be forgiven for expecting a relatively modest turnout at their event in Denver on Thursday.
Instead, the number of job-seekers waiting to meet with representatives from 15 private cannabis companies was soon estimated at around 1,200. And that line, which snaked around a city block, included people from all over the U.S.
Bryon Headley, a resident of Queens, New York, said he saw a news report on CannaSearch the day before, and literally booked a ticket on the next plane to Denver. "In this industry, a job fair? Finally!" he told Benzinga.
Others came to CannaSearch simply looking for employment in a weak job market. "I'm not having luck anywhere else," said Vicki, a Denver resident and former bar manager who asked her last name not be used. "I'd like to get into management as well. I know weights and measurements and I'm a people person, so I think customer service is everything."
See also: Has The 'Smoke' Shifted For Marijuana Conservatives?
Inside the event, the cannabis industry reps appeared delighted at the flood of job candidates. "It's an amazing turnout," Jennifer DeFalco, co-founder and creative director of Cannabrand, said loudly above the scores of conversations going on around her booth.
Cannabrand is a full-service marijuana marketing agency, that works with dispensaries, grow operations, tech companies and others involved in the cannabis industry. And, DeFalco says her company is gaining traction.
"Since the industry is in its infancy right now, and it's just about to explode...there's all these new businesses that need this branding help," she said. "We're really passionate about re-branding marijuana as a whole; taking...all these negative stigmas and stereotypes away from cannabis, to appeal to a broader demographic and also to educate the public."
DeFalco and her colleagues are looking to branch outside of Colorado, as the nation's laws and culture shift towards more marijuana legalization. 20 states and the District of Columibia have so far legalized the medicinal use of cannabis – and, as of January 1, Colorado and Washington state also legalized sales of marijuana to adults for recreational use.
Like others in the fledgling marijuana industry, Cannabrand hopes to go public in a few years' time. But some analysts have their doubts.
The number of people flooding the CannaSearch event "is a sign of how inefficient the industry is right now," Alan Brochstein, a leading authority on cannabis-related investments and founder of internet-based 420 Investor, told Benzinga.
Brochstein also sees such events as another indication of "how early we are in the process of transforming an industry" into a stable market. And he notes that O-pen Vape, a company that produces vaporizer pens for use with cannabis oils – and that also hosted the CannaSearch event – "has more revenue than the entire publicly traded MJ stocks."
But nonetheless these are very heady times for the cannabis industry.
"It's definitely booming and it's a movement," Pete Vasquez, general manager of the Medicine Man dispensary in Denver, said at his booth inside the CannaSearch event. "I'm getting people from all over the world. We have people from all over the place, wanting to apply for these positions."
View Comments and Join the Discussion!
Posted-In: Analyst Color Cannabis News Education Emerging Markets Events Economics Startups Best of Benzinga