Here's Why You Should Expect An Upside To Apple Shares When Tim Cook Retires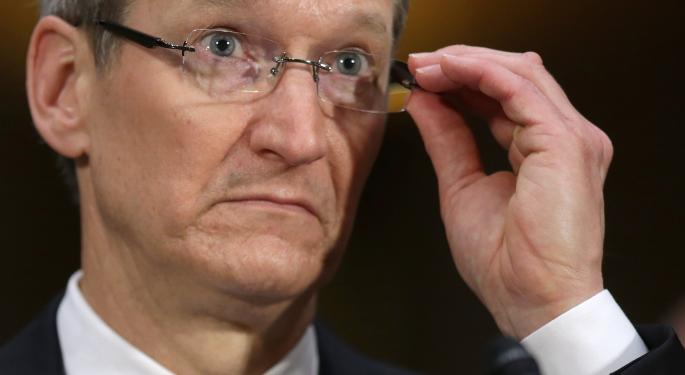 Could Apple (NASDAQ: AAPL) benefit from another executive shuffle?
Between Peter Oppenheimer's retirement, the removal of Scott Forstall and a handful of other execs coming and going, Apple is slowly becoming a different company.
Global Equities Research analyst Trip Chowdhry -- one of the biggest critics of Apple CEO Tim Cook -- is calling for another shuffle.
"The stock will only move up for one, maybe two reasons, I would say," Chowdhry told Benzinga. "The stock will have a 30 percent upside the day Tim Cook is removed from the CEO position. It could be even better than that."
Chowdhry said that Microsoft's stock went up when the company announced that its former CEO, Steve Ballmer, planned to retire.
"The problem is, do the shareholders and the Board want to continue having Tim Cook as the CEO for the next 10 years and then realize, 'Oops, what a terrible mistake'?" Chowdhry questioned. "Is this the best he can do? Think about it: what did he say in the conference call? 'We will enter new categories.' And what new categories do they have? CarPlay? Give me a break! This is what I call the height of an incompetent CEO. How many cars are sold in the whole year? Sixty million. How many of those are high-end cars in which Apple iPhone can be useful? Ten million. Is that a new category he is thinking about?"
Related: Apple's 64-Bit iPhone 5S Processor Delivers An 'Order Of Magnitude' Difference
In addition to (or perhaps in place of) Tim Cook's removal, Chowdhry said that Apple's shares could benefit greatly from the release of an iWatch.
Google's Time To Shine
Chowdhry may be unhappy with Apple's current strategy, but he was full of praise for Google and its newly announced SDK for wearable technology.
"That is called capturing and creating an industry," he said. "[Google has] given [its] developers a software development kit to create wearable devices. And if you look at the progression of [the industry], developers get SDK, developers create hardware, developers create software, and then consumers [receive new] devices."
Google is one of the pioneers in the wearable tech space. The company has been working on its Google Glass project for more than two years.
"[This week] in the report we published, one thing was clear: developers are moving away from iOS and into Android because they see the Android platform is highly innovative," said Chowdhry. "[The SDK announcement] clearly showed that."
Chowdhry added that tech companies cannot delay innovation. He said that the iWatch was expected six months ago, and that it should now be released within the next 60 days. But by the time Apple finally brings the product to retail, he fears that Google and other players will have already taken control of the market.
Disclosure: At the time of this writing, Louis Bedigian had no position in the equities mentioned in this report.
Posted-In: Apple comments Global Equities Research GoogleAnalyst Color News Management Tech Best of Benzinga
View Comments and Join the Discussion!