Groupon's Positive Q4 Results Fail To Reignite Investor Interest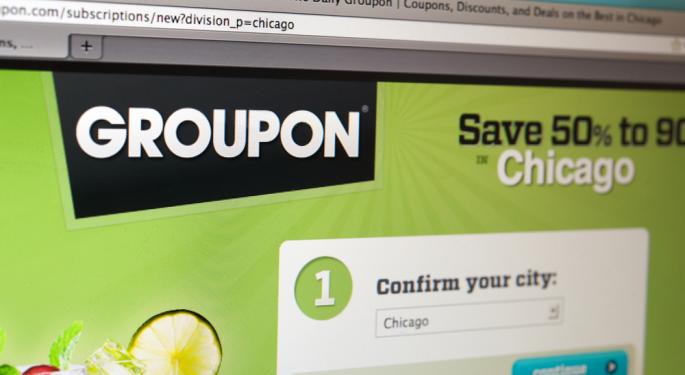 Groupon (NASDAQ: GRPN) has failed to overcome its troubles of the previous quarter.
While the daily deals giant reported a positive EPS during the third quarter, the stock fell more than 11 percent after Groupon announced its Q4 guidance.
At the time Groupon expected to report a fourth quarter EPS between $0.00 and $0.02, which was notably lower than the Wall Street estimate of $0.06.
Groupon's Q4 revenue expectations -- between $690 million and $740 million -- were wide enough to include the Street estimate of $723.4 million.
However, it now seems that Groupon might have underestimated its ability to report strong results.
Today the company announced a Q4 EPS of $0.04, topping the current Street estimate of $0.02.
Earnings per share were up 500 percent from the year-ago period.
"Our record performance in the quarter was led by strength in Goods, as shoppers increasingly looked to Groupon to fill their holiday needs," Eric Lefkofsky, CEO of Groupon, said in a company release.
"Our mobile business continued to gain momentum as our worldwide mobile transaction mix increased more than 10% in the quarter, to nearly 50% in December. With another 9 million downloads this quarter, we now have nearly 70 million app downloads to date."
Groupon reported revenue of $768.40M, which also surpassed the latest Wall Street estimate of $718.58 -- as well as its previous estimate of $723.4 million. Sales were up 20 percent year-over-year.
The stock initially rose more than five percent in after hours trading, but it quickly declined and is currently down more than 11 percent.
Investors Are Still Searching For A Deal
At market close on February 19, Groupon was down more than 15 percent year-to-date.
This decline came after nine months of growth in 2013. Groupon jumped more than 154 percent between January 2, 2013 and September 20, 2013. There were a few dips along the way, but the stock was mostly a positive gainer.
At roughly $10 a share, Groupon is still 60 percent lower than its all-time high of $26.19, which was achieved on November 14, 2011. The company has struggled to stay within the $20 range after its IPO. It bottomed out a year later, achieving an all-time low of $2.76 on November 5, 2012.
Today's decline is likely due to Groupon's first quarter expectations, which are considerably lower than the Street's estimates.
Groupon expects to report a Q1 EPS loss between $(0.02) and ($0.04), while the Street thought that Groupon would report a profit of $0.06 per share.
Domestic Growth
Before the close, Macquarie Capital analyst Thomas White estimated that investors would keep an eye on Groupon's North American growth.
"I think the overarching strategy at Groupon is devolving away from their roots as an email-only distributor of local deals and devolving to more of a persistent or always-on marketplace of local deals," White told Benzinga.
He added that the new format allows users to more easily search for deals on PCs and smartphones, among other devices.
"[North America] is kind of the line people are looking at with the most scrutiny in order to tell whether or not that strategy or that vision is succeeding," White added.
Thus far, Groupon seems to be moving in the right direction. During the fourth quarter, global gross billings (which, according to Groupon, reflect the total dollar value of customer purchases of goods and services) increased five percent to $1.6 billion. In North America alone, gross billings increased 10 percent versus six percent growth in EMEA.
On the downside, gross billings declined 11 percent throughout the rest of the world.
Global units (which Groupon defines as vouchers and products sold before cancellations and refunds) increased 11 percent year-over-year to 56 million. North American units increased 17 percent versus nine percent growth in EMEA and a one percent decline everywhere else.
North American revenue increased 18 percent, but EMEA territories trounced it with 43 percent revenue growth. Elsewhere, Groupon's revenue declined 15 percent.
Verdict: Groupon's Evolution Might Be Too Slow For Wall Street
Investors are not patient enough for Groupon to evolve. But if the company sticks with its current plan, it could be a popular stock in the distant future.
Disclosure: At the time of this writing, Louis Bedigian had no position in the equities mentioned in this report.
View Comments and Join the Discussion!
Posted-In: eric lefkofsky Groupon Macquarie CapitalAnalyst Color Earnings News Analyst Ratings Tech Best of Benzinga