Tesla Jumps After Crushing Analyst Estimates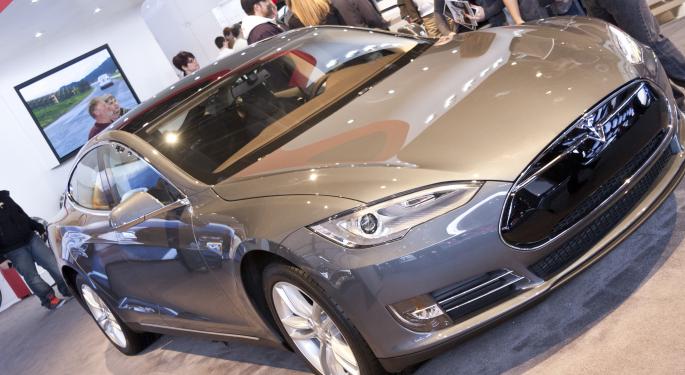 Tesla (NASDAQ: TSLA) may have closed down this afternoon, but the stock is soaring now that the company has revealed its impressive fourth quarter results.
There was a lot riding on this earnings release, with some critics referring to it as a make or break report.
Investors were particularly intrigued by the company after The San Francisco Chronicle reported that Apple (NASDAQ: AAPL) M&A chief Adrian Perica had met with Tesla CEO Elon Musk to discuss a possible buyout last spring.
The discussions haven't been confirmed, but Tesla soared to a new all-time high this week, closing at $203.70 on Tuesday, February 18.
Before the market close, Wedbush analyst Craig Irwin told Benzinga that he was waiting for the conference call to hear more about sales in China, production capacity and the company's plans for a battery factory.
"Everything else has basically been pre-announced," he said. "It was a strong quarter -- probably slightly stronger than what expectations are. You're gonna have an interesting one."
It turns out that Tesla had a very interesting quarter.
The company reported a Q4 EPS of $0.33 -- well above the Street estimate of $0.19. Earnings per share were up 151 percent from the year-ago period.
Tesla sold and delivered a record 6,892 Model S vehicles during the quarter. The firm expects to increase vehicle delivery growth by more than 55 percent in 2014.
Investors reacted to the news by piling into the stock, which is up more than 13 percent in after hours trading. This has more than made up for the stock's loss of 4.94 percent at market close.
Big In China
In its shareholder letter, Elon Musk and CFO Deepak Ahuja revealed that its Beijing store is the company's "largest and most active retail location in the world."
"We strive for transparent and fair pricing in every market," they wrote. "Consistent with this goal, the price for a Model S in China is the same as the price for a Model S in the US, adding only unavoidable taxes, customs duties and transportation costs.
"We are taking a risk with this strategy, because it is counter to prevailing auto industry practices. Still, we believe it is the right thing to do. It also means that in China the Model S is priced comparable to a mid-sized premium vehicle, instead of a large luxury vehicle."
Diehard Fans And Investors
Tesla is one of those stocks that managed to turn investors into fanboys. It could be the mix of tradition (automobiles) and technology, or maybe some investors simply don't want to let this stock die.
Others are anticipating its downfall. Hedge fund manager Doug Kass recently announced that he has taken a small short position in the automaker.
On October 25, 2013, Vilas Capital Management's John Thompson told Reuters that he thought Tesla was a "bubble." At the time Tesla was on the decline. The stock had fallen more than 12 percent between October 1 and October 25.
Things did not improve during the following month. By the end of November, Tesla had lost another 24.9 percent of its value.
Regardless, Tesla has persevered. Aside from its dip last fall, Tesla has soared over the last 10 months. The stock is up more than 35 percent this year alone, outpacing the majority of its peers and competitors in both the technology and automobile industries.
Verdict: Tesla Is Still A Star On Wall Street
Don't let a month or two of declines fool you: this is still one of the hottest stocks on Wall Street.
Disclosure: At the time of this writing, Louis Bedigian had no position in the equities mentioned in this report.
View Comments and Join the Discussion!
Posted-In: Adrian Perica Craig Irwin Deepak Ahuja Doug KassAnalyst Color Earnings News Analyst Ratings