LinkedIn Ends 2013 On A High Note, But Disappoints Investors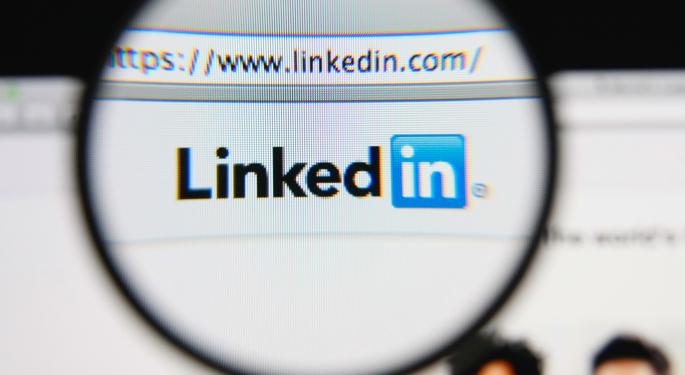 LinkedIn (NASDAQ: LNKD) has once again posted earnings results that are above consensus, but it wasn't enough to keep some investors from selling their shares.
The career-targeted social networking site now has approximately 277 million members, but LinkedIn neglected to say how many of them are active users.
This is one of the key differences between the way LinkedIn, Twitter and Facebook report earnings. While Twitter and Facebook heavily promote their MAUs (monthly active users), LinkedIn has chosen to generically list the overall number of signups without providing any further details.
"Solid fourth quarter performance capped another successful year where improvements in scale and relevance across our platform led to strong member engagement," Jeff Weiner, CEO of LinkedIn, said in a company release. "Moving forward, we are investing significantly in a focused number of long-term initiatives that will allow us to realize our vision to create economic opportunity for every member of the global workforce."
Unlike Twitter and Facebook, however, LinkedIn is not necessarily a site that its members can be expected to use every day. It is particularly appealing to those who are networking and/or searching for work. But when it's time to post a picture of a puppy or a rant about the Super Bowl, consumers often turn to the other social networks.
A Very Slight Earnings Beat
LinkedIn ultimately wound up with a Q4 EPS of $0.39 versus the Street estimate of $0.38. Earnings per share were up 11 percent from the year-ago period.
That's better than the consensus, but it's not exactly a mind-blowing number that will attract investors.
In fact, investors seem to be heading in the opposite direction.
"The stock is trading really strongly in front of earnings, and that's really raising the bar, in my opinion, for results," Avondale Partners analyst Randle Reece told Benzinga earlier today. "When the stock was trading under $210, down around $200, I felt like the wild expectations had been washed out of the stock, 'cause there were some really nutty estimates out there. But the way it's popping today, it's gonna be hard for the stock to react well."
Reece warned that LinkedIn could "really get hammered if there's a pretty modest beat on the revenue side and guidance is very conservative."
Revenue came in at $447.2 million (47 percent higher than Q4 2012) versus the Street estimate of $ 437.84M million.
LinkedIn expected to report a Q1 2014 EPS between $455 million and $460 million -- notably lower than the Street estimate of $470.3 million.
Needless to say, the investor reaction was not a good one. LinkedIn initially plummeted more than 12 percent. The company then rebounded slightly and is currently down more than six percent.
Bright Idea
Looking to the future, LinkedIn announced that it has acquired Bright.com, a startup that uses data science to enable the labor market to operate more efficiently. The company currently offers more than 2.5 million jobs from a number of high-profile employers, including Nike, Amazon, Samsung, Chase and Visa.
"We decided to join LinkedIn because of what we lacked -- the ability to apply this technology across the entire economy," Eduardo Vivas, founder of Bright, wrote in a blog post. "We share LinkedIn's passion for connecting talent with opportunity at massive scale. And we agree that the old models for online recruiting are hopelessly broken."
Vivas went on to say that by joining an organization "with the talent and resources of LinkedIn will only serve to further ignite our passion for solving this problem."
"We may become less visible than we were before, but it's now more likely than ever that you'll feel the impact of our work," he concluded.
The Social Network To Beat -- On Wall Street
Up until now, LinkedIn was the social network to beat on Wall Street. Even after today's stumble, it will still likely continue to be a formidable competitor to Facebook and Twitter.
Shares of LinkedIn rose more than 21 percent on February 8, 2013 -- the day after the company reported its Q4 2012 results. At the time, the social network bragged about its user base (more than 200 members), its rising revenue ($303.6 million -- 81 percent higher than in Q4 2011), and its full year results ($972.3 million in 2012 versus $522.2 million in 2011).
That was a strong February for LinkedIn, which experienced minor growth in January 2013.
After its February spike, LinkedIn leveled off, trading within the $170 to $180 range for the next couple of months. The stock jumped significantly in May, crossing the $200 mark for the first time. Investors quickly retreated, causing LinkedIn to fall back down to pre-May levels.
That changed in June when LinkedIn hit a stride and jumped more than 49 percent over the next three months, hitting $256.14 on September 11. Its growth spurt ended after that, and LinkedIn ultimately ended 2013 at $216.83.
Year-to-date, LinkedIn has experienced another roller coaster ride, but it was still up more than three percent at market close on Wednesday, February 5, 2014.
Disclosure: At the time of this writing, Louis Bedigian had no position in the equities mentioned in this report.
Posted-In: Bright Bright.com comments Eduardo VivasAnalyst Color Earnings News Analyst Ratings Best of Benzinga
View Comments and Join the Discussion!