Is Satya Nadella The Right CEO For Microsoft?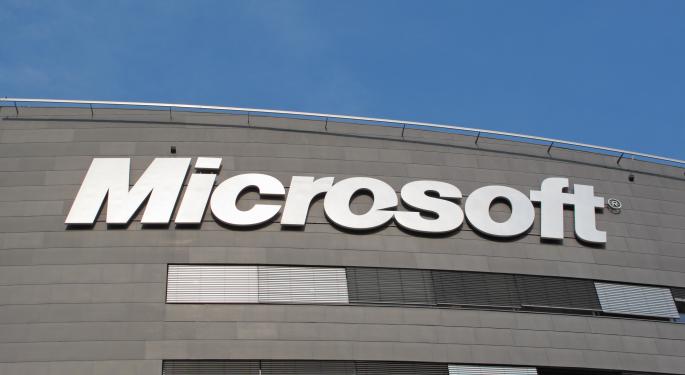 Microsoft (NASDAQ: MSFT) has officially announced that Satya Nadella has replaced Steve Ballmer as CEO.
The news follows a number of reports claiming that Nadella would receive the job.
Up until now, Nadella was the Executive VP of Microsoft's Cloud and Enterprise group. His CEO appointment is getting a lot of attention today, but the media hoopla might stifle the question investors really want to ask: is he truly the right man for the job?
"Satya Nadella has been our pick from the beginning for CEO," Raymond James analyst Michael Turits told Benzinga. "Our view is very simple. He is the guy who has been running the enterprise cloud and server businesses. We think those are the best businesses at Microsoft, so we think he's the one most likely to make strategic decisions that will optimize the value of that."
Trip Chowdhry, the Managing Director of Equity Research at Global Equities Research, is also happy with Microsoft's selection.
Related: Portfolio Manager Explains Why Microsoft is Today's Amazon
"I think the choice is right because the CEO has to have three or four critical attributes," Chowdhry told Benzinga. "They should have the technical acumen, they should have the business acumen, they should have the customer acquisition acumen and they should have a global perspective. All together, I think Satya is the right candidate."
Alternative Picks
While his credentials were important, Chowdhry was also pleased that Microsoft chose Nadella over the rumored alternatives.
"The other alternatives were pretty pathetic," Chowdhry told Benzinga. "Microsoft doesn't need an administrator. Microsoft doesn't need a hot air executive. Microsoft doesn't need a professional CEO. They were trying to say, 'Let's bring Ford's CEO.' That would have been a terrible choice! What has Ford invented over the last 50 years, 60 years? What has the car industry itself invented?"
Ford invented SYNC and MyFord Touch -- but it couldn't have done so without the help of a technology partner. And that partner just happens to be Microsoft.
Related: Microsoft Surface May Achieve 1% Market Share In 2014
When the Windows maker started searching for a new CEO, Vic Gundotra -- Google's Senior VP of Social -- was at the top of the list of possible candidates. Weeks later, rumors claimed that Ford CEO Alan Mulally and former Nokia CEO Stephen Elop were most likely to receive the job.
"It's not a question of internal or external [promotion]," said Turits. "It's a question of, here's a guy who is now in a position to run all of Microsoft and whose focus is likely to be optimizing those strongest businesses within Microsoft."
"Entrepreneurial Spirit"
In addition to Nadella's appointment, Chowdhry is also pleased by Bill Gates' new role as Technology Advisor.
"I think by taking a technical role, Bill Gates can reignite the entrepreneurial spirit that Microsoft has lacked for the last 15 years or so," said Chowdhry.
"I think the two combinations [are] good. But I'm not seeing the stock going up immediately. I think there's more downside risk in the near-term, probably for the next six months to a year. After that I think they'll be some fundamental traction in the business."
Microsoft is currently up less than one percent.
Disclosure: At the time of this writing, Louis Bedigian had no position in the equities mentioned in this report.
View Comments and Join the Discussion!
Posted-In: Alan Mulally Bill Gates comments Ford Global Equities ResearchAnalyst Color Analyst Ratings Tech Best of Benzinga